The Buttigieg-Klobuchar Dustup
It got somewhat ugly at the kids' table.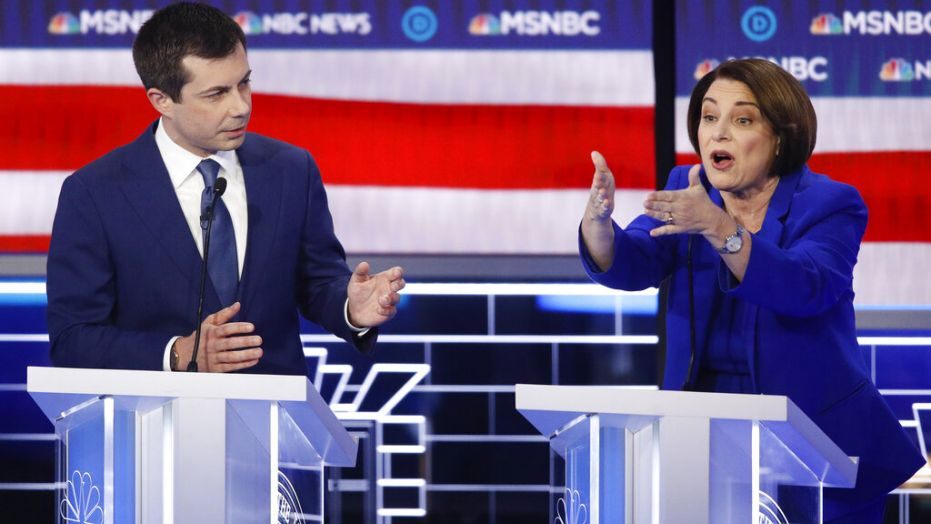 While most of the media commentary on last night's debate focused on the exchanges between Elizabeth Warren and Mike Bloomberg, POLITICO's Elaina Schneider focused on a sideshow among the bottom-two candidates on the stage ("Loathing in Las Vegas: Amy and Pete's resentment boils over"):
The hostility building between the two Midwestern Democrats burst dramatically into the open in Nevada, as they clashed repeatedly on the debate stage and tried to slash the momentum out of each other's campaigns. Klobuchar and Buttigieg have fought before over their experience and their political records in past debates — but the feud took a deeply personal turn.

After the Minnesota senator defended her "momentary forgetfulness" when she failed to name the president of Mexico in a recent Telemundo interview, Buttigieg leaped in, surely thinking of the criticism he's taken from Klobuchar in recent debates.

"You're staking your candidacy on your Washington experience. You're on the committee that oversees border security. You're on the committee that does trade," Buttigieg said, turning to face Klobuchar just to his left on the stage. "You're literally in part of the committee that's overseeing these things and were not able to speak to literally the first thing about the politics of the country to our south."

"Are you trying to say that I'm dumb? Or are you mocking me here, Pete?" Klobuchar shot back.

It exploded again when Buttigieg blasted Klobuchar on her vote to confirm President Donald Trump's nominee for Customs and Border Patrol, who "was part of family separation policy," Buttigieg said.

"I wish everyone was as perfect as you, Pete," Klobuchar said. "But let me tell you what it's like to be in the arena."

It's clear that the fury is rooted in the personal as well as the political for the two Democratic campaigners.

Politically, Buttigieg and Klobuchar are both hawking middle-of-the-road, tell-it-like-it-is personas, which they argue Democrats need to carry the Midwest, the region they call home. They are both competing to emerge as the main moderate alternative to Bernie Sanders, the current polling frontrunner.

But the rivalry runs deeper than their political positioning. Klobuchar has regularly spoken about sexism on the campaign trail, explaining that she is willing to call out "double standards" for female candidates because "we have to grapple with the fact that some people think a woman can't win" against Trump, she told POLITICO in January. And this fall, Klobuchar said that a woman with the former mayor of South Bend's resume and qualifications would likely not be on the presidential debate stage or get treated as a serious national candidate.

Klobuchar's frustration with Buttigieg bubbles up most intensely when it comes to that experience.
While one understands Klobuchar's frustration on this, politics ain't beanbag and life ain't fair. Just look at the last four Presidents.
Bill Clinton was the least seasoned Democrat running in 1992 and he not only cruised to the nomination but bested George H.W. Bush, arguably the most qualified President in the modern era.
George W. Bush beat a more seasoned field in the Republican primaries and then beat a two-term Vice President and longtime Senator.
Barack Obama hadn't been in Washington long enough to find a dry cleaner before throwing his hat in the ring against Hillary Clinton and other longtime hands. He not only won the nomination but turned around and walloped John McCain, who had been in his country's service since before Obama was born.
And then there's Donald J. Trump. I don't think we need say more.
In all candor, even though I pay quite a bit of attention to national politics, I'd never heard of Buttigieg or Klobuchar before they declared as candidates. I thought a 30-something whose top level of experience as a small-town mayor had no business running for President. Klobuchar seemed nominally qualified but unlikely to break through. But, like it or not, he managed to capture some interest with his story and she never did.
Is some of that sexism? Maybe. There's no way to really know—any more than whether it's racism that kept the much-more-accomplished mayor, Senator, and Rhodes Scholar Cory Booker from catching on while Mayor Pete did. Politics is just funny sometimes.
Regardless, Buttigieg managed to have a better-than-expected showing in both Iowa (where he nominally "won") and New Hampshire (where he nominally finished second). But he's only barely bounced back into the low-double digits and she's still hovering around 5% despite lots of people—including other Senators and Governors with arguably more experience—having already left the race.
It's frankly not obvious why Klobuchar is still hanging on while Booker, Kamala Harris, and so many others have dropped out. It's hard to conceive of a path to the nomination for her. Even the fabled "brokered convention" is highly unlikely to tab the sixth-place finisher in an epic compromise