Beto O'Rourke Apparently Running for President
The Texas Congressman has decided to forgo another Senate bid and instead focus his energies elsewhere.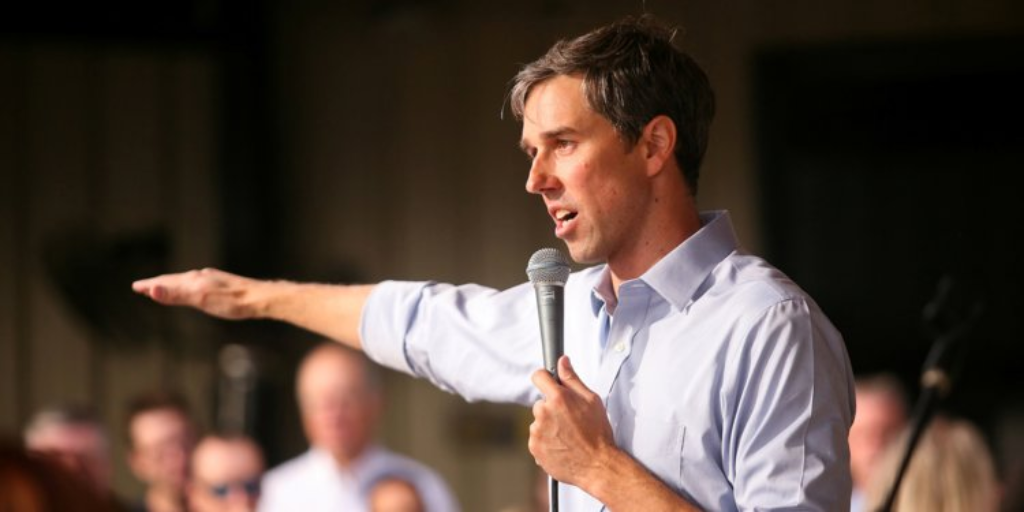 Dallas Morning News ("Sources: Beto O'Rourke won't challenge John Cornyn for Senate, paving way for presidential bid"):
Beto O'Rourke has decided not to run for U.S. Senate next year against Texas Republican incumbent John Cornyn and likely will announce a campaign for president soon, people close to the former El Paso congressman told The Dallas Morning News on Wednesday.

Numerous people close to O'Rourke said they expect him to announce his presidential campaign within weeks. O'Rourke on Wednesday wouldn't reveal his political plans except to say he has made up his mind.

"Amy and I have made a decision about how we can best serve our country," he said in an exclusive statement to The Dallas Morning News. "We are excited to share it with everyone soon."

Since his close but historic loss to GOP Sen. Ted Cruz in November, O'Rourke has been weighing how to "best serve the country." His political options have been to run for president or against Cornyn.

Should he decide on a White House run, O'Rourke would join a large Democratic Party primary field. He's behind much of the field in fundraising, developing an organization and getting in front of voters.

A December Des Moines Register poll showed O'Rourke trailing only former Vice President Joe Biden and Vermont Sen. Bernie Sanders for the Democratic Party nomination for president. O'Rourke finished first nationally in a straw poll conducted among members of the progressive group MoveOn.org.

But since then, candidates including Sen. Kamala Harris of California have risen in the polls and appear to be getting traction in early battleground states like Iowa.

"It seems like his star was fading," said University of Iowa political scientist Tim Hagle. "That would be because he's not in the news."
O'Rourke became a national sensation during the race, mostly because of a viral video, and seemed poised to knock off the hated Ted Cruz. While he fell three points short of that goal, it was still an impressive performance for a Democrat in a state that's still quite red if trending more purple.
Still, Cornyn would have been a more formidable opponent. He's simply much more likable than Cruz. Plus, President Trump will presumably be on the ballot for re-election and bring out more Republican voters.
But winning the Democratic nomination out of an incredibly crowded, talent-rich field may be an even steeper hill to climb. This is the first cycle in a long time without either a prohibitive frontrunner or a popular President keeping A-listers on the sideline. Joe Biden is incredibly popular but he's 76 and would turn 78 the month of the election. Bernie Sanders (77) and Elizabeth Warren (69) also have near-universal name recognition but are not only vying for the same part of the base but widely considered to have missed their window in 2016. There is also a wave of youngish Senators and Governors already announced or expected to join the fray. And let's not forget the strong possibility that Hillary Clinton (71) will make a third bid and immediately join the top tier.
It's also not fully clear where O'Rourke stands on the key issues likely to be at the forefront of the primaries, notably Medicare-for-All, a $15 minimum wage, and the so-called Green New Deal. Overall, he seems to be a moderate, left-of-center politician—which is what one would expect from a Democrat viable in a statewide race in Texas. But that's likely not what Democratic primary voters are looking for.
While it seems to matter less in the age of Trump—or even Obama—than it once did, O'Rourke's resume is hardly impressive by Presidential standards. He has only been in the House for six years and, so far as I can tell, has made little impact there legislatively. He has no executive experience to speak of. Aside from a role on minor Armed Services subcommittees, he also has no defense or foreign policy experience.
That said, one would think a relatively moderate Democrat with a real chance of carrying Texas' electoral votes would be a real asset for Democrats in a contest against Donald Trump. His youth, charisma, and ability to think on his feet would be a stark contrast in the debates. But Democrats could be forgiven for thinking that they can win with a more ideological candidate who would more aggressively push to reshape the political landscape.