Elizabeth Warren Formally Enters Presidential Race
Massachusetts Senator Elizabeth Warren is the latest entrant into an already crowded field for the Democratic nomination.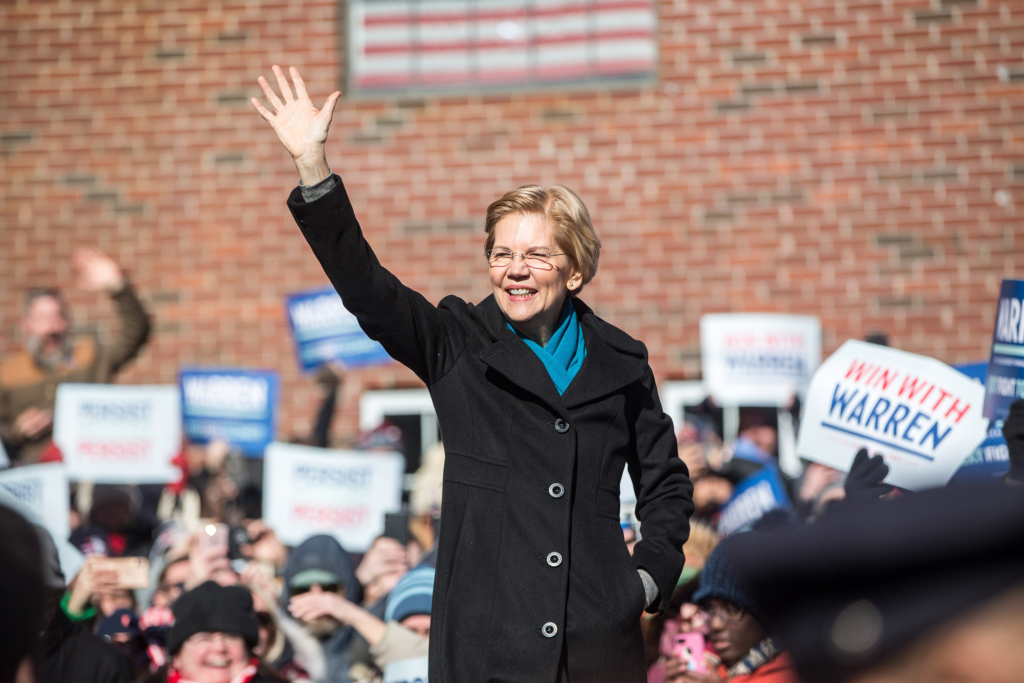 Less than a month and a half after announcing the formation of Presidential Exploratory Committee, Massachusetts Senator Elizabeth Warren formally entered the race for President yesterday with a campaign kickoff in her home state:
LAWRENCE, Mass. — Senator Elizabeth Warren of Massachusetts formally announced her 2020 presidential bid Saturday, calling for "fundamental change" on behalf of working people and arguing that President Trump is "just the latest and most extreme symptom of what's gone wrong in America."

Speaking on a clear, chilly day against a backdrop of old red brick mill buildings at the site of one of the nation's most famous labor strikes, she said workers now, like workers then, had had enough. She said that replacing Mr. Trump, whose administration she called "the most corrupt in living memory," was only the first step in fighting back against a system tilted in favor of the wealthy.

"It won't be enough to just undo the terrible acts of this administration," Ms. Warren said. "We can't afford to just tinker around the edges — a tax credit here, a regulation there. Our fight is for big, structural change."

The selection of Lawrence was symbolic: In 1912, a historic labor strike was started by a group of women at Everett Mill, where Ms. Warren made her announcement. The senator drew on the strike as a story of women, many of them immigrants, taking on a stacked system and triumphing by gaining raises, overtime and other benefits.

Ms. Warren described the American economy as similarly tilted against the middle class, with wealth and political power concentrated at the top.

"Today, millions and millions and millions of American families are also struggling to survive in a system that's been rigged, rigged by the wealthy and the well-connected," Ms. Warren said. She added: "Like the women of Lawrence, we are here to say enough is enough!"

Ms. Warren, 69, who took the stage to the Dolly Parton song "9-to-5," described her own journey, growing up as the daughter of a janitor and going on to become a law professor and a senator. As a scholar of bankruptcy law, she explained, she had studied how the opportunities she was afforded had narrowed in recent decades, as the rich became richer and the middle class was squeezed.

She said that the current rising generation of young people could be the first in which a majority were worse off economically than their parents, while the rich "seem to break the rules and pay no price." In response, the crowd began to shout, "Enough is enough!"

When they quieted, Ms. Warren said, "When I talk about this, some rich guys scream, 'Class warfare!' Well, let me tell you something: These same rich guys have been waging class warfare against hard-working people for decades. I say it's time to fight back!"

Ms. Warren touted proposals aimed at diminishing the financial industry's power in Washington and cited her proposed wealth tax, which she called an "ultra-millionare tax."

"When government works only for the wealthy and the well-connected, that is corruption plain and simple," she said, adding, "Our fight is to change the rules so that our government, our economy and our democracy work for everyone."

Ms. Warren also received important endorsements Saturday from Senator Edward J. Markey of Massachusetts; Representative Joseph P. Kennedy III of Massachusetts, her former law student; and from the Progressive Change Campaign Committee.
While Warren probably could have afforded to wait a little bit longer before formally entering the race, she was no doubt motivated in no small part by the fact that the race for the Democratic nomination has taken off in a big way in the new year. Over just the past six weeks, we've seen a number of candidates, we have seen a number of candidates, including Kirsten Gillibrand, Julian Castro, Tulsi Gabbard, Kamala Harris, and Cory Booker, enter the race. Additionally, Minnesota Senator Amy Klobuchar is expected to enter the race later today and other candidates, such as Vermont Senator Bernie Sanders, former Vice-President Joe Biden, and former New York Mayor Michael Bloomberg, are expected to announce their plans by the end of the month. Counting Warren, that makes for ten candidates in the race before the end of February alone, and that doesn't include long-shot candidates like South Bend, Indiana Mayor Pete Buttigieg and Maryland Congressman John Delaney, who have also announced that they are running. With the prospect of other candidates who could be entering the race, that makes for field nearly as crowded as the one Republicans had in 2016. Given that, it was a wise move for Warren to formally get into the race sooner rather than later.
Warren enters the race roughly in the middle of the pack according to the most recent polls, which is somewhat surprising given the fact that there was strong support for the idea of her entering into the race back in 2016. Part of that at least appears to be due to the fact that the Biden and Sanders are, for understandable reasons, dominating the early polling among Democrats and Warren finds herself having to compete for support among the progressives that she appeals to against not just Sanders, but also other candidates such as Harris and Booker, as well as other potential candidates such as Ohio Senator Sherrod Brown, who is apparently also considering getting in the race. Additionally, the momentum that Warren might have enjoyed from her early decision to form an exploratory committee has been blunted by the controversies that continue to plague her regarding her claim of Native American heritage in the past.While it's unclear how much this actually matters to Democratic primary voters, it's something that her campaign has clearly mishandled, and it is notable primarily because Democratic voters looking at 2020 appear to be focused primarily on the candidate most able to beat the President rather than the one they agree with the most.
In any case, Warren enters the race a somewhat wounded candidate, but it is still early in the race so it's always possible she'll be able to put all that behind her.