Elizabeth Warren Continues To Gain On Bernie Sanders
A trio of new polls shows Elizabeth Warren slipping past Bernie Sanders into second place in the race for the 2020 Democratic nomination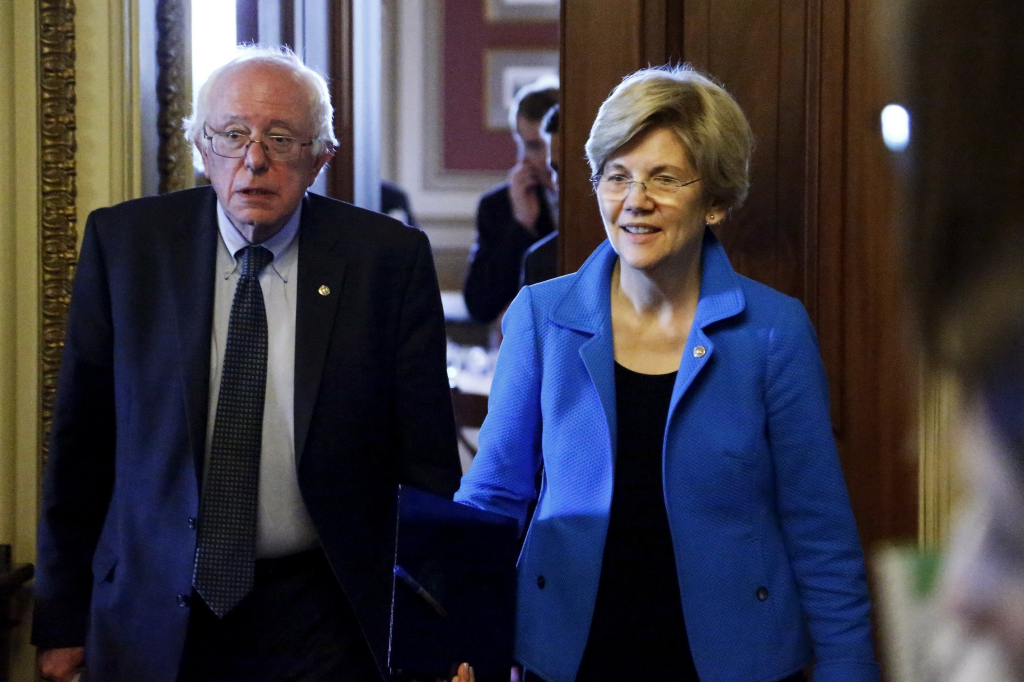 As I noted late last month, the race for the Democratic nomination for President has been following an interesting pattern that ought to carry some concern for supporters of Vermont Senator Bernie Sanders and hope for the supporters of Massachusetts Senator Elizabeth Warren. Basically, the polling trends have shown that Sanders has been slipping significantly from the second-place position he's held behind former Vice-President Joe Biden while Warren has, slowly but surely, getting closer to overtaking him. If two new state polls. and a new national poll, are any indication, that process is continuing.
First up, one of the first polls out of Nevada, one of the four February states on the Democratic calendar, shows Warren moving into second place behind Sanders:
Senator Elizabeth Warren, whose presidential campaign has gained momentum in recent weeks, is polling ahead of Senator Bernie Sanders among voters in Nevada and is trailing only former Vice President Joseph R. Biden Jr. there, according to a poll released on Wednesday.

The poll, which was conducted by Monmouth University, showed Mr. Biden leading comfortably with the support of 36 percent of Democratic voters who are likely to attend the Nevada caucuses in February, a key early contest. Ms. Warren, of Massachusetts, garnered 19 percent support, and Mr. Sanders, of Vermont, earned 13 percent.

The Monmouth survey is the first Nevada poll that candidates can use to qualify for the party's debates, and it is only the second qualifying poll that has shown Ms. Warren ahead of Mr. Sanders. The other was a national survey by Quinnipiac University in April that showed Ms. Warren with just a one-point edge over Mr. Sanders.

The new poll surveyed 370 Nevada Democrats and had a margin of sampling error of plus or minus 5 percentage points. The poll was conducted June 6-11.

The survey showed that Mr. Biden is the best-liked candidate among Nevada voters, with a favorability rating of 78 percent, compared with 13 percent who viewed him unfavorably.

Ms. Warren trailed only Mr. Biden in that regard, and did particularly well with voters who classified themselves as "very liberal." She has set herself apart from a field of 23 candidates seeking the Democratic nomination with a series of sweeping proposals that have made her the group's policy pacesetter.

After Mr. Biden, Ms. Warren and Mr. Sanders came Mayor Pete Buttigieg of South Bend, Ind., with 7 percent support, and Senator Kamala Harris of California, with 6 percent. Former Representative Beto O'Rourke of Texas, Senator Cory Booker of New Jersey and the entrepreneur Andrew Yang were each the top choice of 2 percent of respondents.

Other candidates, such as Senator Amy Klobuchar of Minnesota and Representative Tulsi Gabbard of Hawaii, got 1 percent support. Eleven candidates — about half of the field — polled even lower.
Warren also appears to be on the rise in California:
Former Vice President Joe Biden has a small lead over the field of Democratic contenders in California, but Sen. Elizabeth Warren (D-Mass.) is hot on his heels and has edged past Sen. Bernie Sanders (I-Vt.) into second place, according to a new poll.

The survey from the University of California, Berkeley's Institute of Governmental Studies finds Biden at 22 percent support. Warren and Sanders are in a statistical tie, at 18 percent and 17 percent, respectively

Sen. Kamala Harris (D-Calif.), who will need a strong showing in her home state to compete, is in fourth place with 13 percent, followed by South Bend, Ind., Mayor Pete Buttigieg at 10 percent.

California Democrats will cast ballots earlier than in previous cycles, making the most delegate-rich state in the contest a huge prize for the contenders. Voters will cast ballots on Super Tuesday, on March 3.

The U.C. Berkeley survey is the latest poll to find Warren rising as she seeks to overtake Sanders in the race to be the party's progressive standard-bearer.

(…)

The new U.C. Berkeley survey of California found that Harris is the top second choice among California voters, with 21 percent, followed by Warren at 17 percent and Biden and Sanders at 12 percent.

When you combine Warren's support among voters who called her their first or second choice, she has the most support in the entire field, followed closely by Biden, Harris and Sanders.
In addition to these polls a new national poll from The Economist and YouGov also shows Warren sliding into second place:
Elizabeth Warren leaped ahead of Bernie Sanders into second place in a pair of Democratic presidential primary polls released Wednesday.

Warren has overtaken Sanders nationally, according to a new Economist/YouGov poll, which puts the Massachusetts senator ahead of her Vermont counterpart 16 percent to 12 percent. Former Vice President Joe Biden still leads all contenders with 26 percent support.

(…)

Warren began laying out her vision of "economic patriotism" earlier this month with a plan for a $2 trillion investment of federal funds over 10 years in green research, manufacturing and exporting. She touted several other plans during an MSNBC town hall last week, including protecting access to abortion, an anti-corruption policy to rein in lobbyists and more corporate accountability for major companies.

Warren has more than 50 staffers on the ground in Iowa, and more hires are expected to be announced over the weekend. She expects to have a similarly large presence in New Hampshire and at least 30 staffers each in South Carolina and Nevada, where Warren is working on bringing on Latino interns and setting up caucus trainings in Latino communities.

(…)

In the Economist/YouGov survey, Warren's net favorability is slighter higher than Sanders', -6 percent to -7 percent, but Sanders is tied with New York Mayor Bill de Blasio for the candidate whom likely Democratic voters would be most disappointed to see win the nomination.

Twenty-percent of respondents said it would disappoint them if Sanders or de Blasio won the Democratic nomination for president. Nineteen percent said the same of Biden. Only 9 percent said they would be disappointed if Warren won the nomination.
This is particularly interesting because, prior to the past several weeks, most national and state polls have shown Warren stuck in the middle of the pack with candidates like Kamala Harris, Pete Buttigieg, and Beto O'Rourke. Since then, though, Warren has been singularly focused on rolling out a series of policy proposals and appearing at large town halls in states such as Iowa, New Hampshire, South Carolina, and Nevada. That strategy appears to be benefiting her for the time being, but it will ultimately be put to the test as we get closer to the first two debates at the end of June and July respectively. Potentially, those debates could give Warren an opportunity to continue her focus on policy and overtake Sanders among the Democratic Party's progressive wing.
As for Sanders, these numbers are confirmation of something that many political pundits have been saying since before the 2020 race started. Four years ago, Sanders benefited from the fact that, starting early in the race, he was seen as the only real alternative to Hillary Clinton. The other candidates in the race during that cycle — former Senators Jim Webb and Lincoln Chafee and former Maryland Governor Martin O'Malley — had largely failed in any effort to make an impact with voters. This means that any Democrats looking for an alternative to Clinton, either as a serious candidate or to "send a message" to the party, ended up backing Sanders in large numbers. This time, though, voters have an embarrassment of riches in terms of the number of credible candidates in the race. This is particularly true of the progressive wing of the party, which rallied behind Sanders because, well, there wasn't anyone else to support. This time, those voters have as many as a half-dozen candidates to choose from, and arguably more if they're willing to look at some of the candidates getting less than two percent of the vote.
None of this means that Sanders is done for, of course. We're still far too early in the race to be making statements like that. For one thing, with the exception of Biden, Sanders is the only other candidate in the field who has run for President before. That experience will come in handy when it comes to preparing for the upcoming debates and in reaching out to voters. For another, Sanders still has a dedicated core of supporters that are likely to keep him relevant in the race for the rest of this year and going forward. At some point, though, he's going to have to deal with not only Warren but also the other candidates coming up in his rearview window. Whether he can withstand the challenge is something only time will tell.