Elizabeth Warren Can't Seem To Put The 'Native American' Issue Behind Her
Elizabeth Warren still hasn't figured out how to put the 'Native American' issue behind her.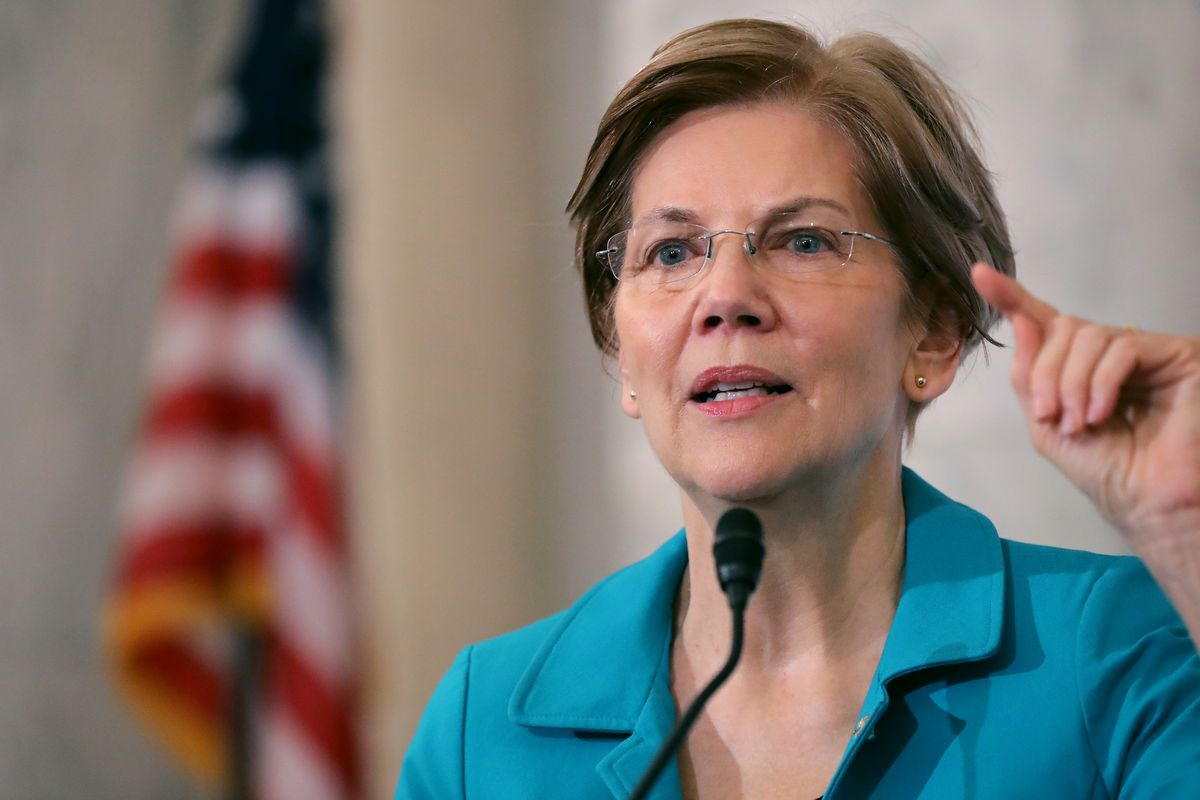 When Elizabeth Warren first entered the political arena in 2012 in her ultimately successful challenge to Scott Brown for the Senate seat formerly held by Ted Kennedy, she quickly became the focus of attacks by conservatives not only in Massachusetts but also nationwide. To a large degree, these attacks were rooted in Warren's full-throated advocacy of a "progressive" economic agenda that was significantly to the left of where the Obama Administration and most of the Democratic Party stood at the time, and which in many respects was a precursor to the surprising success that Vermont Senator Bernie Sanders enjoyed during the battle for the Democratic nomination in 2016. Prior to running for office, Warren had been involved with the creation of the Consumer Financial Protection Bureau, which has been the target of particular ire on the right, as well as being a Law Professor at Harvard University since at least 1995.
In addition to attacking her because of her ideas, though, conservatives made the seemingly odd but nonetheless telling choice of attacking Warren based on her ethnicity and what conservatives said was the false claim on her part that she has Native-American heritage, something she said was a matter of family folklore. The attack on Warren on this issue was really two-pronged. On the one hand, conservatives argued that Warren was lying about her claim to have any Native American heritage at all, and thus began referring to her with the term "Fauxcohontas" or, as President Trump has turned it into, "Pocahontas." Exactly how they would know for sure it's a lie was always unclear, but it was nonetheless repeated as gospel by many on the right as if it had been medically verified. The second prong of the attack was the claim that Warren somehow used her claim to be part Native American to benefit from Affirmative Action hiring practices at Harvard Law School, an assertion which has largely been debunked, as reports from the Washington Post's Fact Checker, including a follow-up report, Politifact, FactCheck, and The Boston Globe have all made clear.
Despite this, and despite the advice of some pundits that Warren should just leave the issue behind, the Senator decided late last year to release the results of a DNA test that determined that she did have some genetic links that have been associated with Native Americans. Rather than settling the matter, though, the test ended up backfiring as many Native American groups criticized the idea that DNA tests can be used to establish Native American heritage. In this regard, I must concede that my initial reaction to the release of the DNA test was incorrect and that James Joyner was right when he predicted that the test would end up backfiring on Warren given the fact that the results showed that she was at most 1/32nd and possibly as little as 1/522nd Native American depending on how results are interpreted. Additionally, as noted, Native Americans have long held the position that Native American ancestry is dependent not on DNA but on one's presence on officials tribal rolls, which show no evidence of anyone from Warren's family has ever been a recognized member of the Cherokee or any other tribe.
Now, The Washington Post reports that Warren has issued yet another apology for her past claims of Native American heritage even as more evidence comes out that she has identified as Native American in the past:
Sen. Elizabeth Warren said Tuesday that she was sorry that she identified herself as a Native American for almost two decades, reflecting her ongoing struggle to quiet a controversy that continues to haunt her as she prepares to formally announce a presidential bid.

Her comments more fully explain the regret she expressed last week to the chief of the Cherokee Nation, the first time she's said she was sorry for claiming American Indian heritage.

The private apology was earlier reported as focusing more narrowly on a DNA test she took to demonstrate her purported heritage, a move that prompted a ferocious backlash even from many allies. Warren will be vying to lead a party that has become far more mindful of nonwhite voters and their objections to misuse of their culture.

"I can't go back," Warren said in an interview with The Washington Post. "But I am sorry for furthering confusion on tribal sovereignty and tribal citizenship and harm that resulted."

Warren has been trying for the past year to get past the lingering controversy over her past assertion that she is Native American.

In addition to the DNA test, she released employment documents over the summer to show she didn't use ethnicity to further her career. And in a speech a year ago she addressed her decision to call herself a Native American, though she didn't offer the apology that some wanted at the time.

But as Warren undergoes increased scrutiny as a presidential candidate, additional documents could surface to keep the issue alive.

Using an open records request during a general inquiry, for example, The Post obtained Warren's registration card for the State Bar of Texas, providing a previously undisclosed example of Warren identifying as an "American Indian."

Warren filled out the card by hand in neat blue ink and signed it. Dated April 1986, it is the first document to surface showing Warren making the claim in her own handwriting. Her office didn't dispute its authenticity.

For Warren, putting this chapter behind her is key to calming the nerves of Democrats who want a nominee who can move beyond any problems in their past and present a strong challenge to President Trump.

For the Democratic electorate, roiled by Trump's racially insensitive comments, it's become more important for a Democratic standard-bearer to show an understanding of issues related to race and identity.
Here's Warren's Texas State Bar registration card, which she apparently filled out and signed herself: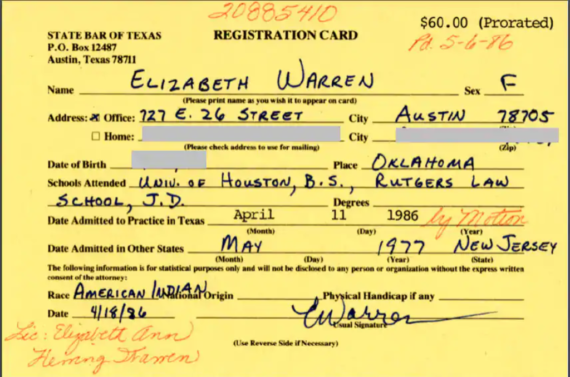 As James noted in his post on the DNA test last year, none of this has any bearing on Warren's fitness for the Presidency, but it does demonstrate her seeming inability to put what ought to be a simple matter behind her. From the beginning, rather than sticking to a claim that nearly every major Native American organization has rejected, Warren simply should have said that she the claim to a Native American heritage was something that had been handed down in her family for generations. Given the fact that she was born and raised in Oklahoma and that her family had long-established roots there this isn't entirely surprising given the fact that the state had a long history as Native American territory before being settled by American pioneers in the late 19th Century, at which point there was no doubt significant cross-ethnic relationships between American settlers and Native Americans as well as family legends that claimed the existence of a link to Native Americans in their family history. She should have also admitted that, for at least some part of her life, she claimed that Native American heritage as part of her identity and that it was only later on that she realized that doing so was improper and offensive to Native Americans.
Instead of doing that, all she's done is keep digging a bigger and bigger hole for herself. While this may not matter to most of the people inclined to support her, it does provide ammunition to the President and other critics. In an election where Democrats seem most concerned with electability, that could prove to be a problem for the Massachusetts Senator going forward.