Vast Majority Of Native Americans Not Offended By 'Redskins' Name, New Poll Claims
A new poll indicates that the argument that the name "Redskins" is disparaging is not an accurate statement of how Native Americans themselves feel about the issue.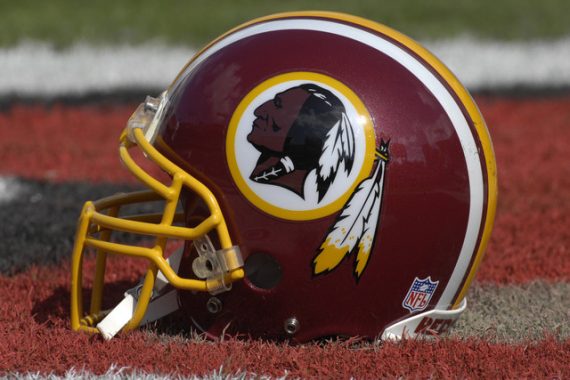 A new poll conducted by The Washington Post purports to show that the vast majority of those who identified as Native Americans said that they did not find the name "Redskins" offensive:
Nine in 10 Native Americans say they are not offended by the Washington Redskins name, according to a new Washington Post poll that shows how few ordinary Indians have been persuaded by a national movement to change the football team's moniker.

The survey of 504 people across every state and the District reveals that the minds of Native Americans have remained unchanged since a 2004 poll by the Annenberg Public Policy Center found the exact same result. Responses to The Post's questions about the issue were broadly consistent regardless of age, income, education, political party or proximity to reservations.

Among the Native Americans reached over a five-month period ending in April, more than 7 in 10 said they did not feel the word "Redskin" was disrespectful to Indians. An even higher number — 8 in 10 — said they would not be offended if a non-native called them that name.

The results — immediately celebrated by team owner Daniel Snyder and denounced by one prominent Native American leader — could make it that much harder for anti-name activists' to pressure team officials, who have already used the poll as further justification to retain the moniker. Beyond that, the findings might impact the ongoing legal battle over the team's federal trademark registrations and the eventual destination of the Redskins' next stadium. The name controversy has clouded talks between the team and the District, widely considered Snyder's desired destination.

"The Washington Redskins team, our fans and community have always believed our name represents honor, respect and pride," the owner said in a statement. "Today's Washington Post polling shows Native Americans agree. We are gratified by this overwhelming support from the Native American community, and the team will proudly carry the Redskins name."

But Suzan Harjo, the lead plaintiff in the first case challenging the team's trademark protections, dismissed the Post's findings.

"I just reject the results," said Harjo, 70, who belongs to the Cheyenne and Hodulgee Muscogee tribes. "I don't agree with them, and I don't agree that this is valid way of surveying public opinion in Indian Country."

Two other key leaders in the name-change movement issued a joint statement that didn't dispute the authenticity of the results, instead calling the responses from Native Americans "encouraging."

"Native Americans are resilient and have not allowed the NFL's decades-long denigration of us to define our own self-image," wrote Oneida Nation Representative Ray Halbritter and National Congress of American Indians Executive Director Jackie Pata. "However, that proud resilience does not give the NFL a license to continue marketing, promoting, and profiting off of a dictionary-defined racial slur — one that tells people outside of our community to view us as mascots."

They noted research that shows the harmful impact native imagery in sports can have on young Indians.

"Social science research and first-hand experience has told us that this kind of denigration has both visible and unseen consequences for Native Americans in this country," their statement said. "This is especially the case for children, who were not polled and who are in a particularly vulnerable position to be bullied by the NFL. It is the 21st century — it is long overdue for Native Americans to be treated not as mascots or targets of slurs, but instead as equals."

Since the nearly half-century-old debate regained national attention in 2013, opponents of the name have won a string of high-profile victories, garnering support from President Obama, 50 Democratic U.S. senators, dozens of sports broadcasters and columnists, several newspaper editorial boards (including The Post's), a civil rights organization that works closely with the National Football League and tribal leaders throughout Indian Country.

Still, Snyder has vowed never to change the moniker and has used the 12-year-old Annenberg poll to defend his position. Activists, however, dismiss the billionaire's insistence that the name is intended to honor Native Americans. They argue that he must act if even a small minority of Indians are insulted by the term — a dictionary-defined slur. They have also maintained that opinions have evolved as his unyielding stance has been subjected to a barrage of condemnation by critics ranging from "South Park" to the United Church of Christ.

But for more than a decade, no one has measured what the country's 5.4 million Native Americans think about the controversy. Their responses to The Post poll were unambiguous: Few objected to the name, and some voiced admiration.

(…)

Even as the name-change movement gained momentum among influential people, The Post's survey and more than two dozen subsequent interviews make clear that the effort failed to have anywhere near the same impact on Indians.

Across every demographic group, the vast majority of Native Americans say the team's name does not offend them, including 80 percent who identify as politically liberal, 85 percent of college graduates, 90 percent of those enrolled in a tribe, 90 percent of non-football fans and 91 percent of those between the ages of 18 and 39.

Even 9 in 10 of those who have heard a great deal about the controversy say they are not bothered by the name.

What makes those attitudes more striking: The general public appears to object more strongly to the name than Indians do.

In a 2014 national ESPN poll, 23 percent of those reached called for "Redskins" to be retired because of its offensiveness to Native Americans — more than double the 9 percent of actual Native Americans who now say they are offended by it.

A 2013 Post poll found that a higher proportion of Washington-area residents — 28 percent — wanted the moniker changed.

(…)

The poll, which has a 5.5 percentage-point margin of sampling error, was conducted by randomly calling cellular and landline phones. It asked questions only of people who identified themselves as Native American, after being asked about their ethnicity or heritage.

Those interviewed highlighted repeatedly other challenges to their communities that they consider much more urgent than an NFL team's name: substandard schools, substance abuse, unemployment.
There are several caveats regarding this poll that ought to be kept in mind prior to any discussion about its substance or the impact it might have on the ongoing debate and legal battle over the name of Washington D.C.'s NFL team. First of all, polls of discrete and relatively small ethnic groups is often difficult in and of itself due to the fact that it's often difficult to find a sufficiently representative sample. According to current data from the U.S. Census, Native Americans represent about 1.4% of the current U.S. population.  That's roughly comparable to the percentage of the U.S. population that claims adherence to any form of Judaism, another group that has proven difficult to poll accurately due to its small representation among the American population as a whole. Second, this poll was conducted over a period of several months, likely due to the fact that it took that long for pollsters to find a representative sample upon which to base their poll. As a general rule, pollsters try to keep their polls time limited to no longer than a week due to the fact that data that may not be "fresh" is being mixed with more recent data. Finally, there's the age old pollsters problem that the poll is relying on a respondent's self-identification as 'Native American' and there's no way to be sure that at least some respondents are taking that designation to mean something other than what the pollsters intend it to mean. Notwithstanding all of this, though, results such as this are so overwhelming in one direction that it's hard to completely dismiss them, and they are likely to be added to the ongoing debate both in Court and in the media over this issue.
This new poll comes at the same time that the Redskins are involved in a long-standing legal dispute with a group of Native American activists who have long claimed that team name is offensive and who have tried to use a variety of legal tactics to force the team to change the name. The most successful of those efforts so far involves an ongoing dispute over the Redskins' trademarks and the effort to repeal them because of their allegedly offensive nature. Two years ago, these activists succeeded for the second time in convincing the Trial and Appeals Board of the U.S. Patent Office that the trademarks, which were granted some fifty years ago, should be revoked due to their offensive nature, a conclusion the board agreed with in a ruling issued in June 2014. As I noted at the time, this ruling was legally dubious both as a matter of existing trademark law and the First Amendment, which arguably prevents the government from denying a government benefit such as a trademark based on the alleged offensiveness of the mark itself. There is a long line of case law that establishes that offensive speech is still entitled to Constitutional protection, and this suggests that it is not permissible for the government to punish a trademark holder because their mark is "offensive."  Notwithstanding these arguments, in July of last year a Federal District Court Judge in upheld the Trial and Appeals Board's ruling based largely on the assumption that the trademark is indeed disparaging notwithstanding the fact that the only evidence the activists seemed to present in regard to that argument seemed to consist of self-serving statements from individuals that they had pre-selected. A poll such as this one suggests that a broader representation of Native Americans has a decidedly different opinion on the issue.
As things stand right now, the trademark case is apparently still on appeal before the Fourth Circuit Court of Appeals and while it is too late for the Redskins to introduce new evidence into the record. Nonetheless, one wouldn't be surprised to see poll results like these make their way into an appellate brief or oral argument at some point. It would then be up to the Court of Appeals to determine what, if any, weight to give to data such as this. In any case, of potentially more relevance in the pending appeal is a ruling issued by the Court of Appeals for the Federal Circuit which held that those provisions of the law allowing the Federal Government to deny a trademark because it is 'offensive' or 'disparaging' are unconstitutional. This is the very provision of the law that the Trial and Appeals Board and the District Court rely upon for their decision against the Redskins, and while it is not binding on the Fourth Circuit it is at the very least the kind of persuasive authority that the Court will no doubt be asked to consider, and which could form the basis for an appeal to the Supreme Court in the event that the Fourth Circuit upholds the District Court decision. At that point, it would likely be up to the Justices to resolve what clearly would be a split in the Circuits regarding a significant issue in Federal Law.