The Redskins Trademark Decision Is Legally Dubious, And Troubling
However you feel about the Redskins name, the decision to retroactively repeal their trademarks is troubling on many levels.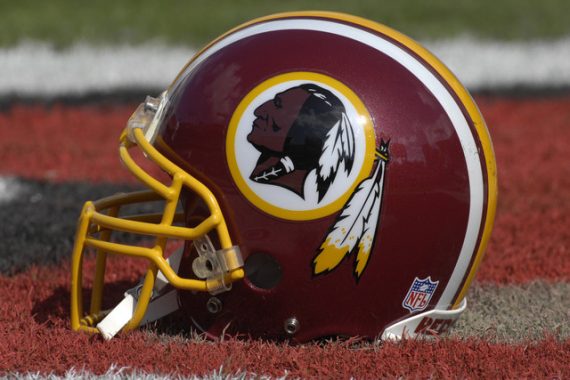 As James Joyner noted last week, the U.S. Patent and Trademark Office has issued a ruling rescinding the Trademark granted to the Washington Redskins on the ground that the name is disparaging to a racial group:
The United States Patent and Trademark Office has canceled the Washington Redskins trademark registration, calling the football team's name "disparaging to Native Americans."

The landmark case, which appeared before the Trademark Trial and Appeal Board, was filed on behalf of five Native Americans. It was the second time such a discase was filed.

"This victory was a long time coming and reflects the hard work of many attorneys at our firm," said lead attorney Jesse Witten, of Drinker Biddle & Reath.

Federal trademark law does not permit registration of trademarks that "may disparage" individuals or groups or "bring them into contempt or disrepute." The ruling pertains to six different trademarks associated with the team, each containing the word "Redskin."

We are extraordinarily gratified to have prevailed in this case," Alfred Putnam Jr., the chairman of Drinker Biddle & Reath, said. "The dedication and professionalism of our attorneys and the determination of our clients have resulted in a milestone victory that will serve as an historic precedent.
This isn't the first time that the Redskins have faced an adverse ruling from the Patent Office. This same Trial And Appeals Board came down with an identical decision in 1999 but that decision was overturned by a Federal Appeals Court on what were largely technical procedural issues. The Native American parties in this case say that they have fixed the technical problems that led to the dismissal more than a decade ago, but it is certain that the Redskins will appeal this decision on other grounds in any case. In a broad sense, there are issues relating to the team's property rights in the Trademark, as well as Due Process arguments related to the fact that the PTO is attempting to rescind a Trademark that was granted decades ago for what are arguably purely political reasons. Since I'm not an expert in Trademark law, I'm not going to comment on the legal merits of those arguments, but it's rather obvious that this is far from the end of the road on this issue and that if the Redskins decide that they want to fight this decision, which  seems likely, then we're looking at a legal dispute that will likely last for several more years and which could reach the Supreme Court before its finally resolved.
Leaving aside the questions of whether or not the name "Redskins" is offensive to Native Americans and whether or not the team name should be changed to something less offensive (and it's worth noting that 2004 Annenberg poll showed that the vast majority of Native Americans polled said they were not offended by the name), there are several things about this decision that should be troubling. On its face, of course, nobody has a "right" to Trademark protection. The Constitution authorizes Congress to grant patents and copyrights, of course, and the Commerce Clause would seem to quite clearly grant it the authority to provide protection to things such as company and product names that have independent value. However, there's nothing in the Constitution that requires Congress to do any of this, or sets the terms under which such Intellectual Property Rights must be granted. Indeed, the "disparagement" exception under which the PTO acted in this case was part of Trademark Law since well before the Redskins applied for the Trademarks that are at issue here. At the same time, though, it seems apparent that the statute's intent was that whether or not the mark is "disparaging" was to be something evaluated at the time the mark is applied for, not decades later in response to a long-term social pressure case by one group purporting to represent all Native Americans. Taking away Trademark protection decades after it was granted, then, raises serious due process concerns.
Nothing that the Patent and Trademark Office does changes the name of the Washington Redskins, of course. What the ruling has the potential to do, however, is cause serious financial harm to the Redskins in particular and the National Football League in general by allowing anyone to use the Redskins name and logo to sell merchandise without approval, and without paying compensation to the Redskins. To some extent, the actual impact of the decision will be muted by the fact that there is also a common law concept of trademarks that exists outside of Federal Law on the issue that, in theory, would allow the Redskins to protect their interests. However, the scope of common law trademarks isn't identical to that granted by Federal law (if it were there would be no reason for Trademarks to be protected by the Federal Government) and enforcing rights in that manner would potentially involve incurring significantly higher legal costs than might otherwise be the case. So, yes, the Redskins will be damaged by this decision if it is ultimately upheld on appeal.
Given this, I would suggest that revoking the team trademarks in this manner, especially given the fact that it was done decades after the marks were initially approved by the very same Patent And Trademark office raises service concerns under both the Takings and Due Process clauses of the Fifth Amendment. In repealing trademarks that were determined to be valid when initially applied for, and which have been in use for decades in reliance upon that initial approval, the government has taken property of significant, quantifiable value from the Redskins for which they will not be compensated. Additionally, retroactively applying the "disparaging" provisions more than 40 years after the Redskins received their trademarks seems to me to be a clear case of government overreach, especially when there are other equally disparaging trademarks that remain valid under the law. Finally, there is an intriguing argument that the entire idea of denying, or in this case revoking, trademarks based on content is a violation of the First Amendment, as Eugene Volokh argued in a different context:
My tentative view is that the general exclusion of marks that disparage persons, institutions, beliefs, or national symbols should be seen as unconstitutional. Trademark registration, I think, is a government benefit program open to a wide array of speakers with little quality judgment. Like other such programs (such as broadly available funding programs, tax exemptions, or access to government property), it should be seen as a form of "limited public forum," in which the government may impose content-based limits but not viewpoint-based ones. An exclusion of marks that disparage groups while allowing marks that praise those groups strikes me as viewpoint discrimination. But I'm not sure that courts will ultimately see this my way; so far they haven't been inclined to do so, precisely because the exclusion of a mark from federal registration leaves people entirely free to use the mark.
It's likely that these and other legal issues will be raised in the appeal that the Redskins are expected to file to the decision of the PTO's Trial And Appeals Board.
George Washington University Law Professor Jonathan Turley raises another concern about the attempted revocation of the Redskins Trademarks:
As federal agencies have grown in size and scope, they have increasingly viewed their regulatory functions as powers to reward or punish citizens and groups. The Internal Revenue Service offers another good example. Like the patent office, it was created for a relatively narrow function: tax collection. Yet the agency also determines which groups don't have to pay taxes. Historically, the IRS adopted a neutral rule that avoided not-for-profit determinations based on the content of organizations' beliefs and practices. Then, in 1970, came the Bob Jones University case. The IRS withdrew the tax-exempt status from the religious institution because of its rule against interracial dating on campus. The Supreme Court affirmed in 1983 that the IRS could yank tax exemption whenever it decided that an organization is behaving "contrary to established public policy" — whatever that public policy may be. Bob Jones had to choose between financial ruin and conforming its religious practices. It did the latter.

There is an obvious problem when the sanctioning of free exercise of religion or speech becomes a matter of discretionary agency action. And it goes beyond trademarks and taxes. Consider the Federal Election Commission's claim of authority to sit in judgment of whether a film is a prohibited "electioneering communication." While the anti-George W. Bush film "Fahrenheit 9/11" was not treated as such in 2004, the anti-Clinton "Hillary: The Movie" was barred by the FEC in 2008. The agency appeared Caesar-like in its approval and disapproval — authority that was curtailed in 2010 by the Supreme Court's decision in Citizens United.

(…)

When agencies engage in content-based speech regulation, it's more than the usual issue of "mission creep." As I've written before in these pages, agencies now represent something like a fourth branch in our government — an array of departments and offices that exercise responsibilities once dedicated exclusively to the judicial and legislative branches. Insulated from participatory politics and accountability, these agencies can shape political and social decision-making. To paraphrase Clausewitz, water, taxes and even trademarks appear to have become the continuation of politics by other means.

What is needed is a new law returning these agencies to their core regulatory responsibilities and requiring speech neutrality in enforcement. We do not need faceless federal officials to become arbiters of our social controversies. There are valid objections to the Redskins name, but it is a public controversy that demands a public resolution, not a bureaucratic one.
Turley is absolutely correct. There may well be a good argument for changing the name of the Redskins, although as I've said before that is a decision that ought to be left to the Redskins themselves, and it's perfectly okay to have a public discussion on that issue. What isn't okay is for unelected bureaucrats to use their positions to force their opinions on the matter on the public as a whole.
For those interested, here's the Trial and Appeals Board decisions, including the dissenting opinion and exhibits: