Warren's DNA Test Release Will Backfire
Rather than cauterizing an open wound, she's fanned the fuels of a fire.
As Doug Mataconis posted earlier, Massachusetts Senator and presumptive presidential aspirant Elizabeth Warren released DNA test results to counter the 'Pocahontas' meme President Trump and other Republicans have been leveraging against her since she came to national prominence.  Rather clearly, as Dan Drezner observed, Warren thinks "she's cauterizing an open wound and will move on." But I'm in agreement with Rich Lowry that, instead of putting the problem behind her, she has instead "highlighted it and opened up other avenues for attack."
Here's Snopes' description of the original controversy:
In October 2014, a meme targeting Sen. Elizabeth Warren (D-MA) began to circulate on social media sites. In it, Warren is framed as hypocritically exploiting programs aimed at Native Americans to achieve wealth and political power. Examples cited included her purported ownership of a $5.4 million mansion and a high-paying gig at Harvard University supposedly achieved solely due to her claim of possessing a small amount of Native American heritage:
They go on to debunk the business about the mansion and the $350k teaching gig, charges that seem to have fallen off of the national radar. But the "Pocahontas" bit remained in play. Its origins predate the 2014 meme:
The claim about Warren's use of her Native American heritage to obtain a high-paying job at Harvard University appears to date from her 2012 bid against incumbent Scott Brown for his Senate seat. Brown alleged during a debate in 2012:

I think character is important. I think what you're referring to is the fact that Professor Warren claimed that she was a Native American, a person of color, and as you can see, she's not. That being said, she checked the box and she had an opportunity actually to make a decision throughout her career when she applied to Penn and Harvard and she checked the box claiming she was a Native American.And, you know, clearly she's not. That being said, I don't know and neither do the viewers know whether she got ahead as a result of that checking of the box, but the only way that we'll be able to find that out is to have her release her personnel records, have Harvard release their personnel records to make sure that she did not have an advantage that others were entitled to. When you are a United States Senator you have to pass a test, and one of character and honesty and truthfulness. And I believe, and others believe, that she has failed that test.

The legitimacy of Warren's claims to Native American heritage has certainly been challenged by many critics, and it is true that while Warren was at U. Penn. Law School she put herself on the "Minority Law Teacher" list as Native American) in the faculty directory of the Association of American Law Schools, and that Harvard Law School at one time promoted Warren as a Native American faculty member. But specific evidence that she gained her position at Harvard (at least in part) through her claims to Native American heritage is lacking. Warren denied applying for special consideration as a person of Native American heritage during her career, and when the matter was examined in 2012 in response to Brown's claims, people with whom Warren had worked similarly denied her ancestral background's factoring into the professional opportunities afforded her . . . .
There's more but the bottom line, essentially, is that she apparently made more of a deal about her Native American heritage than it warranted but that it was neither a routine claim she made nor one that contributed in any meaningful way to her professional advancement. Mildly embarrassing, perhaps, but just not that big a deal.
Beyond that, I was perfectly satisfied with her story up until now: that, like many families who have been in the United States for many generations, claims to having some Native blood were part of family lore and she just accepted that uncritically.
Today's stunt, then, struck me as simply bizarre. Analysis showing that she's as much as 1/32nd or as little as 1/512th American Indian pretty much confirms that she's in fact not Native American. Not only does she not meet most tribal or US legal definitions for Native status but she doesn't meet any sort of commonsense standard, either. And that's fine! But why bring the issue back up only to reinforce the original charge against her?
Indeed, Warren is doubling down with this little Twitter stunt:
By the way, @realDonaldTrump: Remember saying on 7/5 that you'd give $1M to a charity of my choice if my DNA showed Native American ancestry? I remember – and here's the verdict. Please send the check to the National Indigenous Women's Resource Center: https://t.co/I6YQ9hf7Tv pic.twitter.com/J4gBamaeeo

— Elizabeth Warren (@elizabethforma) October 15, 2018
WaPo, The Hill, and others seem to think it's funny that she called his bluff and now he's weaseling out on paying. But what he said was, "I will give you a million dollars to your favorite charity, paid for by Trump, if you take the test and it shows you're an Indian." She took the test. She's not an Indian.
Already, memes like this are making the rounds: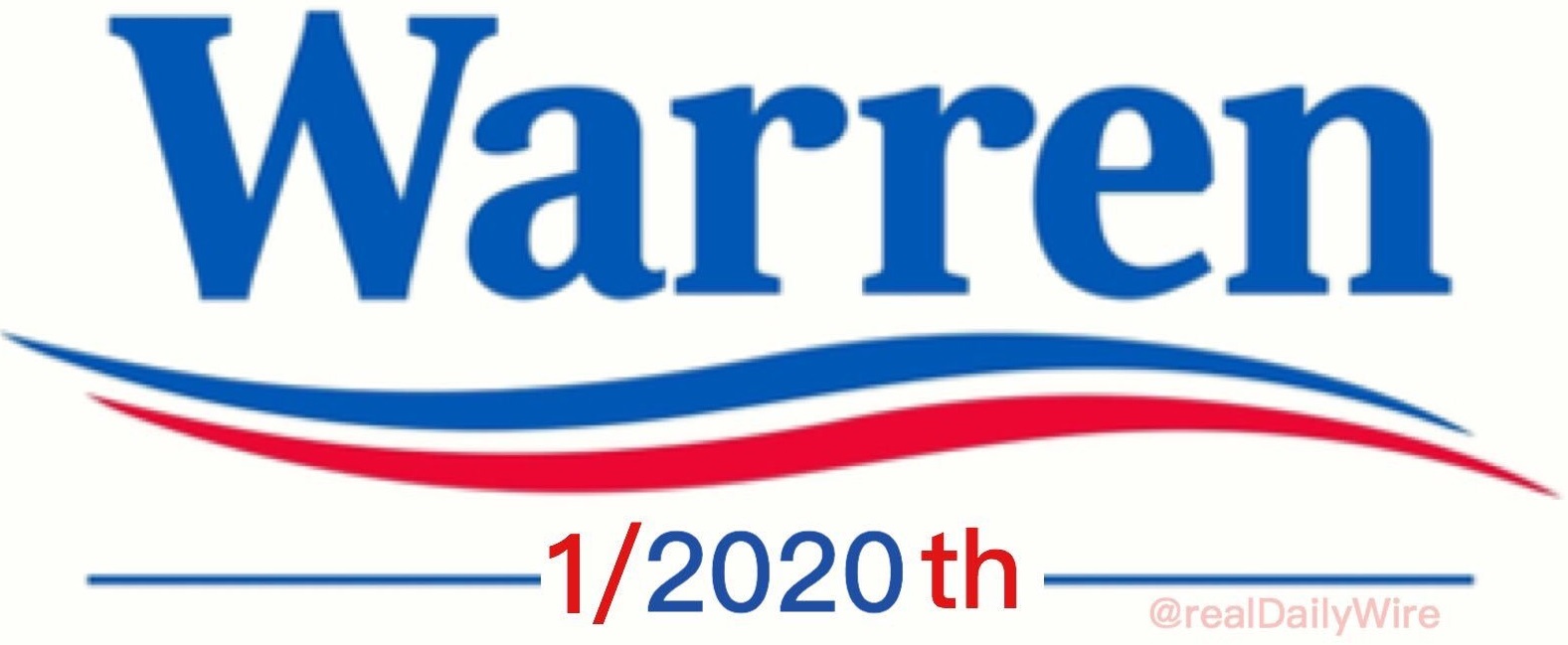 Even as one who finds the "Pocahontas" slur beneath the dignity of the Presidency, that's funny.
Now, none of this has any particular bearing on her fitness for the Presidency. While she's not among my favorite Democrats, I'd vote for her in 2020 if the alternative were the re-election of Trump. But why she thinks this own-goal trolling strategy is helping, I haven't the foggiest.
UPDATE:  The Cherokee Nation has weighed in. It's not good for Warren.
Cherokee Nation Secretary of State Chuck Hoskin Jr. issued the following statement Monday in response to Senator Elizabeth Warren's DNA test claiming Native Heritage:

"A DNA test is useless to determine tribal citizenship. Current DNA tests do not even distinguish whether a person's ancestors were indigenous to North or South America," Cherokee Nation Secretary of State Chuck Hoskin Jr. said. "Sovereign tribal nations set their own legal requirements for citizenship, and while DNA tests can be used to determine lineage, such as paternity to an individual, it is not evidence for tribal affiliation. Using a DNA test to lay claim to any connection to the Cherokee Nation or any tribal nation, even vaguely, is inappropriate and wrong. It makes a mockery out of DNA tests and its legitimate uses while also dishonoring legitimate tribal governments and their citizens, whose ancestors are well documented and whose heritage is proven. Senator Warren is undermining tribal interests with her continued claims of tribal heritage."