The Dumbest Plagiarism Scandal Ever
Recipe plagiarism and a bonus tale.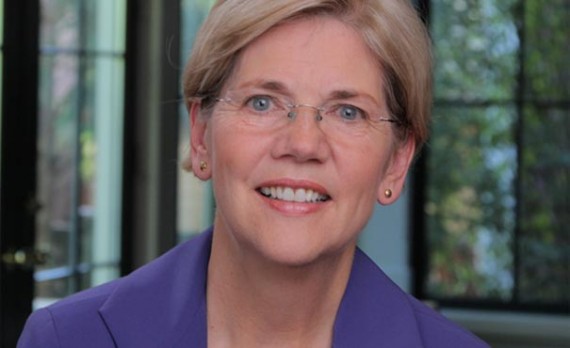 Look, I am hardcore on plagiarism (my path is strewn with students who failed class for said activity).  It is a very serious offense, and indeed is one of the most serious, if not the most serious, of academic crimes.
Having said that, I not only have a a hard time getting upset about the "scandal" over Massachusetts' Senate candidate Elizabeth Warren's "plagiarism" over recipes submitted to Pow Wow Chow, I have to confess the big deal being made over it is ridiculous.
The main source of the story, as best as I can tell, is this piece from the Boston Herald:  'Pow Wow' factor: Elizabeth Warren touted native roots in '84 cookbook
Elizabeth Warren was touting her claim of Cherokee heritage as early as 1984, according to a cookbook titled "Pow Wow Chow" edited by her cousin that includes Warren's recipes for a savory crab omelet and spicy barbecued beans.

The cookbook, edited by Warren's cousin Candy Rowsey, is a compilation of "special recipes passed down through the Five Tribes families," according to the introduction in a copy obtained by the Herald.
That original story does not claim plagiarism, but focused on the cookbook as an example of Warren making claims about her heritage:
Warren, who has been under fire for claiming Indian lineage despite a lack of documentation, is identified as "Elizabeth Warren, Cherokee" under each of five recipes she contributes in the cookbook, published in 1984 by the Five Civilized Tribes Museum located in Muskogee. Warren is not listed as an official member of the Cherokee tribe and she has been unable thus far to document her claim of any Native American heritage.
Cue Breitbart's Big Government:   DID ELIZABETH WARREN PLAGIARIZE HER 'POW WOW CHOW' RECIPES? (the dreaded all caps are from the source):
The credibility of Massachusetts Democratic  Senate candidate Elizabeth Warren took another hit today as Boston radio talk show host Howie Carr released evidence that appears to confirm Ms. Warren may have plagiarized at least three of the five recipes she submitted to the 1984 Pow Wow Chow cookbook edited by her cousin Candy Rowsey.

Two of the possibly plagiarized recipes, said in the Pow Wow Chow cookbook to have been passed down through generations of Oklahoma Native American members of the Cherokee tribe, are described in a New York Times News Service story as originating at Le Pavilion, a fabulously expensive French restaurant in Manhattan. The dishes were said to be particular favorites of the Duke and Duchess of Windsor and Cole Porter.
Actually, my guess would be that all five were "plagiarized" in the sense that I expect that a) none of them were authored by Warren herself (but of course, there is no claim that they were), b) were copied from some other sources, and c) were not provided attributions.
I would note, however, that even if we note that these were copied from other sources without attribution, this isn't pure plagiarism insofar as the nature of the work in question (i.e., the book) was not about original recipes, but rather a book of favorite dishes from a given family and therefore include a key understanding the contributor was not the author.  As such, the expectation was clear that the contributor did not write the recipes in the first place.
Look, I suspect we are all aware of these kinds of cookbooks and have probably been asked to contribute to them (and many of us may have done so).  They are usually some thematic project or some type of fundraiser.  I know that schools and churches with which I have been affiliated have done these types of books and I think my neighborhood association is currently selling one.  The drill is pretty straightforward:  contribute your favorite recipes and they will get published for others to enjoy.   One goes to the recipe box, or somesuch, to get the one one like and copies them down.  Many of these recipes are from books or publications—others are likely hand copied from friends and family (many of those copied from books and other publications).  No one worries about sourcing recipes (except, maybe, by appending "Grandma's" to the title of a particular item, whether it was a Grandma original or not).  Really:  how many of us use recipes that we, ourselves, use were created from scratch?  Indeed, I am certain that every such recipe book of this nature is filled with copyright infringement.
Now, if the book in question was a serious publication intended to compete with mass produced cookbooks, then these recipes would need to have been vetted for sources (we aren't talking here about the latest from Emeril or Rachel Ray).  But, of course, had this been that type of book there would have been a more complex editorial process than appears to have been the case.  Pow Wow Chow appears to have been a bit more than a localized recipe-sharing book of the type described above (although not by much), as it was sold in a museum gift shop (Five Civilized Tribes Museum of Muskogee, Oklahoma) but that hardly puts it at the level of mass level publication that would have been competing with, well, real cookbooks.  This is a small step above amateur self-publication.
And yet, I see that a lot of pixels have been spilled over this one, and with much glee.
Quite honestly, I can only discern a handful of political usefulness from this line of attack, which include:
1.  It keeps the Native American storyline in the press (a tale that strikes me as ultimately being much ado about not very much, but I can see that it could affect that way Warren is viewed in some quarters).  Although I would note that the contribution to this book would indicate that Warren did think of herself as having Native American heritage back in the 1980s and that her family (the book was compiled by a cousin) had similar views.  This, now that I think about it, actually reinforces the notion that Warren's self-identification as having Native American heritage was sincere.  Family mythology can be quite powerful.  Being told that one is descended from a particular group or that one is related to some particular historical figure can take hold and be accepted without a lot of question, depending on when one was told such information.
2.  It feeds the ridicule machine (which is a huge percentage of punditry).  Of course, this just tickles the ears those who were anti-Warren to being with.
And btw, yes: the recipes in question strike me as sort of odd for a book about Native American cuisine, although I likewise have to admit I have no idea what would qualify as Native American cuisine.
Interestingly, there was another Warren plagiarism story late last week:  National Review Online accused Warren of plagiarizing one of her books.  Turns out, however, that they discovered that someone had plagiarized Warren.  NRO had compared the paperback version of Warren's book to the hardcover version of  a book by a Rob Black.
Salon has the details:  Review's fake plagiarism scoop
The National Review says Elizabeth Warren is guilty of the gravest crime a writer can commit: Plagiarism. Katrina Trinko compares passages from "All Your Worth: The Ultimate Money Lifetime Plan," Warren's book with her daughter, Amelia Warren Tyagi, with passages from "Getting on the Money Track," a book by Rob Black. The passages line up perfectly. The wording and even the punctuation are identical. It's plagiarism all right. Except it looks very much like Warren is actually the victim.

The National Review headline says "Plagiarism in Elizabeth Warren's 2006 book." The body refers to Warren publishing the book "in 2006″ and Black's book coming out in 2005. That's true! Except that in 2006 the paperback of Warren's book was published. The hardcover came out in March of 2005. Black's book seems to have come out, if Amazon is correct, October 14 2005. (Or, according to Barnes and Noble, July 2005?)
NRO's Katrina Trinko later issued a correction.
—
*I must confess, getting straight facts on this story is difficult, as most of the piece on this are in partisan sources (Breitbart, WaTi, NRO, the Boston Herald, etc.)  and mostly in editorials.  This makes getting basic facts difficult.