Washington Governor Jay Inslee Is Running For President
Washington Governor Jay Inslee is running for the Democratic nomination for President on a platform primarily focused on climate change. Whether that helps distinguish him from a growing field of candidates remains to be seen.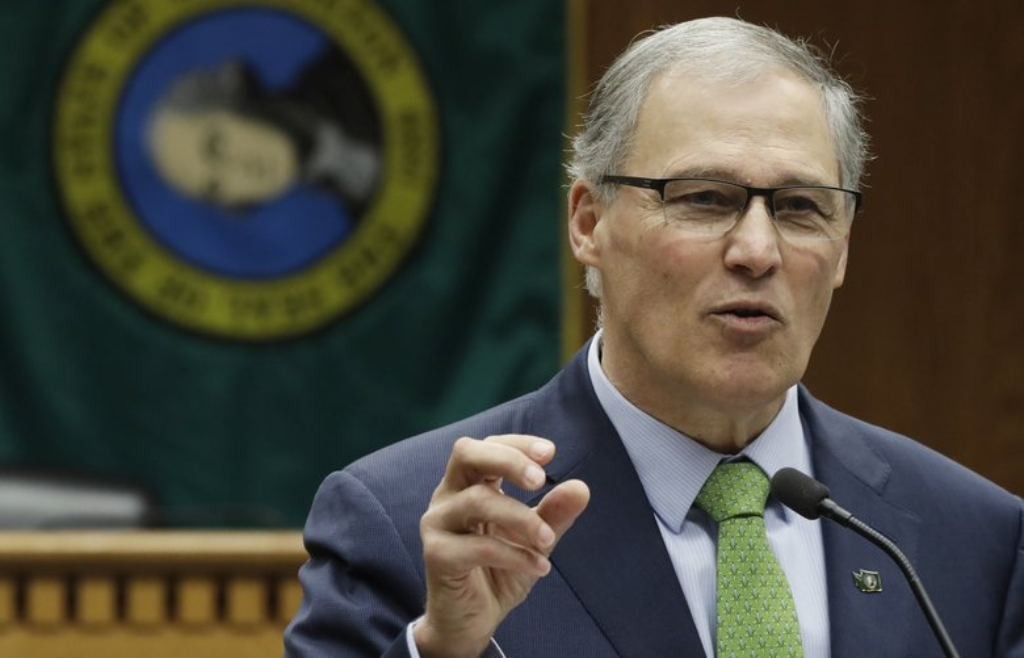 Washington State Governor Jay Inslee is the latest entrant into the race for the Democratic nomination for President, and he appears to be contemplating a campaign built on a focus on climate change:
SEATTLE — Jay Inslee, the governor of Washington and former member of Congress who has made climate change and the environment his signature issues, jumped into the crowded field of 2020 Democratic contenders for president on Friday.

Mr. Inslee, 68, has led the state during a powerful economic expansion since taking office as governor in 2013, especially in the Seattle area. Amazon and other tech companies have hired tens of thousands of workers, and export-driven manufacturers like Boeing have boomed.

But he has had mixed success in getting some of his ideas put into practice, especially those on renewable, low-carbon energy. He failed twice with voters, and once in the Legislature, to enact the nation's first carbon tax, aimed at reducing planet-warming greenhouse gas emissions. Many residents, elected officials and business leaders balked, concerned that energy costs would rise.

In a video announcing his campaign Friday, Mr. Inslee made climate change central to his message as a candidate.

"Our country's next mission must be to rise up to the most urgent challenge of our time — defeating climate change," he said.

"This crisis isn't just a chart or graph anymore. The impacts are being felt everywhere."

In speeches around the nation leading up to his announcement, Mr. Inslee has framed his candidacy around themes that are deeply familiar to residents of his home state. Biting attacks on President Trump and Republicans in Congress — popular in the strongly Democratic counties in and around Seattle — are combined with sometimes lofty, sometimes dire, rhetoric that the nation and the world are at a pivot point, where delay on energy and climate will be disastrous for future generations.

"This is the 11th hour, but it is Washington's hour to shine. It's a time of great peril, but also of great promise," Governor Inslee said in his State of the State speech earlier this year. "I don't know of any other issue that touches the heart of things so many of us care about: our jobs, our health, our safety and our children's future," he added, referring to climate change.

Mr. Inslee has said in recent speeches that he would push the nation to global leadership in research and development of lower-carbon energy policies, likening the effort to the mass mobilizations and deployment of resources during World War II. But his base of support in his home state is also narrow.

In his election to the governor's office in 2012, he carried only eight of the state's 39 counties, all of them along the heavily populated liberal western slope of the Cascade Range. He trailed his Republican challenger in more rural and conservative agricultural communities. In his second campaign four years later, he carried nine counties.

Many Washington residents, even those who admire Mr. Inslee and have voted for him, are prone to sometimes mock him for his sunny, boyish enthusiasm in talking about passions like ocean acidification and carbon.

"He's a true believer," said Travis N. Ridout, a professor of government and public policy at Washington State University and longtime observer of Mr. Inslee. "He's identified with climate change. Other than that, it's hard to — at least in my mind — come up with signature policy focuses. The positive of that is that it's hard to think of the big scandals he's been involved in either. He's fairly low drama. He's not a firebrand."
Here's the video that Inslee posted to social media to kick off his campaign:
Inslee first entered politics in 1988 when he was elected to the Washington House of Representatives, where he served until being elected to Congress in the wake of Bill Clinton's election that year. While in Congress, Inslee represented both the 1st Congressional District and the 4th Congressional District from his state. Inslee remained in Congress for a decade, but it doesn't appear that he made much of a mark, which isn't surprising considering that he appears to have spent his time sitting on the Agriculture and Science, Space, and Technology Committees. His major accomplishments while in Congress appear to include matters such as helping to secure package related to the use and protection of the Yakima River, opening up Japanese markets, and matters related to the Hanford Nuclear Reservation, a major government research site located near Richland, Washington. In 2012, Inslee resigned from Congress to run for Governor, a race he narrowly won over his Republican opponent. In 2016, Inslee was re-elected by a stronger margin over his Republican opponent. In choosing to run for President, Inslee is at least for the moment taking himself out of the running for a third term, which he would be eligible for given that Washington does not have term limits.
At least initially, Inslee's biggest problem is going to be a lack of name recognition even among politically active Democrats. This is especially true that he's joining a race that already includes better-known candidates such as Kirsten Gillibrand, Julian Castro, Tulsi Gabbard, Kamala Harris, Elizabeth Warren, Amy Klobuchar, Cory Booker, and Bernie Sanders as well as less known candidates such as South Bend, Indiana Mayor Pete Buttigieg and Maryland Congressman John Delaney. Additionally, Inslee is entering a race where he could find himself joined by other candidates currently mulling a run for the White House including former Vice-President Joe Biden, Ohio Senator Sherrod Brown, former Attorney General Eric Holder, Colorado Governor John Hickenlooper, former Virginia Governor Terry McAuliffe, Ohio Congressman Tim Ryan, former Texas Congressman Beto O'Rourke, Oregon Senator Jeff Merkley, Massachusetts Congressman Seth Moulton, California Congressman Eric Swalwell, New York City Mayor Bill Delblasio, and former New York Mayor Michael Bloomberg.
If he's going to rise anywhere out of the 1% or so he's likely to show in initial polling, Inslee will need to find a way to stand out from what is quickly becoming a growing crowd. With his announcement, there are now eleven what I would call prominent or semi-prominent Democrats in the race for the nomination. Given the recent comments from the likes of Vice-President Biden, Beto O'Rourke, and Michael Bloomberg, that field is likely to be up to fourteen in a few short weeks, and probably even bigger than that as the spring goes on. Only one of these people is going to be the nominee, and all but a handful of them are going to end up being contenders for the nomination once voting actually starts and we get deeper and deeper into the primaries. Inslee apparently believes that the climate change issue will be what separates him from the other candidates, which is why he focused on it in his opening video. Perhaps he'll be proven right, but it's worth noting that the need to address climate change is basically a consensus issue in the Democratic Party and there doesn't seem to be much that distinguishes Inslee from the rest of the field in that regard. Perhaps he'll be proven right, but as things stand right now I suspect he's going to be one of the also-rans who ends up dropping out rather early.