Jon Corzine, Other MF Global Executives, Unlikely To Face Criminal Charges
Jon Corzine appears to be about to get a 'Get Out Of Jail Free" card.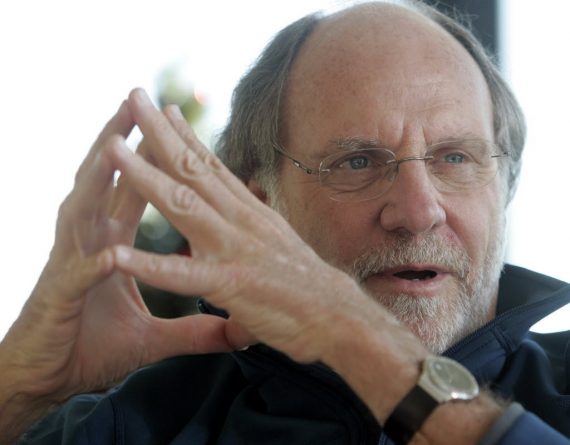 It's been quite awhile since we've heard anything about MF Global, the investment firm headed by former New Jersey Senator and Governor Jon Corzine that filed for bankruptcy protection last October after a collapse that resulted in the loss of billions of dollars of client funds that were diverted to cover risky internal trades. In November we had learned that Corzine apparently used influence to hold of SEC investigations of the company and we also learned that Corzine may have  had knowledge that client funds were being diverted to lend to a European affiliate that was failing due to a host of risky trades. Meanwhile, the lost client funds ending up totaling more than a billion dollars, and Corzine admitted he had no idea where that money had gone. Now, after a months-long investigation, it appears that nobody associated with the company will be facing criminal charges:
A criminal investigation into the collapse of the brokerage firm MF Global and the disappearance of about $1 billion in customer money is now heading into its final stage without charges expected against any top executives.

After 10 months of stitching together evidence on the firm's demise, criminal investigators are concluding that chaos and porous risk controls at the firm, rather than fraud, allowed the money to disappear, according to people involved in the case.

The hurdles to building a criminal case were always high with MF Global, which filed for bankruptcy in October after a huge bet on European debt unnerved the market. But a lack of charges in the largest Wall Street blowup since 2008 is likely to fuel frustration with the government's struggle to charge financial executives. Just a few individuals — none of them top Wall Street players — have been prosecuted for the risky acts that led to recent failures and billions of dollars in losses.

(…)

While the government's findings would remove the darkest cloud looming over Mr. Corzine — the threat of criminal charges — the former Goldman Sachs chief is not yet in the clear. A bankruptcy trustee on Wednesday joined customers' lawsuits against Mr. Corzine, and regulators are still considering civil enforcement actions, which could cost him millions of dollars or ban him from working on Wall Street.
Apparently, Corzine has maintained the stance that he had no idea what was being done with client funds, and while that's certainly possible it certainly doesn't seem believable, especially if he was lobbying the SEC to hold off investigations that would have uncovered what was going on while it was going on and possibly prevented the loss of a billion dollars of client money that never should have been diverted in the first place. However, if Federal authorities can't prove that Corzine new what was going on, it would be impossible for them to bring charges against him.
Not everyone is buying it, though, especially not Jeffrey Carter at Points & Figures:
Second, ou could be totally cynical and say Corzine had enough money and political power to avoid prosecution where Russell Wasendorf didn't. One poor sap tried to kill himself and will spend a lot of time in the pokey while the other will go off and start a hedge fund. It's a political year, and Obama couldn't afford yet another black eye by having one of his cronies go off to jail in an orange jumpsuit. Besides, if Corzine stays out of jail, just think of all the money he could raise. You think he is the only one in the grey area of finance? If you can buy your way out of jail with money and influence, there is a huge untapped market for political donations.

Third is the idea that prosecutors looked at all the evidence and decided that the case was too tough to prosecute. Convicting someone means, "beyond a reasonable doubt" and they may have felt that Corzine could have created enough reasonable doubt in the jury room to walk. I am betting on the third version.

After speaking with CCC lawyer James Koutoulas, and other pro traders I have no doubt that money was stolen from customer segregated funds. There is just too much smoking gun evidence. Anyone with experience in the industry would be able to sift through the legal machinations and malarky to understand the deception involved. If this were adjudicated in an Arbitration or Probable Cause Committee at an exchange, I am relatively confident that Corzine would be found guilty based on the circumstantial facts that I know.
That's the way I see it as well, and I'm not the professional trader that Carter is. It seems implausible that an "obsessive trader" like Corzine, who apparently has spent the ten months or so since MF Global collapsed using his family's wealth to trade in the market, would be unaware of what his own company was doing, the risks it was taking, and what had to be done to cover those risks when the deal started collapsing. Since the whole trade was so darn complicated, though, it's likely difficult for anyone to prove exactly what happened. I'm sure there will be some MF Global patsy that will end up taking the fall, Carter points to the company's Treasurer as the likely fall guy, but that won't answer the question of what happened to a billion dollars and why client funds that were supposed to be sacrosanct were diverted to cover an internal deal that had  collapsed.
Don't worry about Jon Corzine, though, he'll be just fine. The New York Times says he's thinking of starting up a Hedge Fun. Care to invest in it? Personally, I'm going to pass.
H/T: Ed Morrissey