Jon Corzine Reportedly Used Influence To Hold Off Investigation Of MF Global
When the CFTC wanted to change a rule, Jon Corzine used his influence to stop them.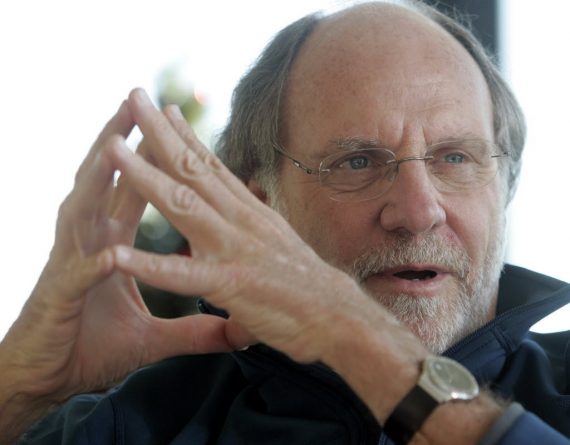 This morning, it was announced that Jon Corzine, the former Governor of, and Senator from, New Jersey, had resigned as CEO of the now bankrupt MF Global investment firm. Before that news came out, though, The New York Times was out with a report that Corzine had used his political influence to prevent a rule change that would have uncovered what MF Global was apparently doing with client funds:
Months before MF Global teetered on the brink, federal regulators were seeking to rein in the types of risky trades that contributed to the firm's collapse. But they faced opposition from an influential opponent: Jon S. Corzine, the head of the then little-known brokerage firm.

As a former United States senator and a former governor of New Jersey, as well as the leader of Goldman Sachs in the 1990s, Mr. Corzine carried significant weight in the worlds of Washington and Wall Street. While other financial firms employed teams of lobbyists to fight the new regulation, MF Global's chief executive in meetings over the last year personally pressed regulators to halt their plans.

The agency proposing the rule, the Commodity Futures Trading Commission, relented. Wall Street, which has been working to curb many financial regulations, won another battle.

The proposed rule would have restricted a complicated transaction that allowed MF Global in essence to borrow money from its own customers. Brokerage firms are allowed to use customers' money to earn interest, not unlike banks, but this rule would have outlawed using customer funds for a loan to the firm itself.
It seems like an eminently sensible rule, if not one that should have been in place to begin with. In my own profession, the very idea of touching client funds in a lawyer's trust account for any unauthorized reason is anathema, and Lawyer Trust Accounts are one of the most heavily policed areas of legal practice. It's really pretty simple, the money that's in the clients' account isn't your money, you shouldn't be using it for anything that isn't authorized. It's actually rather surprising to me that there wouldn't be a similar rule applied to the brokerage industry. Perhaps there's a valid argument against the rule as it applies to the brokerage industry, but  the story of how MF Global was able to get the CFTC to back off places Corzine directly at the center of events:
Leading the government's effort to curtail these arcane practices was Gary Gensler, the chairman of C.F.T.C., who had worked for Mr. Corzine at Goldman Sachs. Mr. Gensler pushed for the proposed change in October 2010, and planned to bring it to a vote this summer.

MF Global has four outside lobbyists in Washington, tiny by Wall Street standards. But it was Mr. Corzine who marshaled the firm's response to the proposal, lobbying most of the agency's five commissioners directly. One commissioner said he visited with Mr. Corzine in MF Global's headquarters, and acknowledged being impressed by the Wall Street titan, said a person with direct knowledge of the meeting who asked for anonymity because the meeting was private.

The C.F.T.C. polices the markets for futures trades. Staff members there often do not have a Wall Street pedigree.

Mr. Corzine's background in finance made him highly credible, agency officials said.

Mr. Corzine's efforts culminated on July 20, as the agency was preparing for a vote on the proposal. That day, MF Global executives were on four different calls with the agency's staff. Mr. Corzine himself was on two of those calls.

One of the calls was with Mr. Gensler. Both men are active Democrats, and served on financial panels together recently.

Shortly after the calls, Mr. Gensler, aware that he lacked the support to push the vote through, decided to delay the proposal indefinitely. He did so at the urging of Republican commissioners, according to people familiar with the matter.
So what you have here is corruption at its best. A former Goldman Sachs Golden Boy, who went on to buy himself a Senate seat and the Governor's Mansion in New Jersey, calls up his buddies in Washington, and manages to hold off adoption of a rule that would have likely uncovered the high stakes games that his firm was playing with client funds. Ironically, the current rule is one that was lobbied for by Lehman Brothers back in 2005:
Lehman Brothers actually pushed for the existing rule in 2005, which had the unintended effect of allowing firms to use repurchase agreements to hide losses in the short term.  That's how Lehman's collapsing financial state escaped notice for as long as it did, as they hid billions in losses.  That is why Gensler proposed the rule in the first place, but Corzine insisted that the rule change wouldn't actually do anything for greater transparency on compliance.
Maybe Corzine was right, but the coincidence of the proposed rule change, Corzine's lobbying, and the reasons behind collapse of MF Global (which may yet lead to criminal charges for someone) do make one suspicious at the very least. If nothing else, a story like this demonstrates one area where there's possible unity between the Occupy Wall Street crowd and their critics. The kind of incestuous relationship between business and government that Corzine's lobbying, indeed his entire career, represents is something the left and right ought to be able to agree is bad for the country, and for the economy. Corzine also stands as proof that crony capitalism is not solely a Republican phenomenon (although one would have thought that the case of Chris Dodd would have established that definitively), it's a universal problem related to businessmen who see the ever expanding government as a tool to advance their business interests, and politicians willing to sell themselves.
We still don't know if a crime was committed at MF Global, or what Corzine's role in it may have been. What we do know, however, is that Jon Corzine used his influence to gain access to the CFTC to prevent the CFTC from adopting a rule change that would've revealed his company's risky practices. That, my friends, is crony capitalism