U.S. Files Civil Charges Against Former Governor Jon Corzine Over MF Global Collapse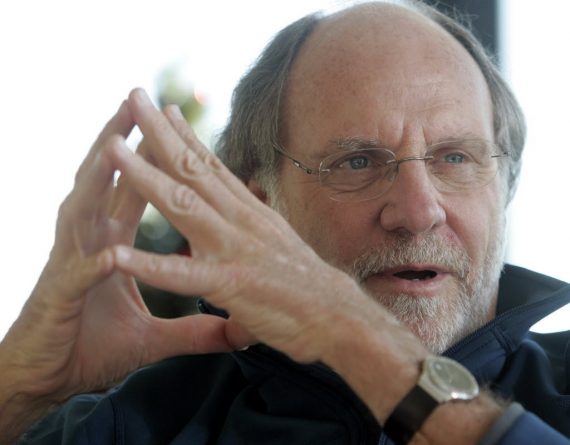 The United States has filed a civil complaint against former New Jersey Governor Jon Corzine over the collapse of MF Global:
Jon S. Corzine, no stranger to bare-knuckle brawls after spending nearly 40 years on Wall Street and in New Jersey politics, now faces the biggest fight of his career: a showdown with the United States government.

On Thursday, federal regulators sued Mr. Corzine in connection with the collapse of the brokerage firm MF Global and apparent misuse of customer money during its final days. Mr. Corzine, a former United States senator and New Jersey governor, ran the firm until its bankruptcy in October 2011.

The Commodity Futures Trading Commission, the federal agency that regulated MF Global, argued in the lawsuit that Mr. Corzine had failed to prevent a lower-level employee from transferring customer money to banks and clearinghouses. The agency also sued that employee, Edith O'Brien, assistant treasurer, who oversaw the transfer of customer money from the firm's Chicago office.

While the agency did not accuse Mr. Corzine of authorizing the breach of more than $1 billion in customer money, or even knowing that the wrongdoing had happened, it claimed that he had failed to "diligently supervise" the firm as it jeopardized the client accounts. The suit also outlined a more ambitious claim that Mr. Corzine was subject to so-called control person liability, a legal provision that allows for the punishment of executives for the bad acts of lower-level employees.

"Turning a profit is not the only job of the person at the top of a C.F.T.C.-regulated firm," said David Meister, the agency's enforcement director. "Particularly in times of crisis, the person in control, like the C.E.O. here, must do what's necessary to prevent unlawful uses of customer money, so that customers' money is still there if and when the music stops."

The lawsuit, filed in United States District Court in Manhattan, provides the most complete account to date of MF Global's collapse and its violation of customer protections. Citing dozens of e-mails and capturing previously unreleased phone calls that laid bare the firm's chaotic final days, the government painted the first real-time synopsis of a Wall Street blowup using executives' own haunting words.

In a call recorded by the firm in October 2011, for example, the firm's global treasurer acknowledged to a colleague that MF Global was "skating on the edge," without "much ice left."

In another call that month, the global treasurer indicated that the firm's liquidity "situation" was "not sustainable" and that "we have to tell Jon that enough is enough. We need to take the keys away from him." Mr. Corzine, who inherited a firm in 2010 that lost money in each of the previous three years, nicknamed this person "the Gravedigger."

If found liable, Mr. Corzine and Ms. O'Brien could face fines and possibly a ban from trading commodities. Such a ban would deliver a blow to Mr. Corzine, 66, a onetime titan of Wall Street and Washington.

But Mr. Corzine, who no longer appears to be drawing scrutiny from criminal authorities, has indicated that he will fight the civil charges. Andrew J. Levander, Mr. Corzine's lawyer, denounced what he called "an unprecedented lawsuit based on meritless allegations that Mr. Corzine failed to supervise an experienced back office professional who was located in a different city and who did not report to Mr. Corzine or even to anyone who reported to Mr. Corzine."

Mr. Levander added that Mr. Corzine "did nothing wrong, and we look forward to vindicating him in court."

Steven Goldberg, a spokesman for Mr. Corzine, said the trading commission's lawsuit "is not surprising considering the political pressure to hold someone liable for the failure of MF Global," the largest Wall Street bankruptcy since the 2008 financial crisis.

In suing Mr. Corzine, the agency took an unusually hard line against a Wall Street executive, setting up a legal battle that could drag on for years. Unlike other regulatory agencies, which often settle with defendants without extracting an admission of guilt, the agency also obtained an acknowledgment of wrongdoing from MF Global's estate. As part of the announcements on Thursday, which thrust the once-obscure trading commission onto its biggest stage, the commission imposed a $100 million fine on the estate.

"This is a bellwether case for the commission following an exhaustive investigation," said Bart Chilton, a commissioner at the agency who has railed against the breach of customer accounts.
Given the complicated nature of the case, and of MF Global's business to begin with, it's hard to say what the merits of this suit are. At the very least, though, this is yet another headache for Corzine that is likely to last for years.
Here's a copy of the Complaint: