Most Cuban-Americans Support Obama's Opening To Cuba
New polling on President Obama's opening to Cuba is likely to surprise some, and disappoint others.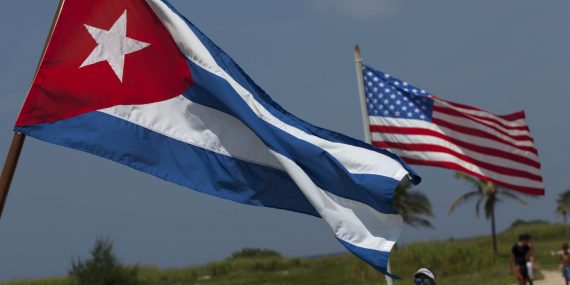 A new poll finds that most Cuban-Americans support the Obama Administration's decision to open relations with Cuba and take steps toward lifting the economic embargo that has been in place for nearly fifty-five years:
A majority of Cuban-Americans support the White House's new policy toward Cuba, according to a new poll released Wednesday, with 51 percent saying they agree with President Barack Obama's decision to begin normalizing relations with the country and 40 percent opposing.

In the same poll conducted last December — after Obama's announcement — 44 percent responded that they agreed with the change, and 48 percent disagreed.

Among Cuban-Americans born in the United States, that number is higher, with 66 percent agreeing; though only 45 percent of those born in Cuba agree with Obama's decision.

By and large, younger Cuban-Americans born in the United States, and those who do not live in Florida, are more likely to support re-establishing relations.

Only 32 percent of Cuban-Americans who came to the U.S. before 1980 say they disagree with the move, while only 32 percent are in favor, compared with the 56 percent who came after 1980 who support the change in policy.

A majority of respondents aged 18 to 49 said normalizing relations is a good idea (69 percent for 18 to 29; 60 percent for 30 to 49), while a slim plurality of respondents aged 50 to 64 approved. Among those 65 and older, only 38 percent approve, compared to 54 percent who disapprove.

Among Florida residents, 41 percent back the policy change, compared with 49 percent who do not. A majority of Cuban-Americans living elsewhere in the U.S. responded that they support the move — 69 percent, compared with 23 percent.
The Obama Administration's decision to open relations with Cuba hasn't been in the news very much in the three months or so since it was announced. Largely, that's likely because we're now at the point where negotiations between Washington and Havana about further lifting of the economic embargo, as well as other issues, are going on behind the scenes and there really isn't very much news to report. As I noted at the time, though, the initiative was both a good idea and one that was long overdue given the fact that the United States has relationships with regimes just as oppressive as Cuba's and any rationale for the embargo itself ended when the Cold War ended. For the most part, of course, the news was greeted with disdain by Republicans in Congress, although Senator Rand Paul was one notable exception to that chorus of criticism and he engaged in some exchanges over the issue with Marco Rubio that could make the 2016 campaign rather interesting when it gets into gear.
This poll is interesting largely because it tends to show that the political calculus that is obviously motivating the Republican response to the Obama's Cuba policy may be entirely wrong. As Steven Taylor noted back in December, the first polls taken in the wake of the announcement of the policy shift showed that the American public as a whole overwhelmingly supported the President on this issue. This poll, as well as others taken in the immediate wake show that even Cuban Americans tend to be supportive of the bill, most especially younger Cuban-Americans and those who were born in the United States rather than having emigrated from Cuba. Given this, it seems unlikely that the White House has put Democratic fortunes in states like Florida by going down this road. Indeed, according to exit polling President Obama received 48% of the Cuban-American vote in Florida in 2012, which is 13 points higher than the Democratic portion of the Cuban-American vote in 2008. Given this, Republican hopes that the opening to Cuba could give them an opening in Florida when the 2016 General Election rolls around don't seem to be supported by the evidence.