American Held By Cuba Released, U.S. And Cuba To Begin Talks On Normalizing Relations
An American freed from captivity, and potentially huge changes in America's diplomatic and trade relationship with Cuba.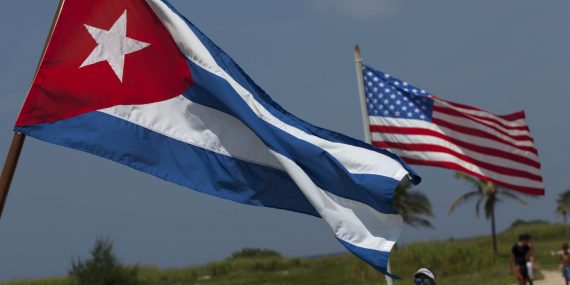 This morning it was announced that Alan Gross, an American who has been held in a Cuban prison for the past several years on charges that the was spying for the United States, has been released as part of a deal that apparently includes the release of three Cubans held by the United States. More important that the prisoner swap, which is something that has happened before, is the announcement that the United States and Cuba are set to begin talks about normalizing a relationship that has been largely frozen since President John F. Kennedy broke diplomatic relations with the Castro regime in January 1961:
 WASHINGTON — The United States will open talks with Cuba aimed at restoring full diplomatic relations and opening an embassy in Havana for the first time in more than a half century after the release of an American contractor held in prison for five years, American officials said Wednesday.

President Obama plans to make a televised statement from the White House at noon about the breakthrough, which opens the door to a major international initiative that could help shape his legacy heading into his final two years in office.

Mr. Gross, who has been serving a 15-year sentence in a Cuban prison for trying to bring Internet services to Cuba, was released and put on an American government airplane bound for the United States, officials said. His captivity has been a longstanding obstacle to Mr. Obama's desire to transform relations with the island nation.

"Today marks the beginning of a major new chapter in U.S.-Cuban relations," said Julia Sweig, director of Latin American studies at the Council on Foreign Relations. "Finally we have an American president willing to do the right thing for the national interest, for American standing in Latin America, and for the Cuban people."

Mr. Obama has long said American policy toward Cuba has failed to achieve the ends it was intended to achieve and over the years he has made modest changes to restrictions on travel and contact. But it has frustrated him that he has not been able to make more significant changes until now.

News agencies reported that President Raúl Castro of Cuba also would speak at noon about relations with the United States.

As part of the larger agreement, the United States is releasing three Cuban spies first arrested in Miami in 2001. American officials denied that they were being traded for Mr. Gross and said they were instead being swapped for another person imprisoned in Cuba who is believed to have worked for United States intelligence agencies.

"Not swapped for Alan Gross," said one official.

Mr. Gross's sister, Bonnie Rubinstein, was "beyond ecstatic" at the news of his release, according to her husband, Harold. "We are extremely grateful that he's on his way home," Mr. Rubinstein said by telephone from Dallas. "It's been a long ordeal."

American officials made no immediate comment on how the release was obtained. In the past, government officials, including Secretary of State John Kerry, have publicly ruled out a prisoner swap for three Cuban spies convicted of federal crimes in Miami in 2001.

But Mr. Gross's health has been failing. He has reportedly lost more than 100 pounds in prison and is losing vision in his right eye. He went on a nine-day hunger strike in April. After turning 65 in May, he told relatives that he might try to kill himself if not released soon.

Mr. Gross was in Cuba to deliver satellite telephone equipment that was capable of cloaking connections to the Internet when he was arrested in 2009. The Cuban authorities, who tightly control access to the Internet in their country, initially said he was a spy, and a court there convicted him of bringing in the devices without a permit as part of a subversive plot to "destroy the revolution."

Mr. Gross's case drew increasing attention as his health deteriorated. He grew despondent and talked of suicide, and his wife, Judy Gross, and other supporters made urgent pleas for his release, but off-and-on diplomatic talks seemed to go nowhere.

Cuba has often raised the case of three of its spies serving federal prison time in Florida, saying they had been prosecuted unjustly and urging that they be released on humanitarian grounds. State Department officials insisted that the cases were not comparable and that Mr. Gross was not an intelligence agent.

Mr. Gross worked for Development Alternatives, of Bethesda, Md., and had traveled to more than 50 countries as an international development worker. The company had a $6 million contract with the United States Agency for International Development to distribute equipment that could get around Cuba's Internet blockade, and Mr. Gross had made four previous trips to Cuba in 2009.
More from The Washington Post:
Cuba has freed American contractor Alan Gross after five years in custody as part of a prisoner swap that could herald sweeping changes in U.S. policies toward the island after decades of sanctions, a senior Obama administration official and news reports said.

As part the rapprochement, U.S. and Cuba will start talks to normalize diplomatic relations, which could include opening an American embassy in Havana in the coming months, the Associated Press reports, citing U.S. officials.

President Obama was expected to make a statement on Cuba at noon. At the same time, Cuban President Raul Castro was scheduled to address his nation about relations with the United States, Cuban state television reported.

Any moves to close the rifts would mark a significant moment in Western Hemisphere politics.

The United State has maintain various sanctions against Cuba for more than five decades as one of the most enduring holdovers from Cold War-era standoffs. The two countries do not have full diplomatic relations, but allow interest sections to handle outreach.

(…)

The president has taken some steps to ease U.S. restrictions after Raul Castro took over as president in 2010, including lifting travel and financial blocks on Americans with family in Cuba. Obama, however, has so far gave no indiction of plans to fully drop the embargo.
We'll get more details about what we are likely to see going forward when the President speaks later today, obviously, but it's worth noting that the President's ability to unilaterally negotiate with the Castro regime is significantly by a number of circumstances. One big factor, as always, is the issue of the Cuban-American community in Florida and how they are likely to react to any deals between Washington and Havana. In the past, it has often been said that the Cuban exile community would not accept anything approaching normalization of relations with Cuba while the Castro brothers were alive and in power, and not unless the question of the status of the property that many of them left behind when they left Cuba in the wake of the revolution some 50-plus years ago was resolved to their satisfaction. To some extent, the political power of that segment of the Cuban-American community has deteriorated as they have aged, and polling has indicated that their descendants, who were largely born here in the United States, do not share the strong feelings that many of their elders do. Additionally, the Cuban-American community does not carry the same political weight in Florida that it has in the past thanks largely to migration to the Sunshine State from other parts of the country. Therefore, the political risks of discussing a more open relationship with Cuba are arguably far less than they used to be.
Notwithstanding the changed political situation, though, President Obama's hands are still somewhat tied by the fact that many parts of the embargo against Cuba are codified into law, principally as part of the Helms-Burton Act of 1996, which placed most of what President Kennedy had originally signed as an Executive Order into the United States code. What this means, of course, is that full normalization of relations between the U.S. and Cuba will require the consent of Congress at some point. On that point, it is worth noting that the politics of this issue are not quite as divided as you might think. There are Democrats such as New Jersey Senator Bob Menendez who are at the very least reacting cautiously to this morning's news while other Democrats are being more positive. On the Republican side, there are Republicans such as Florida Senator Marco Rubio who have been highly critical of moves to normalize relations with Cuba while the Castro family is still in power, and other Republicans like Arizona Senator Jeff Flake who have been more open to the idea in their public statements. Indeed, Flake is one of the American politicians on the plane with Gross this morning as he returns, along with Vermont Senator Patrick Leahy. What this suggests, obviously, is that the fact that the GOP is taking over Congress does not necessarily mean that it will be impossible to get Congress to act on this issue. In addition to the explicit bars to action in Hels-Burton,, there are some areas that will require Cuba to meet certain conditions, including free elections, legalization of trade unions, and other steps, before other actions can be taken to normalize relations. This, of course, is one of the many reasons that talks between the two nations will be complicated, and that full normalization may take some time. In the interim, though, there are some things that the President will be able to do without Congressional approval. This includes removing Cuba from the list of state supporters of terrorism and the lifting of at least some travel and trade restrictions that are likely to make travel to, and trade with, the island nation, far easier than it has been at any point in the past 53 years. If nothing else, that will be a significant step forward in a relationship that has been moribund since the darkest days of the Cold War.