Obama Has Made An Historic Change In U.S. Cuban Relations, It's A Good First Step
The resumption of diplomatic relations between U.S. and Cuba, and expansion of some commercial trade ties, is historic but it's only the first step toward the goal of ending an outdated embargo.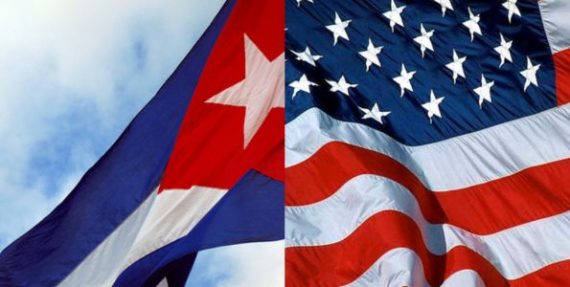 As expected, President Obama announced today the most significant changes in the relationship between the United States and Cuba since the Presidency of John F. Kennedy, and set in place negotiations that seem clearly set to have the goal of the future resumption of full ties between the two nations at both the commercial and diplomatic levels, although significant challenges lie ahead for both nations:
WASHINGTON — The United States will restore full diplomatic relations with Cuba and open an embassy in Havana for the first time in more than a half-century after the release of an American contractor held in prison for five years, President Obama announced on Wednesday.

In a deal negotiated during 18 months of secret talks hosted largely by Canada and encouraged by Pope Francis, who hosted a final meeting at the Vatican, Mr. Obama and President Raúl Castro of Cuba agreed in a telephone call to put aside decades of hostility to find a new relationship between the United States and the island nation just 90 miles off the American coast.

"We will end an outdated approach that for decades has failed to advance our interests and instead we will begin to normalize relations between our two countries," Mr. Obama said in a nationally televised statement from the White House. The deal will "begin a new chapter among the nations of the Americas" and move beyond a "rigid policy that's rooted in events that took place before most of us were born."

The contractor, Alan P. Gross, traveled on an American government plane to the United States late Wednesday morning, and the United States sent back three Cuban spies who had been in an American prison since 2001. American officials said the Cuban spies were swapped for a United States intelligence agent who had been in a Cuban prison for nearly 20 years, and said Mr. Gross was not technically part of the swap, but was released separately on "humanitarian grounds."

In addition, the United States will ease restrictions on remittances, travel and banking relations, and Cuba will release 53 Cuban prisoners identified as political prisoners by the United States government. Although the decades-old American embargo on Cuba will remain in place for now, the president called for an "honest and serious debate about lifting" it.

"These 50 years have shown that isolation has not worked," Mr. Obama said. "It's time for a new approach."

Addressing critics of his new approach, he said he shares their commitment to freedom. "The question is how do we uphold that commitment," he said. "I do not believe we can keep doing the same thing for over five decades and expect a different result."

Mr. Castro spoke simultaneously on Cuban television, taking to the airwaves with no introduction and announcing that he had spoken by telephone with Mr. Obama.

"We have been able to make headway in the solution of some topics of mutual interest for both nations," he announced, emphasizing the release of the three Cubans. "President Obama's decision deserves the respect and acknowledgment of our people."

Only afterward did he mention the reopening of diplomatic relations. "This in no way means that the heart of the matter has been resolved," he said. "The economic, commercial and financial blockade, which causes enormous human and economic damages to our country, must cease." But, he added, "the progress made in our exchanges proves that it is possible to find solutions to many problems."

Mr. Castro acknowledged that Mr. Obama was easing the blockad through his executive authority and called on the United States government to go further to "remove the obstacles that impede or restrict the links between our peoples, the families and the citizens of both our countries."

Diplomatic relations between the United States and Cuba were severed in January 1961 after the rise of Fidel Castro and his Communist government. Mr. Obama has instructed Mr. Kerry to immediately initiate discussions with Cuba about re-establishing diplomatic relations and to begin the process of removing Cuba from the list of states that sponsor terrorism, which it has been on since 1982, the White House said.

Officials said they would re-establish an embassy in Havana and carry out high-level exchanges and visits between the two governments within months. Mr. Obama will send an assistant secretary of state to Havana next month for talks on Cuban-American migration and will drop objections to Cuban participation in a summit meeting of the Organization of American States. The United States will begin working with Cuba on issues like counternarcotics, environmental protection and human trafficking.

The United States will also ease travel restrictions across all 12 categories currently envisioned under limited circumstances in American law, including family visits, official visits, journalistic, professional, educational and religious activities, and public performances, officials said. Ordinary tourism, however, will remain prohibited.

Mr. Obama will also allow greater banking ties, making it possible to use debit cards in Cuba, and raise the level of remittances allowed to be sent to Cuban nationals to $2,000 every three months from the current limit of $500. Intermediaries forwarding remittances will no longer require a specific license from the government. American travelers will also be allowed to import up to $400 worth of goods from Cuba, including up to $100 in tobacco and alcohol products.

The Vatican hailed the agreement. "The Holy Father wishes to express his warm congratulations for the historic decision taken by the governments of the United States of America and Cuba to establish diplomatic relations, with the aim of overcoming, in the interest of the citizens of both countries, the difficulties which have marked their recent history," it said in a statement.
The Vatican statement is particularly relevant because, as it turns out, Pope Francis played a personal role in the process that led to this day:
WASHINGTON — Pope Francis was instrumental in facilitating the normalization of relations between the United States and Cuba, a senior White House official said Wednesday.

President Obama is expected to announce a deal with the Caribbean nation Wednesday afternoon that will pave the way for the first U.S. embassy on Cuban soil since the Kennedy administration and a relaxing of many of the American economic and travel restrictions on Cuba that have defined the relationship between the two nations for decades.

Francis played a big role in bringing the longtime rivals to the negotiating table, the official said. Francis sent what was characterized as an extraordinary personal letter to Obama and Cuban President Raul Castro over the summer, urging both parties to end their frosty relationship. Following the letter, and the negotiations, Obama and Castro had a phone conversation that helped lead to Wednesday's announcement.

The letter "gave us greater impetus and momentum for us to move forward," the administration official said. The Vatican was the only government that participated in the negotiations between the U.S. and Cuba. Vatican officials were "in those meetings," the official said.

(…)

Francis helped drive the deal, raising it repeatedly with Obama when the two men met at the Vatican in March.

"Cuba was a topic of discussion that got as much attention as anything else the two of them discussed," the official said. The Vatican "welcomed the news" that the two countries were talking, the administration official said.

Francis found a willing audience in Obama, who administration officials said Wednesday had already ordered conversations with Cuba before the Francis meeting. Obama does not believe the decades-long embargo on Cuba has worked, the officials said, and the administration believes normalized relations with the Communist nation will make it easier for the White House to push the Cuban regime on democratization and human rights.
In addition to the assistance of the Vatican, Canada, which has had diplomatic and trade relations with Cuba for years, played its own role in the negotiations by providing a neutral site on which the two long-time rivals could negotiate:
U.S. President Barack Obama today thanked Canada for its role in helping the U.S. and Cuba thaw their relations.

Canada helped the U.S. and Cuba begin their reconciliation, American officials said earlier, by hosting gatherings of officials from the two countries.

High-level U.S. officials, on a conference call to brief reporters about the détente, said there were multiple meetings with Cuban officials in third-party countries.

Officials said Canada hosted the first face-to-face encounter in June 2013 followed by a series of meetings until as recently as last month.

No meetings were held on American or Cuban territory.

Canada did not participate in the substance of the discussions, but was indispensable in facilitating and hosting the discussions, an official said.

NDP foreign affairs critic Paul Dewar credited Canada's diplomatic corps for their role in assisting the two countries.

"I thank our Canadian diplomats for their hard work on this file. This is what diplomacy looks like — and Canada is very good at it," Dewar said in a written statement on Wednesday.
On the surface, the changes that will be seen immediately are most certainly historic, but they are far from the complete restoration of commercial ties that many have been advocating, and which many American business interests in the tourism and other industries have been looking for, at least for the moment. For example, while travel restrictions will be eased for a wide variety of areas, including journalists and entertainers, the ability of American businesses to conduct large-scale business in Cuba will still be restricted to a significant degree. To some extent, this is due to the fact that much of the American embargo against Cuba is codified in the Helms-Burton Act, which can only be repealed or changed by Congress. Even in the areas where the law gives the President some discretion in lifting or changing trade restrictions and other matters, it requires that certifications be made regarding specific changes in the internal politics of Cuba before that can be done. Because of this, some of the changes that will be implemented are limited. The amount of money that Cuban Americans can send home, for example, has been raised from roughly $500 to roughly $2,000 per quarter, and even those are generally limited to what are called "donative remittances." Commercial ties are being increased, but goods that are licensed to be exported will be limited to certain construction material for us in private residential construction, goods for use by Cuban entrepreneurs, and agricultural equipment suitable for use on small farms. As noted above, travel restrictions will be modified significantly, but there will still be a ban on travel for tourism purposes and those Americans will be allowed to travel to Cuba will only be allowed to return home with $400 worth of goods, of which no more than $100 combined can consist of alcohol or tobacco products, so cigar afficianados shouldn't celebrate the widespread return of Cuban Cigars just yet. Also, while Major League Baseball has issued a statement saying that they are studying the changes in U.S. policy, it does not appear that the changes the President's announced will be enough to remove the barriers to American baseball teams being able to recruit and sign Cuban players more easily, or for MLB to pursue its rather obvious dream of opening a farm league and eventually a franchise or two in Cuba itself.
None of this is to say that today's announcement isn't historic, of course, because it is. For the first time in half a century, the United States and Cuba are going to have full diplomatic relations and the ability to sit down across the table from each other and discuss the outstanding issues between them in the hope that the remaining barriers to trade and the free movement of people can be brought down. It's unrealistic to think that there won't be difficulties along the way, of course, and the Cubans still need to seriously address ongoing abuses of human rights in their country and the lack of political freedom that they grant to their people. However, it has become blindingly obvious over the years that the United States was not doing anything to help the Cuban people by refusing to engage the Cuban government diplomatically and continuing to squeeze the Cuban economy in the vice of an embargo that lost its logical reason to exist twenty-five years ago when the Soviet Union ceased to exist and the Cold War ended. In addition to the renewed diplomatic relations, the changes in trade and business ties, while limited, will benefit both the United States and Cuba and serve as a good first step toward a wider relationship that can come when the Cuban government takes steps that will help make life better for the Cuban people. No doubt people who still view the relationship as one rooted in the Cold War will oppose even these limited moves, but the Cold War has been over for a very long time, and the world is a very different place. Our policy choices in other parts of the world have recognized this for quite some time, the primary examples of that being our relationship with China, which was changing even while the Cold War was still relatively warm, and our relationship with Vietnam, which was the site of our bloodiest losses of that Cold War. Surely if we can have positive relationships with those nations, we can at least work toward trying to do the same when it comes to Cuba? After all, it seems beyond question that continuing the policy that President Kennedy put in place in 1961, when the world was a very different place, wasn't really accomplishing anything, something I noted when I wrote about this issue in October:
Yes, Cuba is still ruled by the Castro brothers and there are still human rights issues to be concerned about, but there are plenty of nations that we have normal diplomatic and economic relationships with that have issues like this, Saudi Arabia comes to mind for example. We also have diplomatic relationships with nations that we consider adversaries, most of them far more serious adversaries than Cuba is at this point. As for the economic embargo, its potentcy as made far less relevant in the years after the Cold War as much of Europe and other American allies such as Canada expanded their economic contacts with Cuba and began investing there. At this point, the people being hurt by the Cuban economic embargo, in addition to the Cuban people of course, are Americans who are losing out on business opportunities to competitors from other parts of the world who recognize the potential that Cuba represents, if not immediately today then someday in the future. The fact that we're talking about a nation that is only 90 miles off the Florida coastline, which would seem to make it a natural market for American goods and tourists, just makes the entire policy even more absurd.
Today, we took a few small steps away from that absurdity, and that's a good thing.