Obama In South America: Nitpicking, Bad Optics, Or A Really Bad Idea?
Obama is visiting Brazil and Chile while American fighting men join the coalition against Libya.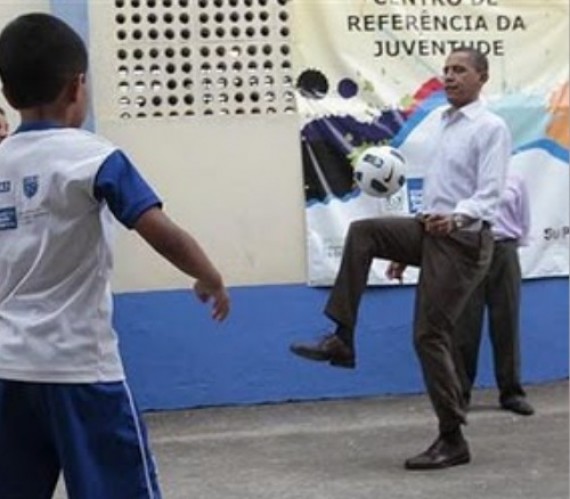 Without fail, I have been a consistent critic of those who have attacked President Obama for his leisure time activities, whether it's been golfing or attending a Washington Nationals game. James Joyner and Steven Taylor have been similarly dismissive of these meme . However, I find myself reacting quite differently to this story:
RIO DE JANEIRO — Immersing himself in Brazil's poverty and pride, President Barack Obama on Sunday held up the South American nation as a model of democratic change in a time of uprisings and crackdowns across the Arab world and yet another war front for the United States.

From Rio's glamorous beaches to a notorious slum to an elegant theater, Obama glimpsed the Rio's cultural extremes, offering the kind of personal engagement that can pay political dividends for years. Less than one day after announcing U.S. military strikes against Libya's government, Obama made time to kick a soccer ball around with kids in a shantytown.

The competing stories of Obama's itinerary — a war front in Africa, an economic commitment to South America — divided his time in incongruous ways. By morning, he spoke with his security team about the international assault against Moammar Khadafy's defenses; by night, he was to stand atop a mountain and admire Rio's world-famous statue of Jesus.

Meanwhile, U.S. warplanes pounded faraway Libya.

It was all summed up by one image: Obama adeptly juggling a soccer ball as his aides helped him juggle his agenda.
That's not to say, of course, that the President has neglected Libya, or that he isn't being kept informed of what's going on there, as his aides have struggled to make clear over the past 48 hours:
Still, his team was eager to portray him as fully engaged in Libyan decision-making, even as the photographs and television images showed him touring a Rio de Janeiro shantytown and gazing with his family at Christ the Redeemer, the massive Art Deco mountaintop statue that has come to symbolize Rio.

National security adviser Tom Donilon gave practically an hour-by-hour account of meetings, briefings and calls that Obama led or participated in, including a call to King Abdullah of Jordan on Sunday.

"The president has been personally and deeply involved in this every day,"
All of this is true, of course. Thanks to the miracles of modern technology, the President can be kept abreast of international developments and issue orders from anywhere in the world at any time of day. However, I find myself agreeing with Jazz Shaw when he notes that there's something about this that just isn't right:
War is a different matter, though, and committing our troops to any engagement in hostile territory is one of the most sober and serious responsibilities faced by any president. Yes, he can be briefed and issue orders from afar through the miracles of modern technology, but there's more to it than that. Being in the war room with the joint chiefs is the proper place for him on the day he launches a war, not clinking glasses of champagne with foreign dignitaries. Breaking news arrives there first and in such a critical situation there really is no substitute for being there with the Joint Chiefs where he can look them in the eye, take the measure of what they are saying, receive updates in real time and make the best decisions possible.

Small wonder that even Chuck Todd of MSNBC chose this weekend to refer to the split-screen presidency.

Running the launch of a war via sporadic conference calls from the Southern hemisphere is both literally and symbolically "phoning it in," and at the worst possible time. Further, it's simply a poor message to send to the troops. As submarine commanders give the order to turn the keys and let the tomahawks fly, as pilots receive the order to unleash missiles at ground based installations where lives will most surely be lost, seeing that your absolute, highest level commander was kicking a ball around with some kids in an ally in Rio can't inspire confidence.
Not just that, but it's worth noting that this is the first major military action of Obama's Presidency that is wholly his own. Afghanistan still goes on, of course, but that's a continuation of another President's war. Libya is, for better or worse, Obama's baby and the picture of him nob-nobbing in the Southern Hemisphere while the nation slides into another military conflict with unclear goals and an unclear endgame just doesn't look right.
I'm aware that there are plenty of arguments for why this trip had to go forward. Brazil is a growing power in South America, as is Chile, and they're both being courted by China and Japan. It's important that we have good relations with them. However, the President twice canceled a trip to Indonesia and Australia last year, once to stay in Washington to lobby for passage of the Affordable Care Act and once due to the Gulf Oil Spill. The President ultimately didn't end up going on that trip until November, after the mid-term elections. Surely our friends in Brazil and Chile would have understood that launching a military action requires the President's presence in Washington, with his commanders.
Perhaps I'm just nitpicking, but I don't think I am. This isn't just a golf outing on a Sunday. It's a President who's out of the country, and largely unavailable to the press except at scripted events where questions are either limited or not allowed at all, at a time when we're at war. That doesn't strike me as something a President ought to be doing.