President Obama Attends Baseball Game, Conservative Blogger Freaks Out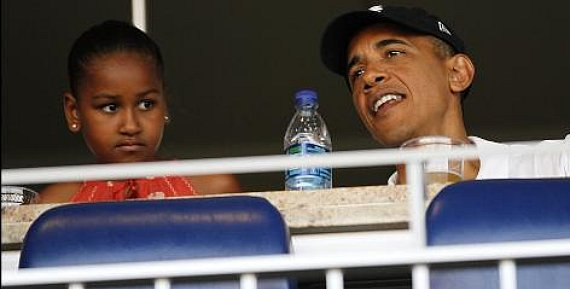 Last night President Obama and a few family members attended the Nationals-White Sox game in Washington:
Stephen Strasburg set a strikeout record in front of President Obama on Friday — but both had left the game by the time the Chicago White Sox won the game in the 11th inning.

Strasburg, the 21-year-old rookie sensation, struck out 10 to run his strikeout tally to an unprecedented 32 through his first three starts, yet he experienced his first no-decision in the White Sox' 2-1 victory over the host Washington Nationals.

The Nationals have lost six of seven, with Strasburg accounting for the only victory during that stretch.

Strasburg allowed four hits in seven innings and at one point retired 15 batters in a row. He lowered his earned run average to 1.86 and did not walk a batter for the second time in three starts.

Obama made a surprise visit to Nationals Park — his arrival was not announced inside the stadium, and there was not the stringent security for fans that usually accompanies one of his public appearances.
This apparently didn't sit well with Gateway Pundit's Jim Hoft who, drawing on a comment Obama made in May when he said that he would not rest until the leak in the Gulf of Mexico was stopped, said the following:
Except, of course, for the ball games, golf, vacations, parties, etc. He shares your anger, Louisiana. Remember that.
As James and Steven have both written in connection with similar complaints by Hoft and other conservative bloggers about Obama's golf habit, I find this whole meme that there's something wrong with a President taking time for leisure activities to be utterly ridiculous whether it comes from the left or the right.
For one thing, the fact of the matter is that the President is never really "off duty." If something were to have happened while Obama was at the ballgame, he would have been instantaneously reachable and would have been in the car back to the White House if necessary. For another, what exactly is it that Hoft would have had the President do last night ? It's not like he can strap on the SCUBA gear and go down the bottom of the Gulf of Mexico to plug the leak himself. As every President does, he delegates power to those who have the capability to do things.
One can argue about the President's performance in office in that regard, but to criticize him for going to a baseball game is stupid and petty. Moreover, spending your time criticizing the President's leisure activities isn't solid political analysis, it's the same sort of political hackery that Michael Moore and others on the left engaged in when they made the same criticisms of President Bush, and it tells the world that you have nothing of substance to say other than I hate that guy because he's a Democrat/Republican.
So let the President go to a ball game and just keep your mouth shut, please.