Trump's World Series Trip Greeted By Boos and Chants Of "Lock Him Up!"
It wasn't exactly a warm reception for President Trump at last night's World Series Game Five.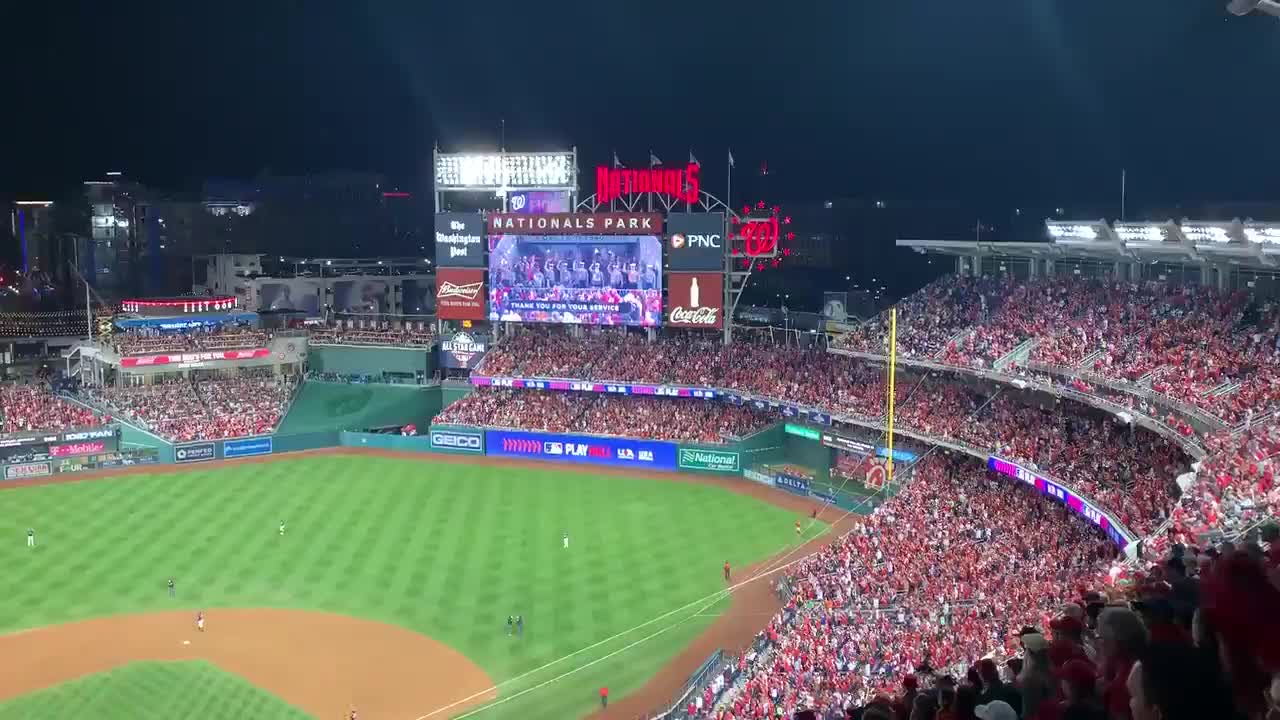 President Trump showed up at last night's Game Five of the World Series at National's Park in Washington. He didn't throw out the first pitch, arrived after the game started and left before it ended (ostensibly and sensibly so as not to interfere with the traffic of people going to or leaving the stadium), and did not exactly get a positive reaction:
President Trump was booed during Game 5 of the World Series on Sunday night when he made a rare public appearance in a luxury ballpark suite in ­Democrat-dominated Washington.

When the president was announced on the public address system after the third inning as part of a tribute to veterans, the crowd roared into sustained booing — hitting almost 100 decibels. Chants of "Lock him up" and "Impeach Trump" then broke out at Nationals Park, where a sellout crowd was watching the game between the Washington Nationals and Houston Astros.

The president appeared unmoved, waving to fans and soon moving to chat with House ­Minority Leader Kevin McCarthy (R-Calif.) in his luxury box along the third base line.

Trump, who has virtually never been seen in Washington outside the White House, his own hotel and a handful of other highly controlled settings, came with the first lady, a coterie of Republican members of Congress and top aides, who could be seen smiling, chatting and posing for selfies throughout the game. He entered without fanfare about eight minutes before first pitch, only spotted by a few in the crowd.

The trip to the ballpark was the first time Trump attended a Washington sporting event since becoming president. He has not eaten at a Washington restaurant beyond those in his hotel and has skipped traditional social events such as the Kennedy Center Honors and White House Correspondents' Association dinner.

The Nationals had sought to keep politics out of their first trip to the World Series and did not invite Trump, who decided to come and then arranged the logistics with Major League Baseball, officials said.

After his brief introduction, Trump was largely a non-presence in the ballpark .

Presidents often throw out the ceremonial first pitch when they attend a baseball game, but that honor Sunday instead went to chef and humanitarian José Andrés, who has faced off with Trump in court over scuttled plans to build a restaurant in the Trump International Hotel and has criticized many of Trump's policies. Andrés received a loud ovation when he appeared on the field before the game.

The presidential limo pulled up into a tunnel below home plate, and the president and first lady emerged shortly after 8 p.m., whisked into an elevator by Secret Service and up to the luxury box. Trump was accompanied by the first lady, daughter Ivanka Trump and an all-Republican cohort, including Sens. Lindsey O. Graham (S.C.) and David Perdue (Ga.); Texas Reps. Mac Thornberry, Kevin Brady, Kay Granger and John Ratcliffe; and Reps. McCarthy, Steve ­Scalise (La.), Mark Meadows (N.C.), Andy Biggs (Ariz.), Liz Cheney (Wyo.) and Matt Gaetz (Fla.)
Here's the video:
NBC News Reporter Monica Alba and sports reporter Dan Steinberg have their own tweet about Trump-related events during the game:
It's a marked difference from President George W. Bush's appearance at Game Three of the 2001 World Series, which took place in New York City, not exactly a bastion of Republican support:
In addition to this, it was reported by a local television station that the Lerner family, the owners of the Nationals, quietly informed Major League Baseball that they did not wish to share the owner's box with Trump and his entourage. As far as we know, Trump did not meet with the Lerner family, any of the Nationals teammates, or anyone other than the MLB Commissioner and a group of service members that were at the game.
Quite honestly, it was obvious that something like this would happen. The Nationals fan base is drawn mainly from three areas, the District itself, Suburban Maryland, and Northern Virginia. All three of these areas are heavily Democratic at this point, although Northern Virginia at least still has pockets of Republicans that have largely disappeared from places like Bethesda, Rockville, and Chevy Chase in Maryland. It was inevitable that he would be greeted in this manner.
That being said, there's something unfortunate about a baseball game being politicized like this. I'm as #NeverTrump as the next guy, but it was unfortunate that last night's game devolved into boos and catcalls when the President was introduced. There was a time when events like the World Series brought people together, and to some extent they still do. Indeed, Nationals games, as well as Redskins games, Capitals games, and Wizards games, are one of the few places in Washington D.C, where people seem to forget about politics and come together to root for the home team. In the hyperpartisan Trump Era, even that's not possible. Of course, it's also true that Trump has brought much of them on himself. His own rhetoric is incendiary and poisonous and it evokes the same unfortunate emotions in supporters and opponents alike.
As I said, I knew exactly how the crowd would react the minute it was announced that Trump would be at Game Five. Additionally, the "Lock Him Up!!!" chant is a direct copy of the "Lock Her Up!!" and "Send Her Back!!" chants that Trump has encouraged during his rallies around the country. It's not surprising that he'd get it thrown back in his face as he did. That being said, it's unfortunate that, if only for a couple of minutes, the World Series had to be turned into a political standoff between Trump supporters and Trump opponents. It should have just been a baseball game, but Trump has made unity impossible in today's day and age
Even worse news for Nationals fans than Trump showing up is that the Nationals lost the game and now trail the Astros three games to two as the series heads back to Houston for two games that the Nats must win to force a Game Seven. It was frustrating given the fact that, against, all odds, the Nationals had swept the Astros at home in the first two games of the series, wins that included wins over the two best pitchers in Houston's rotation. Once they got home, though, the Nats bats went quiet and the bullpen had issues that were topped off by the pre-game announcement that Nationals ace Max Scherzer was out for the game due to shoulder pain. Hopefully, they can turn things around when the series resumes on Tuesday. The Washingon Post's great sportswriter Thomas Boswell, though, is still optimistic about the chance for the Nationals to win the first World Series for a Washington team since 1924 as is his colleague Barry Svrluga. Here's hoping they're right.