It Must Be Time To Complain About Obama Golfing Again
It's springtime in Washington, when the buds start to grow on the Japanese Cherry trees, and political hacks come out of their holes to criticize the President for golfing.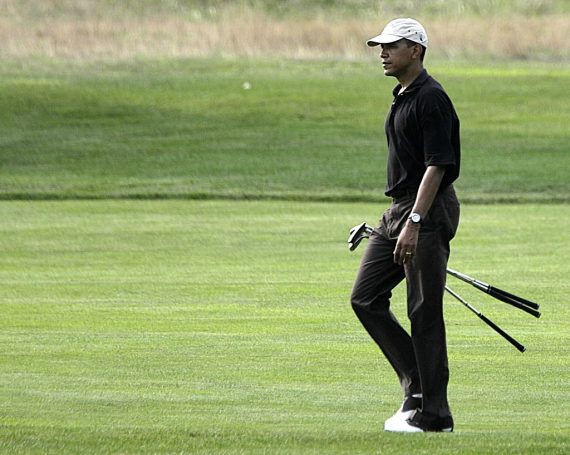 With warm weekends returning to the D.C. area, President Obama was out on the golf course at Andrews Air Force Base again this past Saturday, leading Nancy Morgan to write at The American Thinker that it made her embarrassed to be an American:
For the first time in my life, I'm embarrassed to be an American.

Last weekend, as tens of thousands of Japanese were fighting for their lives after an 8.9 earthquake devastated their nation, our President, after giving a generic "We're with you" statement, remained noticeably absent.

Not really absent — Obama could be found on the golf course Saturday afternoon.

As a Japanese nuclear reactor melted down and threatened a catastrophe of biblical proportions, Obama was otherwise engaged Saturday night, having a rollicking good time at Washington D.C.'s annual Gridiron Dinner. Joking with journalists.
This is supreme silliness but, we've seen it before and both James Joyner and Steven Taylor addressed the idiocy of the "Obama golfs too much" meme last year.
The idea that there's something wrong with a President taking time for leisure activities, even when there's some "crisis" going on in the world (and, honestly, is there ever really a time when there isn't some kind of "crisis" somewhere?) is ridiculous regardless of which side of the political aisle it comes from.
For one thing, the fact of the matter is that the President is never really "off duty." If something were to have happened while the President was golfing at Andrews, he would have been instantaneously reachable and would have been in the car back to the White House if necessary. If it were the crisis were of such a magnitude that he needed to be evacuated, well Air Force One is on the same base where he plays golf. For another, what exactly is it that Morgan would have had the President do on Saturday? Most of what the President can do involves delegating power to others, who then report back to him when a decision needs to be made. There's really no point in any President spending his entire Presidency sitting behind his desk in the Oval Office twiddling his thumbs just because something is happening somewhere in the world.
One can argue about the President's performance in office in that regard, but to criticize him for golfing for a few hours on the weekend is stupid and petty. Moreover, spending your time criticizing the President's leisure activities isn't solid political analysis, it's the same sort of political hackery that Michael Moore and others on the left engaged in when they made the same criticisms of President Bush, and it tells the world that you have nothing of substance to say other than I hate that guy because he's a Democrat/Republican.
So let the President go to a ball game and just keep your mouth shut, please.