On The Politicial Impact Of President Obama Endorsing Same-Sex Marriage
Some thoughts on the potential impact of the President's announcement on same-sex marriage.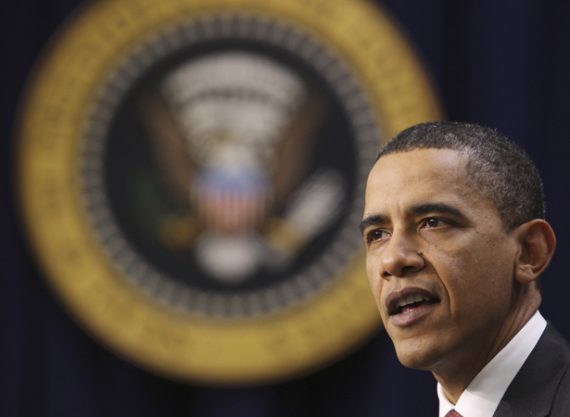 Inevitably, the question about President Obama's announcement today that he was personally in favor of allowing same-sex couples to marry will be what political impact it will end up having both on the 2012 election and over the longer term. The conventional wisdom for some time now has been that the President and his political advisers have been holding off on publicly taking a position on same-sex marriage because of the potential political consequences. The fears, of course, are two fold. First, there's the possibility that the President taking this position would serve to energize opponents of same-sex marriage in the same manner that they were energized in 2004 when a number of states, most specifically states like Ohio, had referendums against same-sex marriage on the ballot on the same day as the Presidential election. There's some not insubstantial evidence that this helped increase turnout for Bush supporters in crucial districts enough help impact the outcome of the election (and you will remember that the 2004 election was decided in Ohio). Second, there's the possibility that they would antagonize Obama supporters who oppose same-sex marriage for religious reasons, which is a substantial issue in the African-American and Latino communities. For that reason, most people thought that the President would likely refrain from making any comments about this issue until after the election.
As I noted earlier, though, the Administration's hand was forced by a number of factors beginning with Vice-President Biden's comments on Meet The Press. Now, the question is what this means for the President's political future. Admittedly, coming out in favor of same-sex marriage is far less of a political risk than it might have been during the Clinton Administration when public opposition to was in the 70% range. Today, polls show that the nation is roughly divided on the issue , with a slight majority favoring legalization. As James Joyner and I have both noted here at OTB in the past, that is actually a fairly striking change in public opinion over a remarkably short period of time. More important, the only political group among which there is still strong opposition to same-sex marriage is Republicans, all other groups, including the all-important Independents, support it. Furthermore, it's fairly obvious that gay marriage itself is far down at the bottom of the list of issues that voter say they are most concerned about as we approach the 2012 elections. Arguably, then, the President isn't taking much of a risk by coming out publicly now, especially considering that most of the people who are going to be upset by this announcement were never going to vote for him anyway.
Jonathan Bernstein contends that the President's announcement will have little political impact:
My guess is that, as an electoral event, Obama's endorsement of same-sex marriage is about 99 percent hype.

For those who strongly support Obama's new position, it's unlikely that this changes anything. Yes, some marriage-equality advocates had talked about withholding support unless the president "evolved." But realistically, there was no way that political activists — people accustomed to the normal give-and-take of politics — were not going to appreciate the wide gulf between Obama and Mitt Romney on lesbian, gay, bisexual and transgender issues. Without this statement they might have needed more careful tending, but they weren't going to walk away from their best ever ally in the White House.

The same is true for strong opponents of Obama's new position. It's highly unlikely that anyone who, otherwise was fine voting for Obama despite disagreeing with him on ending "don't ask don't tell" and each of the other measures he has supported and in many cases has enacted, would draw the line here. Nor is it likely that anyone not already energized by Obama's record on cultural issues will suddenly find this to be the thing that gets them off the couch.

And what of everyone else? The millions of Americans, most likely a large majority, who don't really care very much? They're still not going to care very much. My guess is that the conventional wisdom is correct: Anyone pushing hard on the marriage issue in either direction risks seeming out of touch with those who care a lot more about the economy or other issues. So if you think that Obama's evolution will make that happen, then you have something . . . but it's hard for me to see it. After all, the president doesn't really have much of a role in the next steps on the issue, which will be taken by the courts and the states.
One could argue, of course, that the issue of the courts will become important here, though, especially given the fact that whoever serves as President from January 20, 2013 to January 20, 2017 could potentially appoint as many as four new Justices to the Supreme Court depending on retirements and the health of individual Justices. Both Republicans and Democrats will make an issue of that, of course,  but I tend to think it will work out about the same way that Bernstein outlines. People who are worried Obama will appoint Justices who might find that the 14th Amendment includes a right to same-sex marriage aren't going to vote for him anyway.
The next several days are likely to be filled with political reactions to the President's announcement, but in the end I doubt that any of it will have a real impact on the election itself. The right will see it as further proof that Democrats are "at war against the American family," but they were going to oppose Obama anyway. African-American Pastors aren't going to be happy about this, but in the end the African-American community is not going to abandon the first African-American President over this issue. It will be a great topic for the talking heads, of course, and it will be a wonderful opportunity for conservatives to beclown themselves with yet more idiotic comments about homosexuals. But as far as impacting the election goes, I think we're looking at gentle tide rather than a tsunami.