Mitch Daniels Was Right About The Social Issues Truce
Republicans should have listened to Mitch Daniels, because he was right.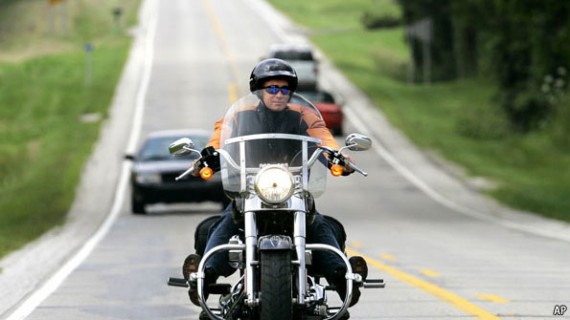 Back before his name first started being floated as a potential candidate for President, Indiana Governor Mitch Daniels made some waves inside the Republican Party by suggesting in a 2010  interview with The Weekly Standard's Andrew Ferguson that the Republican Party should put aside social issues in the 2012 campaign and focus on the economy and the Federal Government's fiscal problems:
The next president, whoever he is, "would have to call a truce on the so-called social issues. We're going to just have to agree to get along for a little while," until the economic issues are resolved. Daniels is pro-life himself, and he gets high marks from conservative religious groups in his state. He serves as an elder at the Tabernacle Presbyterian Church, in inner-city Indianapolis, which he's attended for 50 years. In 1998, with a few other couples from Tabernacle and a nearby Baptist congregation, he and his wife founded a "Christ-centered" school, The Oaks Academy, in a downtown neighborhood the local cops called "Dodge City." It's flourishing now with 315 mostly poor kids who pursue a classical education: Latin from third grade on, logic in middle school, rhetoric in eighth grade, an emphasis throughout on the treasures of Western Civilization. "It's the most important thing I've ever been involved in," he told me. His social-conservative credentials are solid.

But about that truce .  .  .

"He might be one guy who could get away with it," said Curt Smith, head of the Indiana Family Institute, who's known Daniels since the 1980s. "He has a deep faith, he's totally pro-life, and he walks the talk. And in an acute situation, like the one we're in now with the debt, he might get away with a truce for a year or two. But to be successful in office he's going to have to show those folks he shares their vision."
Daniels, who has been pro-life for his entire political career, even went so far as to say that he would consider not renewing the controversial Mexico City Policy banning federal funds to overseas groups that perform abortions.  Not surprisingly, Daniels statements in the interview led to no small degree of upset among social conservatives. Anti-abortion groups jumped all over his comments about the Mexico City policy and Mike Huckabee, who at that point was still flirting with the idea of running for President, blasted Daniels for abandoning what he called "moral issues."  Several months later when Daniels was invited to deliver a major speech at CPAC 2011, several social conservative groups who were already boycotting the conference due to the inclusion of a gay conservative group called the invitation an "an affront to the millions of conservatives who believe that social issues such as abortion and traditional marriage are non-negotiable."  Daniels was undeterred, though, saying on other occasions that putting aside divisive social issues, even just temporarily was necessary for GOP unity and that, for the most part, these issues simply weren't crucial matters at this point. After the Republicans won control of the House in 2010, Daniels was joined by several other conservatives who said the new House majority needed to focus on the economy rather than social issues.
Daniels ended up deciding not to run for President, which may be unfortunate, because it turns out he was right about the social issues truce. David Weigel points to a new Pew Research Center poll which shows, not surprisingly, that social issues rank very low on the things that voters are concerned about heading into this election:
More than eight-in-ten voters say the economy (86%) and jobs (84%) are very important issues in deciding who to vote for this fall. Roughly three-quarters also cite the federal budget deficit (74%), health care (74%) and education (72%) as top voting priorities. Near the bottom of the list are some of the hot-button social issues. Just 28% say that gay marriage is a very important issue, and 34% rate birth control as a top issue.
The chart tells the tale: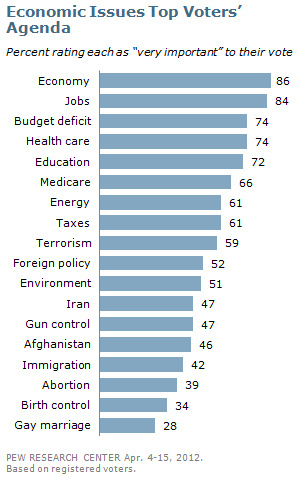 As Weigel notes, this really isn't a surprising result and it's not like Daniels had stumbled onto some previously unknown piece of political wisdom. It's been rather obvious for the past two years, if not, more that the economy and jobs were the main concerns in the minds of voters. Indeed, the exit polls taken during the 2010 elections showed that jobs and the economy were the main issues upon which voters made up their minds to the exclusion of virtually everything else, including "hot button" issues like abortion and same-sex marriage.  Moreover, we've seen several polls that repeat nearly exactly the results from this Pew poll. Heck, it's an idea that goes back to James Carville's 1992 election mantra that "It's the economy, stupid."
This is why something like the candidacy of Rick Santorum was such a fundamentally bad idea, why the GOP made a major mistake when it let itself get dragged down the rabbit hole of the contraception coverage debate in February, and why many national Republicans are expressing concern now over the extent to which Republican controlled stated legislatures have veered so far to the right on issues ranging from abortion to contraception to the teaching of evolution in public schools:
Some Republican strategists and officials, reluctant to be identified because they do not want to publicly antagonize the party's base, fear that the attention these divisive social issues are receiving at the state level could harm the party's chances in November, when its hopes of winning back the White House will most likely rest with independent voters in a handful of swing states.

(…)

ohn Weaver, a Republican strategist who worked on the presidential campaigns of Senator John McCain and Jon M. Huntsman Jr., said that the attention Republicans were paying to social issues at the state level could cost the party support from several important blocs of voters, including independents, women and young people voting for the first or second time.

"I think it's problematic," he said, "not just for this national election we're facing, but for the long-term health of the party."
It all seems rather self-evident, really. After Virginia became the focus of the nation for nearly two weeks amid public controversy over two anti-abortion bills that were pending in the state legislature, one of which was watered down and the other of which was shelved, and the GOP jumped on the controversy over contraception coverage mandates, we began to see evidence of a widening gender gap between Republicans and Democrats. That alone should have been evidence enough alone that the GOP should stay away from emphasizing social issues and concentrate on the economy, and yet there are those on the right who continue to insist that these are issues the party can win on. They're wrong of course, and Daniels and those that agree with him are right, but it may take an election cycle or two for the GOP as a whole to figure it out.