Republicans Urged To Avoid Social Issues
The GOP is being urged to avoid social issues and concentrate on reducing spending, shrinking government, and economic freedom. It's a good idea.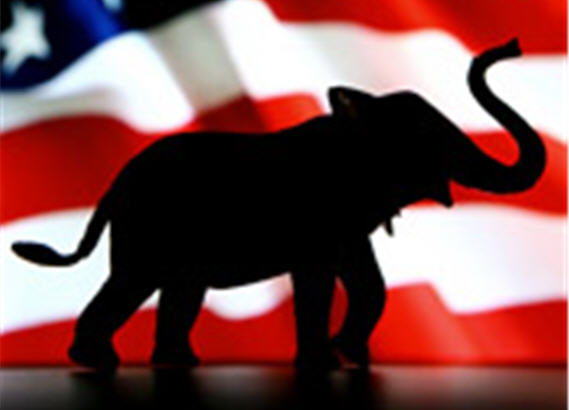 Incoming Republicans in the House and Senate are being told to concentrate on economic freedom and limited government and ignore the social issues that will only serve to divide the coalition that brought you to power:
A gay conservative group and some Tea Party leaders are campaigning to keep social issues off the Republican agenda.

In a letter to be released Monday, the group GOProud and leaders from groups like the Tea Party Patriots and the New American Patriots, will urge Republicans in the House and Senate to keep their focus on shrinking the government.

"On behalf of limited-government conservatives everywhere, we write to urge you and your colleagues in Washington to put forward a legislative agenda in the next Congress that reflects the principles of the Tea Party movement," they write to presumptive House Speaker John Boehner and Senate GOP leader Mitch McConnell in an advance copy provided to POLITICO. "This election was not a mandate for the Republican Party, nor was it a mandate to act on any social issue."

The letter's signatories range from GOProud's co-founder and Chairman Christopher Barron — a member of a group encouraging Dick Cheney to run for president — to Tea Party leaders with no particular interest in the gay rights movement.

As of Sunday evening, the letter had 17 signatories. They include tea party organizers, conservative activists and media personalities from across the country, including radio host Tammy Bruce, bloggers Bruce Carroll, Dan Blatt and Doug Welch, and various local coordinators for the Tea Party Patriots and other tea party groups.

"When they were out in the Boston Harbor, they weren't arguing about who was gay or who was having an abortion," said Ralph King, a letter signatory who is a Tea Party Patriots national leadership council member, as well as an Ohio co-coordinator.

King said he signed onto the letter because GOProud seemed to be genuine in pushing for fiscal conservatism and limited government.

"Am I going to be the best man at a same sex-marriage wedding? That's not something I necessarily believe in," said King. "I look at myself as pretty socially conservative. But that's not what we push through the Tea Party Patriots."
From the letter:
Poll after poll confirms that the Tea Party's laser focus on issues of economic freedom and limited government resonated with the American people on Election Day. The Tea Party movement galvanized around a desire to return to constitutional government and against excessive spending, taxation and government intrusion into the lives of the American people.

The Tea Party movement is a non-partisan movement, focused on issues of economicfreedom and limited government, and a movement that will be as vigilant with a Republican-controlled Congress as we were with a Democratic-controlled Congress.

This election was not a mandate for the Republican Party, nor was it a mandate to act on any social issue, nor should it be interpreted as a political blank check.

Already, there are Washington insiders and special interest groups that hope to co-opt the Tea Party's message and use it to push their own agenda – particularly as it relates to social issues. We are disappointed but not surprised by this development. We recognize the importance of values but believe strongly that those values should be taught by families and our houses of worship and not legislated from Washington, D.C.
This message is similar to the comments Indiana Governor Mitch Daniels made over the summer where he called for a "truce" on social issues, and stands in contrast to Senator Jim DeMint's recent claim that fiscal conservatism and social conservatism are inextricably linked. Daniels message, of course, was not well-received by many social conservatives. Anti-abortion groups were especially vehement in denouncing it, as was former Governor Mike Huckabee and Daniels' fellow Hoosier Congressman Mike Pence.
Nonetheless, it is a welcome sentiment notwithstanding the fact that the underlying tensions between the Tea Party's libertarian and social conservative wings still remain:
Polling has shown that Tea Party members hold socially conservative views, but don't consider issues like abortion a top priority. But social conservative grassroots played a key role in a handful of election campaigns, including the ouster of three pro-gay marriage Iowa judges. Exit polls last week also suggested that some gay voters had shifted toward Republican ranks, with about a third of self-identified gays backing Republican House candidates.

Barron and the tea party organizers behind the letter hope to get other tea party groups to sign on after the formal unveiling Monday.

"We're not talking about pushing social conservatives out of the tea party movement. Those people aren't only welcome but they're a critical part of this movement." said Barron.

But ideas like the one Sen. Jim DeMint (R-S.C.) floated about banning gay teachers run counter to the tea party ethos, Barron argues. "How is that limited government?" he said.

The alliance underscores many of the tensions and divisions in the freewheeling, leaderless tea party movement. While GOProud is ambivalent on the issue of same-sex marriage, it does openly advocate the repeal of the military's"Don't Ask Don't Tell" policy – something some of the letter's tea party signatories disagreed strongly with.

Tea Party Patriots Maine coordinator Andrew Ian Dodge said that pushing DADT repeal would be a distraction from fiscal issues like deregulation and lowering taxes and he hopes that the letter also reminds GOProud of this fact.

"It is a little bit of a distraction," said Dodge about the possible repeal of DADT. "Why divide our forces?"
And therein lies the problem, I think. At some point, the social issues that everyone is ignoring will have to be dealt with, whether it's DADT, same-sex marriage, or the temptation that some on the right have to use the power of the state to enforce their vision of personal morality on the rest of us. If the Tea Party wants to remain true to its limited government principles, then it strikes me that the default position would be less government and more personal freedom, whether the issue being dealt with involves economics or so-called "social issues." To turn Jim DeMint's words around, you can't be in favor of activist government on "social issues" while at the same time claiming you are for limited government everywhere else. The truce being called for here is a good idea, but at some point this unnatural split in the GOP's view on freedom will have to be reconciled.