Ann Coulter Booted From World Net Daily Conference For Speaking To Gay Group
Ann Coulter has been dis-invited from a World Net Daily conference for her decision to speak at a convention sponsored by a gay conservative group.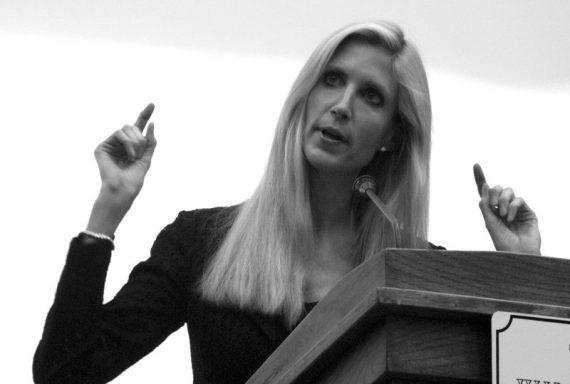 A few weeks ago, the gay conservative group GOProud announced that Ann Coulter would be the keynote speaker at their September conference in New York, which they are calling Homocon 2010. The announcement that Coulter would attend raised a few eyebrows, and now the publishers of World Net Daily that Coulter's decision to speak to the group is reason enough to dis-invite her from their own conference:
Conservative superstar Ann Coulter today was dropped as a keynote speaker for WND's "Taking America Back National Conference" next month because of her plan to address an event titled "HOMOCON" sponsored by the homosexual Republican group GOProud that promotes same-sex marriage and military service for open homosexuals.

Joseph Farah, editor and chief executive officer of WND, said the decision was a gut-wrenching one for his team because of their fondness for Coulter as both a person and writer-speaker.

"Ultimately, as a matter of principle, it would not make sense for us to have Ann speak to a conference about 'taking America back' when she clearly does not recognize that the ideals to be espoused there simply do not include the radical and very 'unconservative' agenda represented by GOProud," said Farah. "The drift of the conservative movement to a brand of materialistic libertarianism is one of the main reasons we planned this conference from the beginning."
This isn't all that surprising. After all, WND's publisher Joseph Farah blasted CPAC organizers earlier this year when they allowed GOProud to be one of the conference's co-sponsors, a move which also caused Mike Huckabee to call CPAC "too libertarian," and led to one rather disgusting outburst by activist Ryan Sorba from the CPAC stage, for which he was roundly booed.
Coulter responded to Farah's announcement by pointing out she speaks to a number of different groups:
Coulter responded: "That's silly, I speak to a lot of groups and do not endorse them. I speak at Harvard and I certainly don't endorse their views. I've spoken to Democratic groups and liberal Republican groups that loooove abortion. The main thing I do is speak on college campuses, which is about the equivalent of speaking at an al-Qaida conference. I'm sure I agree with GOProud more than I do with at least half of my college audiences. But in any event, giving a speech is not an endorsement of every position held by the people I'm speaking to. I was going to speak for you guys, I think you're nuts on the birther thing (though I like you otherwise!)."

But Farah sees this speech to GOProud in a very different light than does Coulter.

"Earlier this year, GOProud was permitted to sponsor the Conservative Political Action Conference in Washington, the biggest event of its kind," said Farah. "This bad decision resulted in consistently conservative groups dropping sponsorship and withdrawing from participation – much to their credit. GOProud is about infiltration of the conservative movement and dividing it from within with twisted and dangerous ideas way out of the mainstream of American public opinion. Ann Coulter is, I'm afraid, validating this effort for money. I support her speaking to people with whom she disagrees on college campuses. That's a good idea. I do it, too. But if you see the way GOProud is exploiting its coup in getting Ann Coulter to speak to its HOMOCON event, you begin to understand what a mistake this is for a conservative icon like Coulter."
Coulter went on to point out that she has spoken at previous WND events even though she considers Farah's obsession with the birther issue insane. Moreover, her decision to speak in front of GOProud isn't surprising at all once you see what they're actually about:
GOProud represents gay conservatives and their allies. GOProud is committed to a traditional conservative agenda that emphasizes limited government, individual liberty, free markets and a confident foreign policy. GOProud promotes our traditional conservative agenda by influencing politics and policy at the federal level.
Moreover, their list of current legislative goals consists of mostly mainstream fiscal conservatism and contains only two items that could be described as explicitly "gay," repeal of "Don't Ask, Don't Tell," and opposition to a Federal Marriage Amendment. One could arguably state, in fact, that GOProud is more mainstream conservative than Joseph Farah or the readers of World Net Daily.
Now, Joseph Farah is hardly a serious person, and World Net Daily is not a credible news source, but he's got a following so this is of some interest inside the conservative movement, just like the relative quiet on the right about the Proposition 8 ruling, and the fact that Grover Norquist recently joined the GOProud are interesting. It's a sign, I think, that the anti-gay rhetoric that was associated with the right in the past just isn't going to work anymore.