It's Still The Economy, Stupid. Social Issues Last On Voters' Priority List
Despite all the time the media, pundits, and Presidential candidates seem to be spending talking about social issues, voters are still saying the economy is the most important issue:
PRINCETON, NJ — More than 9 in 10 U.S. registered voters say the economy is extremely (45%) or very important (47%) to their vote in this year's presidential election. Unemployment, the federal budget deficit, and the 2010 healthcare law also rank near the top of the list of nine issues tested in a Feb. 16-19 USA Today/Gallup poll. Voters rate social issues such as abortion and gay marriage as the least important.

The high ranking of economic issues in the list is no surprise in a down economy. The rank order also mirrors the priority given to the economy, unemployment, and the deficit when Americans are asked to name the most important problem facing the country.

In fact, however, Americans have always rated the economy as a very important election issue. Even when the economy was relatively strong, as in the 1996, 2000, and 2004 elections, close to 9 in 10 said the economy was an extremely or very important issue to their vote, though fewer said it was extremely important in those years.
And the priorities don't change much when you break things down by political affiliation: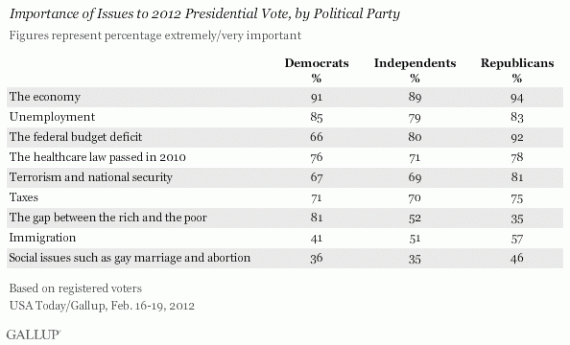 So, how about we all shut up about abortion, contraception, and all that other pointless nonsense and talk about what really matters? Deal?