Pelosi Announces Formal Impeachment Inquiry
The escalation has been rapid, dramatic, and warranted.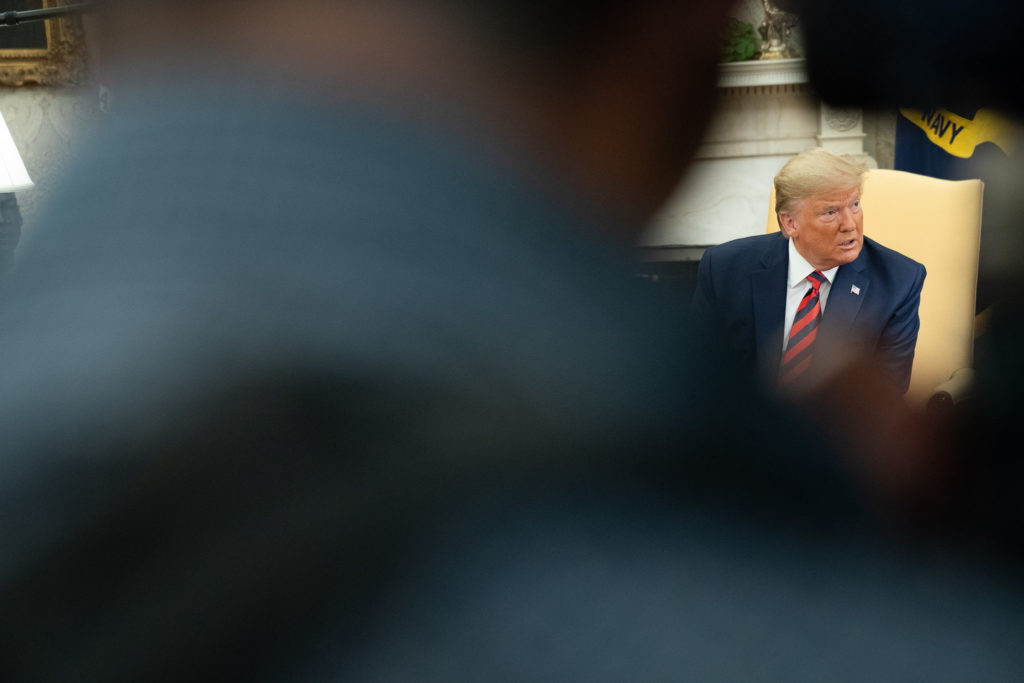 In the context of a rapidly developing story regarding Trump's phone calls with the Ukrainian president, Speaker of the House Nancy Pelosi officially announced a formal impeachment inquiry today:
"The actions of the Trump presidency revealed the dishonorable fact of the President's betrayal of his oath of office, betrayal of our national security and betrayal of the integrity of our elections," Pelosi said in a brief speech in the Capitol. "Therefore, today, I am announcing the House of Representatives moving forward with an official impeachment inquiry."

[…]

So far, as many as 161 House Democrats have publicly stated their support for an impeachment inquiry into Trump, according to a CNN count, and that doesn't include the House Democrats who've said in recent days that the President's behavior is a turning point in Democrats' oversight into the administration.

Source: CNN: Nancy Pelosi announces formal impeachment inquiry into President Donald Trump
Exactly what form this inquiry will take is unclear at the moment. Today's announcement is the latest dramatic turn in a story that has quickly gone from a confrontation over a whistle-blower's allegations to an impeachment inquiry. Trump went from "fake news" to admitting that he brought up Joe Biden and his son, Hunter, in a phone call with Ukrainian President Zelensky–all in the context of both US aid to Ukraine and the fact that the Trump campaign has been seeking to find dirt on Biden from Ukraine.
Meanwhile, Trump promised today to release the transcript of the call:
"I am currently at the United Nations representing our Country, but have authorized the release tomorrow of the complete, fully declassified and unredacted transcript of my phone conversation with President Zelensky of Ukraine," Trump tweeted Tuesday afternoon.

"You will see it was a very friendly and totally appropriate call. No pressure and, unlike Joe Biden and his son, NO quid pro quo! This is nothing more than a continuation of the Greatest and most Destructive Witch Hunt of all time!"

Source: WaPo, Trump says he has authorized release of transcript of call with the Ukrainian president.
So, we will soon be able to see the contents of the call that has created such controversy. Whether that encompasses the entirety of the whistle-blower report of not, we won't know. However, it will give us some clarity into what was said to Zelensky.
The tweet quoted above may be a preview, as Trump seems unwilling to let go of the Biden reference. If he didn't mention Biden on the call, why does he keep bringing up Biden every chance he gets? It's as if he and his campaign have had a months-long strategy to link Biden to corruption in Ukraine.
If Trump mentioned Biden at all, then he is in very big trouble, because the only logical reason to mention Biden is because Biden is a high-probability opponent in the elections. If he mentioned Giuliani in the call, then that directly connects Trump's personal agent to the inquiry (Giuliani does not work for the US government. He works for Trump).
I would note, too, that Trump admitted to holding off on payments to Ukraine, but later giving in to the payments.
Also Tuesday, Trump confirmed that he withheld military aid from Ukraine, saying he did so over his concerns that the United States was contributing more to Ukraine than were European countries.

"My complaint has always been, and I'd withhold again and I'll continue to withhold until such time as Europe and other nations contribute to Ukraine because they're not doing it," Trump told reporters at the United Nations General Assembly.

Source: ibid.
One of the most remarkable aspects of all this is that Trump appears to have admitted to the core issues. The issue just becomes how to assess these actions.