Trump Put Ukraine Military Aid On Hold Just Days Before Phone Call
Just days before he repeatedly pressured the President of Ukraine to reopen a closed investigation involving the son of former Vice-President Biden, President Trump suspended military aid that had been authorized by Congress.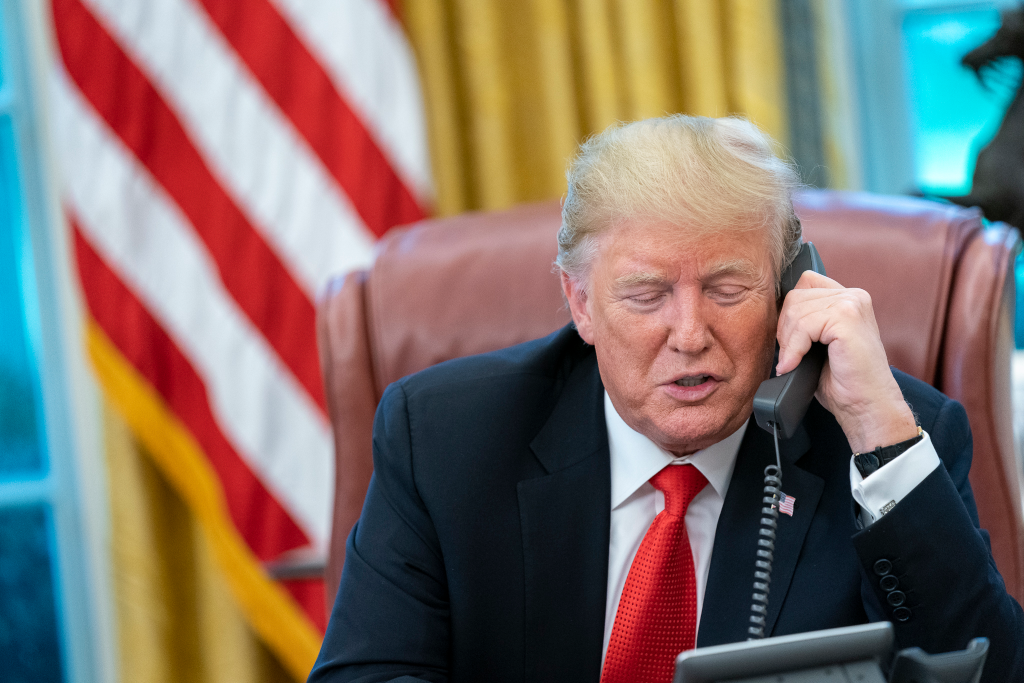 It's been just over a week since we first learned that a whistleblower complaint filed with the Inspector General for the Office of the Director of National Intelligence. In that time, as has been the case with similar controversies that have gripped the Trump Administration since the President took office, details have been dripping out on a daily basis. At first, the Administration denied than there had been any discussion of the alleged corruption involving former Vice-President Biden's son Hunter. Then, the President may have discussed the matter but denied it was wrong to do so. Next, the story shifted to denying that there was any quid pro quo between reopening the investigation involving the younger Biden and gaining access to aid that had already been approved by Congress. Specifically, last week it was revealed that the President had brought up the Biden investigation in his conversation(s) with the Ukrainian President no fewer than eight times, something that the President himself seemingly admitted days later. Now, The New York Times and Washington Post are both reporting that President Trump ordered military aid authorized by Congress frozen just days before a controversial phone call with the President of Ukraine:
President Trump told his acting chief of staff, Mick Mulvaney, to hold back almost $400 million in military aid for Ukraine at least a week before a phone call in which Trump is said to have pressured the Ukrainian president to investigate the son of former vice president Joe Biden, according to three senior administration officials.

Officials at the Office of Management and Budget relayed Trump's order to the State Department and the Pentagon during an interagency meeting in mid-July, according to officials who spoke on the condition of anonymity to discuss internal deliberations. They explained that the president had "concerns" and wanted to analyze whether the money needed to be spent.

Administration officials were instructed to tell lawmakers that the delays were part of an "interagency process" but to give them no additional information — a pattern that continued for nearly two months, until the White House released the funds on the night of Sept. 11.

Trump's order to withhold aid to Ukraine a week before his July 25 call with Volodymyr Zelensky is likely to raise questions about the motivation for his decision and fuel suspicions on Capitol Hill that Trump sought to leverage congressionally approved aid to damage a political rival. The revelation comes as lawmakers clash with the White House over a related whistleblower complaint made by an intelligence official alarmed by Trump's actions — and as House Speaker Nancy Pelosi (D-Calif.) is said to be exploring whether it's time to allow impeachment proceedings.

Republican senators on the Senate Appropriations Committee said Sept. 12 that the aid to Ukraine had been held up while the Trump administration explored whether Zelensky, the country's new president, was pro-Russian or pro-Western. They said the White House decided to release the aid after Sen. Richard J. Durbin (D-Ill.) threatened to freeze $5 billion in Pentagon funding for next year unless the money for 2019 was distributed.

One senior administration official said Monday that Trump's decision to hold back the funds was based on his concerns about there being "a lot of corruption in Ukraine" and that the determination to release the money was motivated by the fiscal year's looming close on Sept. 30.

There was concern within the administration that if they did not spend the money, they would run afoul of the law, this official said, noting that, eventually, Trump gave the OMB's acting director, Russell Vought, permission to release the money. The official emphatically denied that there was any link between blocking the aid and pressing Zelensky into investigating the Bidens, stating: "It had nothing to do with a quid pro quo."

But on Capitol Hill, Democrats were calling for an investigation of what they viewed as potential "extortion," as Sen. Robert Menendez (N.J.), the Foreign Relations Committee's ranking Democrat, put it Monday. Trump, he said, is trying to "reshape American foreign policy" to advance his personal and political goals.

"I don't think it really matters . . . whether the president explicitly told the Ukrainians that they wouldn't get their security aid if they didn't interfere in the 2020 elections," said Sen. Chris Murphy (D-Conn.). "There is an implicit threat in every demand that a United States president makes of a foreign power. . . . That foreign country knows that if they don't do it, there are likely to be consequences."
To be sure, there are arguably legitimate reasons to be concerned about corruption in Ukraine leaving aside the controversy developing here in the United States. One of the issues that is involved in the entire, largely non-existent, Biden controversy is the fact that, as Vice-President, Joe Biden was among a number of other international leaders to put pressure on Petro Poroshenko, the former President of Ukraine, to fire the nation's chief prosecutor, who was widely believed to be neck-deep in the corruption that continued to grip the nation long after its pro-Russian leadership was overthrown several years ago. When Poroshenko failed to take that action, Biden informed him that, per President Obama's instructions, he would not be announcing the approval of an aid package for the nation and that such aid would be withheld until Poroshenko acted as the United States and the majority of our allies demanded. Additionally, it was ongoing corruption that led to Poroshenko's defeat in favor of the current President, Volodymyr Zelensky, who until being elected was best known as a comedian who mocked Poroshenko and his government on television.
All that being said, the fact that the decision to suspend the aid was just days before a phone call in which the President repeatedly pressured President Zelensky to reopen an investigation that had been closed years ago after it was determined that there was no wrongdoing and that said investigation involves the son of a political rival is certainly suspicious. Even if President Trump did not formally say that there was a quid pro quo between reopening the investigation and releasing the military aid meant to protect Ukraine against an insurgency being supported and aided by Vladimir Putin, the implication of such a connection could not have been lost on the Ukrainian President. Additionally, even without an explicit or implicit quid pro quo it was obviously entirely improper for a sitting President facing re-election to be discussing the investigation that potentially involves the person who President Trump could end up facing off against in the 2020 election. Legalities aside, it is entirely inappropriate, something that ought to be thoroughly investigated by Congress, and an act that, in addition to everything else, is yet another potentially impeachable act committed by this President.
The only question at this point is when will enough be enough for the American people?