Ukrainian Billionaire Petro Poroshenko Wins Presidential Election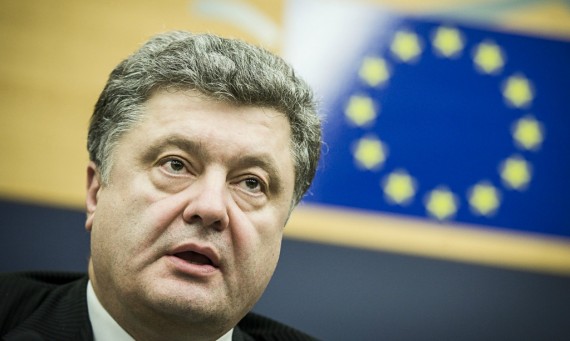 Petro Poroshenko, a Ukrainian billionaire who has come to be known as the 'Chocolate King' due to the fact that he made most of his money selling candy, has apparently won the Ukrainian Presidential election by a wide enough margin to avoid a runoff:
KIEV, Ukraine — With their country caught in a fierce tug-of-war between Russia and the West over a new security order, Ukrainians elected Petro O. Poroshenko as president on Sunday, turning to a pro-European billionaire to lead them out of six months of wrenching turmoil, including a continuing separatist insurrection in the east.

The special election was called by Parliament to replace Viktor F. Yanukovych, who fled Kiev on Feb. 21 after a failed but bloody attempt to suppress a civic uprising, and whose toppling as president set off Russia's invasion and annexation of Crimea.

While the election allows Ukraine to open a new chapter in its history, and even President Vladimir V. Putin of Russia has indicated in recent days that he would accept the result, Mr. Poroshenko now faces the excruciatingly difficult task of trying to calm and reunite a country that has been on the edge of financial collapse, and on the verge of tilting into civil war. Among his chief tasks will be to ease tensions with Russia.

"Now we have a state of war," he said as he arrived at a polling station in Kiev to vote on Sunday. "We need to establish peace."

Early exit poll results showed Mr. Poroshenko, a confections tycoon known as the Chocolate King, and a longtime veteran of Ukrainian politics, with a wide lead over his strongest rival, the former prime minister Yulia V. Tymoshenko. He appeared poised to easily clear the simple-majority threshold needed to avoid a potentially divisive runoff.

Mr. Poroshenko declared victory at an evening news conference at an arts center, where he appeared with the former champion boxer Vitali Klitschko, a leader of the street protests that deposed Mr. Yanukovych. Mr. Klitschko was elected on Sunday as mayor of Kiev, the capital. The art complex was decked out for a victory party, including cases of Spanish and Italian wine.

"These were the hardest periods in Ukraine's history, and these elections determine the future of our country," Mr. Poroshenko said. "I would like to thank the Ukrainian people who participated and showed record support and visited all polling stations in these hard conditions."

Despite formidable obstacles in the east, where armed separatists largely prevented voting from taking place on Sunday, and in Crimea, which Russian now claims, election officials reported robust turnout throughout the rest of the country.

International observers also predicted that the presidential vote would receive high marks in meeting standards of fairness.

But Mr. Poroshenko, 48, faces skepticism even among many of his supporters, who are wary both of his status as a billionaire businessman and because he is a veteran in Ukraine's notoriously corrupt politics. He has been a longtime member of Parliament, where he briefly served as speaker, and was minister of trade and economic development under Mr. Yanukovych and foreign minister under President Viktor Yushchenko.

Mr. Poroshenko has vowed repeatedly to set Ukraine on a pro-European course, and has pledged to sign the political and trade agreements with the European Union that Mr. Yanukovych abandoned, setting off the uprising last fall.

But Mr. Poroshenko has deep business interests in Russia and has previously served in pro-Russian governments, creating some optimism in Moscow that negotiations are possible. Creating leverage, the Kremlin has already seized a factory and warehouse in Lepetsk, Russia, belonging to Mr. Poroshenko's company, Roshen Chocolate. Last year, in the runup to tensions over the European Union agreements, Russia also barred imports of his chocolate, citing vague health concerns.

Mr. Poroshenko has repeatedly called for armed separatists to be brought to justice, but he also ran a campaign focused on the bread-and-butter issues of jobs and the economy, as well as a populist anticorruption message that resonated well with a Ukrainian electorate weary after more than two decades of malfeasance and mismanagement.

"We will do the absolutely unique transformation of the country," Mr. Poroshenko said before casting his ballot, "with zero tolerance to corruption, with a very good investment climate, with an independent court system, with all the necessary things to attract business."
Even if one takes him at his word, Poroshenko most certainly has his work cut out for him. At the top of the list, of course, is reaching some kind of resolution that leads to a calming of tensions in the eastern part of the country and with Russia itself. Much of that, of course, is out of Poroshenko's hands and depends on how the pro-Russian separatists in the East, and the Russians themselves, react to the outcome of the election.  Related to the Russian problem, of course, and just as important for Poroshenko will be to find a way to get the Ukrainian economy on a sound footing. Without that, then any political settlement in the country will likely be quite short-lived indeed.