Ukrainians Head To The Polls, Except In The East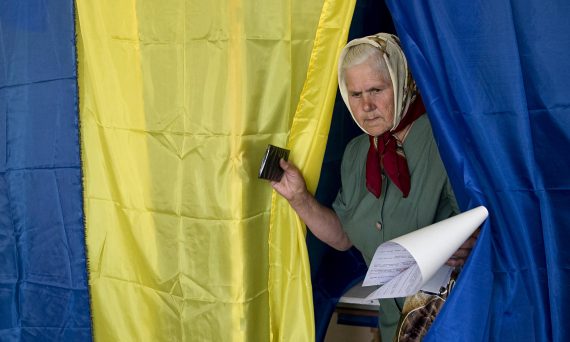 Ukrainians are voting today in the first national elections since the pro-Russian Government of former President Viktor Yanukovych was toppled amid public protests that filled the streets of Kiev and others cities, but a large part of the country may not be voting at all:
KIEV, Ukraine — Ukrainian voters streamed to the polls on Sunday to replace their toppled president, Viktor F. Yanukovych, whose ouster four months ago in a bloody civic uprising set off a cascade of geopolitical turmoil, including Russia's invasion and annexation of Crimea and a continuing separatist insurrection in the east that largely prevented balloting there.

Voter surveys in recent days showed the pro-Western billionaire Petro Poroshenko, a veteran of Ukrainian politics, holding a wide lead over his strongest rival, former Prime Minister Yulia V. Tymoshenko. Attention was focused mainly on whether Mr. Poroshenko would get at least a majority, more than 50 percent of the vote, needed to avoid a runoff. If not, it will prolong Ukraine's political uncertainty.

Despite the obstacles in the east — where as many as 80 percent of the polling stations in some areas are unable to function — international observers said they expected robust turnout elsewhere in the country and the vote to receive generally high marks in meeting standards of fairness.

In Kiev, there were long lines at polling stations and voters generally expressed resolve that the country needed to open a new chapter in its history — with a new leader — although many expressed some disappointment in the candidates.

Mr. Poroshenko, 48, a longtime member of Parliament, briefly served as speaker, and was minister of trade and economic development under Mr. Yanukovych and foreign minister under President Viktor Yushchenko.

"We are stuck in everything," said Tatyana Zhukova a retired engineer who said she had just voted for Mr. Poroshenko at the National Linguistic University here. "I don't see new leaders."

Others said they were casting their vote for Mr. Poroshenko, and hoped he would be different than previous leaders. "We want to believe," said Mariya Tsepennikova, who came to vote with her husband, Oleksandr, and their 2-year-old son, Giorgi.

The couple said that regular Ukrainians would also have to do their part. "Much depends on citizens," Ms. Tsepennikova said. "You always have to sacrifice for a motherland." Her husband added, "There must be changes."

There is no doubt Ukraine has sacrificed. More than 100 people, including protesters and police, died during clashes in Kiev, most after the Yanukovych government attempted a violent suppression of the uprising in mid-February. In the end, the deaths only fueled public anger.

The crisis in Ukraine, which began six months ago when Mr. Yanukovych broke a promise to sign political and economic accords with the European Union, upended the post-Soviet security order and set off the worst confrontation between Russia and the West since the Cold War, including military maneuvering, volleys of economic sanctions and travel restrictions.

The interim government, led by Prime Minister Arseniy P. Yatsenyuk, has taken steps toward finalizing the agreements that Mr. Yanukovych abandoned, and many voters said they were intent on seeing Ukraine continue on this pro-European path.

Ilya Danko, 31, an architect, said he had voted for Mr. Poroshenko with the hope of calming the political situation by avoiding a second round. "It's like choosing the best from the worst," Mr. Danko said. "We have great tension now in some regions," he said. "I think it's very important to cool down these things and to end this as soon as possible."
The Washington Post's take on the story is somewhat more pessimistic:
DONETSK, Ukraine — Voting got underway Sunday in critical presidential elections that could determine Ukraine's future as a sovereign nation, although many in the country's violence-wracked east looked unlikely to vote.

It was not immediately clear how many polling stations were functioning in the breakaway regions of Donetsk and Luhansk, after polls opened in the former Soviet republic of 44 million people at 8:00 a.m.

No polling stations were open in the city of Donetsk because of threats of violence, abductions and other acts taken by pro-Russian militants to disrupt the election, regional officials said. The Donetsk Regional Administration said 426 polling stations out of 2,430 were open in the troubled region, according to its Web site.

But in other parts of the beleaguered country, voting appeared brisk under warm, sunny skies. In the capital Kiev, turnout appeared to be heavy, with long lines at polling stations and local officials saying that turnout was higher than the previous presidential election.

Around the troubled Donetsk region, however, problems with voting were widespread. People started trickling in to a polling station in Veliko Novoselovka, a small town about 60 miles west of Donetsk, but were turned away because of no ballots.

The election official in charge of the polling station — who would only give his name as Oleksandr — said the polling station had two voting booths and four ballot boxes but no ballots, because the top election official for their district had been abducted Saturday and the ballots stolen.

One would-be voter angrily demanded to be allowed to cast his ballot. "I still live in Ukraine or do I live in another country and have to arm myself to fight those idiots?" the man shouted. An 87-year-old woman was told that she could go home and if the ballots arrived later, they would bring one to her home so she could vote.

A well-entrenched unit of Ukrainian troops operated one roadblock on the road from Donetsk, backed by armored personnel carriers and other soldiers, and then a second one outside town.

"It's my duty to come here," said Raya Bogdanovna, 87, who walked to School No. 1 but headed home again after being told she couldn't vote.

"We very much wanted to vote. We want to end this disorder," said another woman, a retired school teacher with tears in her eyes who would only give her first name, Tatyana. She referred to the separatists as Russian-sponsored "bandits." "They're shooting our children," she said. "Russia doesn't want Ukraine to succeed."

But Tatyana was also critical of the government in Kiev, saying they should have done more to keep the situation under control.

Donetsk and Luhansk, with a combined population of just over 6.5 million, were declared sovereign republics by pro-Russian separatists after chaotic referendums there two weeks ago. Even if polling stations were open, it was unclear how many residents would risk voting after widespread threats of violence.
In the end, the results of the election are not nearly as important as what happens afterwards and whether the pro-Russian forces in the east accept their legitimacy or continue to attempt to undermine Kiev's authority in the area. For his part, Putin has said that Russia would respect the result of the elections, but on a second reading of his remarks it seems as though he left himself a pretty wide opening for claims about whether or not the elections themselves were legitimate. If it turns out that turnout in the east is sufficiently suppressed to make the result look as though the western part of the country was attempting to impose its will on the east. It won't be true, of course, but truth hardly matters it these kinds of matters and if it serves as a pretext for further conflict then it will have served its purpose.