Prosecutors Reach Deal With Publisher Over Payoffs On Behalf Of Trump Campaign
The publisher of the National Enquirer admits that it made payments to a Playboy model for the purpose of protecting Donald Trump's campaign for President.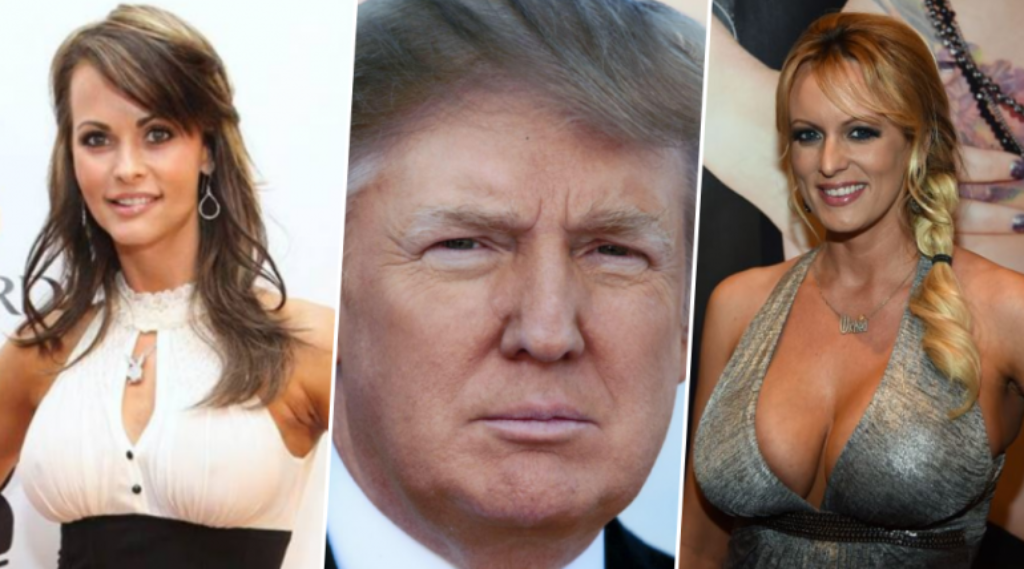 Adding to the legal woes that continue to surround President Trump, the Justice Department announced today that it had reached an agreement with American Media, Inc., the parent company of National Enquirer and other magazines and tabloids, under which AMI will avoid prosecution in exchange for cooperating with the Justice Department in its ongoing investigation of the Trump campaign and its efforts to silence women who have had affairs with President Trump in advance of the 2016 election:
With the revelation by prosecutors on Wednesday that a tabloid publisher admitted to paying off a Playboy model, key participants in two hush-money schemes say the transactions were intended to protect Donald J. Trump's campaign for president.

That leaves Mr. Trump in an increasingly isolated and legally precarious position, according to election law experts. Hundreds of thousands of dollars in payments made in 2016 to keep two women silent about alleged affairs are now firmly framed as illegal campaign contributions.

The news about the publisher, the parent company of The National Enquirer, came on the same day that Mr. Trump's former lawyer Michael D. Cohen was sentenced to three years in prison in part for his involvement in the payments. "I blame myself for the conduct which has brought me here today," Mr. Cohen said, "and it was my own weakness and a blind loyalty to this man" — a reference to Mr. Trump — "that led me to choose a path of darkness over light."

Mr. Cohen said the transactions were an effort to cover up the president's "dirty deeds," a claim that was buttressed when federal prosecutors announced that the tabloid publisher, American Media Inc., said it had bought one of the women's stories to ensure she "did not publicize damaging allegations about the candidate."

A.M.I. further admitted that its principal purpose in making the payment was to suppress the woman's story so as to prevent it from influencing the election," prosecutors said in a statement announcing they had struck a deal not to charge the company in exchange for its cooperation. As part of the deal, dated in September but previously kept private, the company also agreed to train employees in election law standards and appoint a qualified lawyer to vet future deals that may involve paying for stories about political candidates.

The cascading disclosures marked a turning point in the multiple investigations related to Mr. Trump and the campaign he led. Until recently, the inquiries had produced numerous guilty pleas and indictments but no direct accusations of illegality by the president. That changed with Mr. Cohen's assertions, outlined in detail by prosecutors, that his own crimes were done "in coordination with and at the direction" of Mr. Trump.

(…)

Investigators have continued to scrutinize what others in the Trump Organization may have known about the crimes described by Mr. Cohen, including its chief financial officer, according to people briefed on the matter. Prosecutors have met with campaign officials and asked how the campaign interacted with Mr. Trump's company, which shared office space and employees.

Establishing a nexus between Mr. Cohen's efforts to silence the women and Mr. Trump's campaign is central to making a criminal case of election law violations. That is why A.M.I.'s admission carries so much weight, said Richard L. Hasen, an election law professor at the University of California, Irvine.

"It's looking a lot like an illegal and unreported in-kind corporate contribution to help the campaign, exposing the Trump campaign and Trump himself to possible criminal liability," Mr. Hasen said.

A.M.I., run by Mr. Trump's longtime friend David J. Pecker, had previously claimed it had paid $150,000 to the model, Karen McDougal, to secure the rights to publish her story of an alleged affair with Mr. Trump. But the company never published it, and people familiar with its operations had said it was part of a longstanding practice, known in the tabloid trade as "catch and kill," to suppress damaging stories about favored people.

Prosecutors said that Mr. Cohen had intended to reimburse A.M.I. for its payment to Ms. McDougal by arranging a bogus $125,000 fee to an A.M.I. affiliate for "advisory services." Although Mr. Pecker signed off on the deal, he later contacted Mr. Cohen and called it off. He also instructed Mr. Cohen to tear up the paperwork, prosecutors said.

In addition to McDougal, Mr. Cohen said he arranged a $130,000 payment to Stormy Daniels, a pornographic film actress, to squelch her story of an alleged affair with Mr. Trump. He said that he used his own money, but that Mr. Trump had agreed to pay him back, with the reimbursement eventually being couched as legal fees billed to the Trump Organization.

A.M.I. was also involved in the early stages of Mr. Cohen's dealings with Ms. Daniels. Rather than pay her, as it did with Ms. McDougal, the company notified Mr. Cohen that she was trying to sell her story.
This agreement, of course, was announced on the same day that former Trump attorney Michael Cohen was sentenced to three years in prison for, among other things, the role he played in negotiating the payments that were made to both Karen McDougal and adult film star Stormy Daniels to buy their silence in advance of the 2016 national election. Previously, Cohen and A.M.I., which made the payment to McDougal that was ultimately supposed to be reimbursed by Trump via Cohen, had said that the payments to both women were made to protect Trump personally, to protect his marriage, and to shield Trump's wife from knowing that her husband was sleeping with porn stars and Playboy models while she was pregnant with their son. It wasn't until Cohen flipped and began cooperating with the Federal Government that it was made clear that these payments were made for the purpose of protecting the campaign and making sure that these women did not come forward during a month in 2016 when Trump was already having to deal with the Access Hollywood tape and the claims by more than a dozen women that Trump had sexually harassed them in the past.
At that point, though, the story about the payments to Daniels and McDougal were largely a matter of "he said, he said" between the President and Michael Cohen, and Cohen alone isn't exactly a credible witness given the fact that he is an admitted liar. Securing the cooperation of A.M.I., which corroborates Cohen's claims regarding the real purpose of the payments, strengthens any case the government would seek to make. This is particularly important in light of the outcome of the case involving former Senator and candidate for Vice-President John Edwards, who was charged with campaign finance law violations under circumstances that were similar to those surrounding the payments to Daniels and McDougal. In that case, of course, Edwards defended himself primarily with the argument that the payments made to his pregnant mistress during the 2008 Presidential campaign were made for personal reasons rather than campaign reasons. Because of this, the case ended with a hung jury and Federal prosecutors ultimately decided not to retry the case.
In several recent comments, the President and his supporters have seemed to adopt the theme of the Edwards defense and argue that the payments to Daniels and McDougal were personal rather than political. The fact that officials associated with A.M.I. would testify that it was their understanding that the payments were meant specifically to protect the campaign for President, and that these officials are not in the same position as Cohen as having admitted to lying to Congress or Federal investigators makes their testimony, and therefore Cohen's, more credible. The agreement between A.M.I. and Cohen also states that there is an unnamed third-party who was part of the Trump campaign who was aware of the nature and purpose of the transaction. While that person is not identified, it seems likely that this person is Donald Trump himself, especially since we already have heard recordings made by Cohen where he discusses the McDougal transaction with Trump and both Trump and Cohen have admitted that Trump was aware of the negotiations with Daniels at the time they were taking place. What all of this means, of course, is that the President of the United States was a co-conspirator with both Cohen and A.M.I. to evade and violate federal campaign finance laws, among other crimes. Were he not the President of the United States he would have most likely been indicted by now himself.
The walls are closing in, Mr. President. Whether this ends with impeachment, being named as an unindicted co-conspirator, or being the subject of a report that clearly indicates you are a criminal is something only time will tell. No amount of tweeting is going to stop them. What can no longer be denied, though, is that the President colluded with Michael Cohen and A.M.I. to violate the law in order to become President. Under the law, of course, collusion is actually known as conspiracy and it's explicitly set out in the United States Code at 18 U.S.C. Sec. 371. What we don't know, yet is whether there was also collusion others, specifically Russian officials, to undermine the campaign of Hillary Clinton at several crucial points during the campaign, but something tells me we'll get the answer to that question soon enough.