Saudi Arabia Cooking Up Impossible To Believe Defense In Khashoggi Murder
Saudi Arabia is reportedly developing an explanation for the murder of Jamal Khashoggi that defies credulity.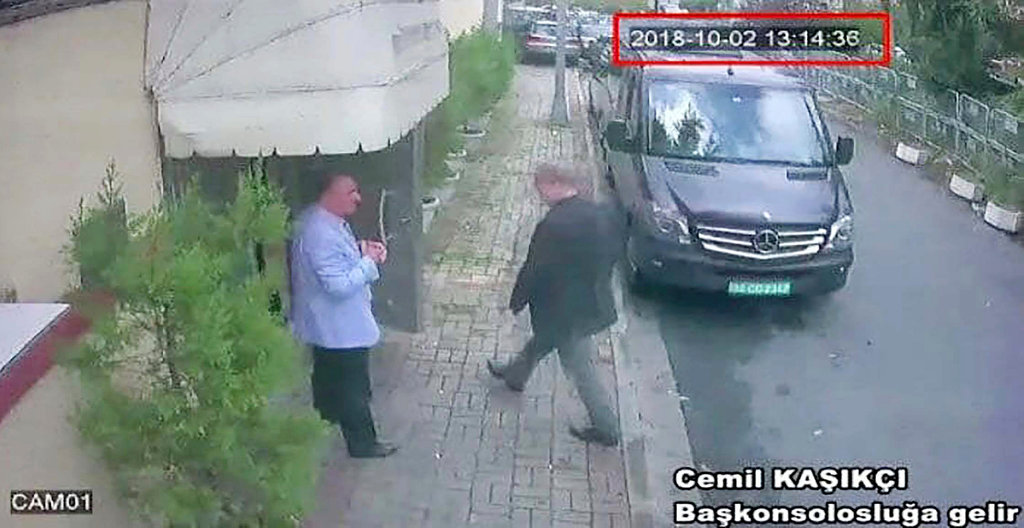 Reports are leaking out that Saudi Arabia is preparing to admit that Jamal Khashoggi died in Saudi custody at their consulate in Istanbul, but it's a story that strains credulity:
Saudi Arabia was preparing an alternative explanation of the fate of a dissident journalist on Monday, saying he died at the Saudi Consulate in Istanbul two weeks ago in an interrogation gone wrong, according to a person familiar with the kingdom's plans. In Washington, President Trump echoed the possibility that Jamal Khashoggi was the victim of "rogue killers."

The shifting story line defied earlier details that have emerged in the case, including signs that he was murdered and dismembered. Among other things, Turkish officials have said, an autopsy specialist carrying a bone saw was among 15 Saudi operatives who flew in and out of Istanbul the day Mr. Khashoggi disappeared.

The new explanation, whatever its truth, seemed intended to ease the political crisis that Mr. Khashoggi's disappearance has created for Saudi Arabia. The new story could also defuse some criticism of the Trump administration, which has refused to back down from billions of dollars in weapons sales to the kingdom and as of Monday was still planning to attend a glittering Saudi investment forum next week.

But the theory was widely dismissed among Mr. Khashoggi's friends, human rights advocates and some on Capitol Hill, who noted that Saudi officials had denied his death for two weeks — including assertions by Crown Prince Mohammed bin Salman last week and the king himself on Monday.

"Been hearing the ridiculous 'rogue killers' theory was where the Saudis would go with this," Senator Christopher S. Murphy, Democrat of Connecticut, wrote in a Twitter post. "Absolutely extraordinary they were able to enlist the President of the United States as their PR agent to float it."

Mr. Trump spoke with King Salman of Saudi Arabia on Monday morning in a 20-minute phone call. The president said the king denied any knowledge of what had happened to Mr. Khashoggi, a columnist for The Washington Post who had been critical of the crown prince.

"It sounded to me like maybe these could have been rogue killers — who knows," Mr. Trump said, speaking to reporters as he headed to visit areas in Georgia and Florida that were ravaged by Hurricane Michael.

Mr. Trump also said he told the king: "The world is watching. The world is talking, and this is very important to get to the bottom of it." The Saudi state news service reported a different take on the conversation, in which Mr. Trump praised the cooperation between the Saudis and Turkish officials as they investigate Mr. Khashoggi's disappearance.

Turkish officials have said Mr. Khashoggi was killed and dismembered after he disappeared in the Saudi Consulate in Istanbul two weeks ago.

Later on Monday, a person familiar with the Saudi government's plans said that Mr. Khashoggi was mistakenly killed during an interrogation ordered by a Saudi intelligence official who was a friend of the crown prince. The person, who spoke on condition of anonymity, said Prince Mohammed had approved interrogating or even forcing Mr. Khashoggi to return to Saudi Arabia under duress.

But, the person said, the Saudi intelligence official went too far in eagerly seeking to prove himself in secretive operations, then sought to cover up the botched job.

Azzam Tamimi, an Islamist friend of Mr. Khashoggi, called the "rogue" theory "disastrous" for the credibility of President Recep Tayyip Erdogan of Turkey.

"The Turks have leaked so much that it is inconceivable that they would settle for less than telling the world exactly what happened," said Mr. Tamimi, who met Mr. Khashoggi for lunch in London the day before he disappeared.

(…)

Advisors close to Prince Mohammed said he was shocked by the universal condemnation after Mr. Khashoggi's disappearance.

That has firmed up a growing belief in Western circles that the prince who fueled a war in Yemen to the point of humanitarian disaster, imposed an intemperate blockade against Qatar, arrested a clutch of Saudi elites for money and took two weeks to come up with a passable explanation for Mr. Khashoggi's fate is not ready for the throne.

"Many in Washington have reached the conclusion that this is a guy we can't do business with," said Gerald M. Feierstein, the director for government relations, policy and programs at the Middle East Institute, a nonpartisan think tank, and a former United States ambassador to Yemen.

The Saudi energy minister circulated a statement on Monday reminding Washington journalists that the kingdom had long served as the world's energy "shock absorber." He asked that "the global community of nations will respect and acknowledge what Saudi Arabia has done."
If this is what the Saudi Government ends up claiming in its report on the Khashoggi matter, which could be released as early as today, then one has to wonder how gullible they believe the world actually is at this point. When Khashoggi first disappeared, of course, the Saudis claimed that he had come to the consulate on two weeks ago today to obtain a document needed for his upcoming marriage and that he left the building after concluding his business. This statement was contradicted by the statements from Khashoggi's fiance, who waited for him outside the consulate for more than two hours before realizing he wasn't coming out at which point she started contacting friends and authorities regarding the matter. Several days later, the Turkish authorities at first began officially stating that it was their belief that Khashoggi was murdered inside the consulate. Additionally, the Turks released a photo taken from one of their own surveillance cameras outside the consulate showing Khashoggi entering the building just before 1:15 p.m. on the afternoon of October 2nd. There is no corresponding evidence of Khashoggi ever exiting the building under his own power. For their part, the Saudis made the rather implausible claim that their own security cameras outside the consulate, which could support the claim they continued to make at the time that Khashoggi had left the consulate, were only designed to live-stream footage and that they didn't record the video. Several days later, it was reported that Saudi Crown Prince Mohammed bin Salman had approved a plan earlier this year designed to lure Khashoggi back home so he could be taken into custody. Meanwhile, the Turks were releasing more of the evidence they had against the big including both a careful timeline tracking the movement of a fifteen-member team that had arrived in Istanbul shortly before Khashoggi's disappearance and what they contend was evidence they had obtained depicting Khashoggi's interrogation and murder by members of that team inside the consulate.
As a result of all of this evidence, the Kingdom of Saudi Arabia has faced considerable blowback from both the private sector and from Members of Congress and Senators in Washington, D.C. Perhaps the best example of that is the fact that several top American and international corporations announced they will pulling out of a Davos-style conference scheduled to take place in Saudi Arabia later this month, while pressure mounted on Treasury Secretary Steve Mnuchin to withdraw his own commitment to attend the summit. In part, the Saudis have responded to this by purporting to cooperate with the Turks in an investigation, including allowing Turkish police to search the Istanbul consulate, a move that seems likely to be for show given the fact that the Saudis have had plenty of opportunities to scrub the building of relevant evidence over the past two weeks. At the very least, though, it appears to be a recognition by the Saudis that they cannot simply brush this under the rug.
Thus, we get this purported claim about the circumstances surrounding Khashoggi's death, which simply defies credulity.
First of all, the idea that any operation, whether it was originally intended to be an interrogation or a rendition (a/k/a kidnapping) back to Saudi Arabia, could have been pulled off inside of the Saudi consulate in Istanbul without the knowledge or approval of either King or the Crown Prince is quite simply too absurd to be believed. By all accounts, there is nothing that goes on with respect to the Saudi government that one or both of these men doesn't know about or which they have not approved. This would seem to be especially true when it comes to an operation that would involve a trip to another country by fifteen members of a team that included representatives from both Saudi intelligence services and the Saudi military.
Second, the idea that the initial intention of the operation was to interrogate Khashoggi or to kidnap him and bring him back to Saudi Arabia for interrogation seems implausible given the fact that members of this team that traveled to Istanbul included a doctor who specialized in autopsies and that the team was reported to have brought a bone saw with it. Based on that, it seems clear that the idea that Khashoggi would not make it out of the consulate alive was at the front of the minds of those who planned and participated in the plot.
Finally, even if the Saudi claim that the original intention was to interrogate or kidnap Khashoggi is true, this is hardly a defense or excuse for murder whether it happened accidentally or not. Essentially, this explanation is asking the world to accept the fact that the Saudis "only" intended to kidnap and interrogate via torture a man who had done nothing wrong other than dissent from the policies of the government in Riyadh, that his death was an "accident," and that they apparently responded to this accidental death by carrying his body back to Saudi Arabia in pieces in luggage that had been brought by the team that had arrived in Istanbul earlier in the day. Under most definitions, this would still qualify as murder, and the Saudis should not be permitted to get away with trying to brush it aside with such an utterly ridiculous claim.
As Daniel Larison notes, the Saudi Government has absolutely no credibility on this issue and the world should not accept this ridiculous explanation for what happened to Khashoggi:
Saudi officials, the crown prince, and the king have denied any involvement in or knowledge of Khashoggi's death, and for the last two weeks they have absurdly maintained that he left of his own accord. They have repeated those lies at the highest levels to our government and the entire world. Now they are spinning another version of events that doesn't add up. If the Saudi government was willing to lie so blatantly for weeks about their responsibility for the murder, why should anyone believe what they say about the circumstances of the murder? It strains credulity that so many well-connected members of the Saudi security services were acting without orders from the crown prince, and so we have to dismiss this as another lie designed to cover for Mohammed bin Salman. The Trump administration and the Turkish government may end up going along with this lie, but they will be wrong to do so.

The belated Saudi admission that they killed Jamal Khashoggi doesn't change very much. The Saudi government murdered a prominent critic inside a diplomatic mission in another country. They can claim that it was accident, but they were still at a minimum engaged in the torture and abduction of a peaceful and relatively mild critic. Whether they are blowing up school buses full of Yemeni kids or murdering their own citizens, we know that the Saudi government never tells the truth about its crimes and only admits to part of what they have done after coming under intense scrutiny. It is important that media outlets and Saudi Arabia's Western patrons keep up the pressure that has started to build over the last two weeks. There should still be serious consequences for the Saudi government, beginning with a halt of all arms sales and the end of all military assistance to the Saudi coalition in Yemen, and the crown prince himself should be held accountable for this murder and the numerous war crimes committed by the forces under his command.
If this is what the Saudis end up asking the world to believe, they should be laughed out of the room.