Steve King: Rape And Incest Necessary For Humanity To Exist
Congressman Steve King has some rather unique views about human history.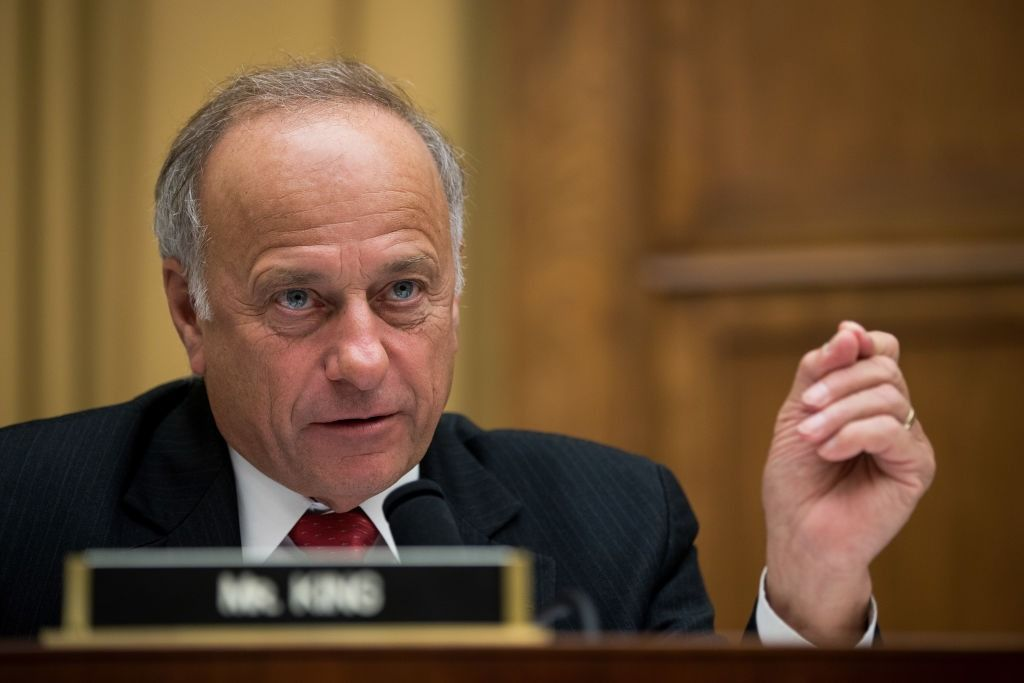 Speaking to a local community group in Iowa, controversial Congressman Steve King claimed, rather bizarrely, that humanity might not exist if it weren't for rape and incest:
U.S. Rep. Steve King told the Westside Conservative Club Wednesday that humanity might not exist if not for rape and incest throughout human history.

"What if we went back through all the family trees and just pulled out anyone who was a product of rape or incest? Would there be any population of the world left if we did that?" he said in Urbandale, Iowa. "Considering all the wars and all the rapes and pillages that happened throughout all these different nations, I know that I can't say that I was not a part of a product of that."

The Kiron Republican was discussing his defense of not allowing exceptions for rape and incest in the anti-abortion legislation he tried to pass in Congress. Republican leadership had prevented bills he sponsored on banning abortions from advancing through the House, despite GOP support for the measures, King said.

Just because a conception happened in bad circumstances doesn't mean the result isn't a person, King, who is Catholic, argued.

"It's not the baby's fault for the sin of the father, or of the mother," he said.
King isn't entirely inaccurate, of course. The history of humanity is replete with all kinds of horrible violence and violations of human rights, most especially the rights of women and children. For far too long, rape was not even seen as a crime and, until far too recently, the law did not even recognize the existence of such a thing as rape within the confines of marriage as it was assumed that a married woman had no right to withhold consent to sexual intercourse. As for incest, various cultures have had differences in how they have treated the issue, especially among adults. Perhaps most notable in this respect are the Ancient Egyptians and the common practice of brothers and sisters in the leadership as well as several Royal Houses in Europe. (Source) It's also likely the case that incest was common in early human tribes due simply to the fact that their population was so small that inbreeding was inevitable at least for some period of time.
All that being said, it's quite a long leap and one that most people likely are uncomfortable discussing, to the argument that King makes which seeks to point to that history to support his political position. In reality, of course, King's argument and his rather unique view of history is based on his desire to justify his opposition to any exception to an abortion ban for victims of rape or incest, something that most people in the pro-life movement are willing to concede largely because to argue otherwise would make them look ridiculously extreme. Of course, as I have noted in the past, if one really is pro-life and wishes to be intellectually consistent, then there is no logical reason to support exceptions for pregnancies that result from rape or incest.
That being said, this is of course just the latest example of the sick and strange mind of Congressman King. His political problems began in January as the result of an interview with The New York Times during which the nine-term Iowa Republican questioned why favoring white supremacy was a bad thing and acknowledged his previous history of racist comments without repudiating them, was only the latest development in a long history of racist comments by the ten-term Iowa Congressman. This is, after all, a man who made his fame as the Republican Party's loudest and most vitriolic voice in the anti-immigrant wing that began to grow late in the term of George W. Bush when party activists blocked an immigration reform plan back by Bush and Republican leaders in the House and Senate. In the past, he has also become more and more bigoted in his comments about Muslims, including incidents in which he has spoken out against Muslims being allowed in the United States, suggested that Muslim-Americans should be barred from holding office, and against those who were elected and chose to be sworn in with their hand on a copy of the Koran.
Over the years, King has seemingly become more open about his sympathy for what are clearly white supremacist points of view, and an examination of his history shows he has a long history of remarks that can only be described as racist. Over the course of the past several years, for example, King has endorsed a candidate for Mayor of Toronto, Canada who has neo-Nazi ties, he has met with the leaders of a far-right political party in Austria that has been accused of questioning and downplaying the seriousness of the Holocaust. Among the accounts he follows on Twitter is an activist on the far-right of Australian politics who has, among other things, called for the hanging of a portrait of Adolf Hitler in every classroom in that country.
When he spoke with a far-right publication in Austria last year, King seemed very familiar with racist conspiracy theories, books, and ideas embraced by white supremacists and neo-Nazis across the globe. For example, as the Times article noted, King spoke of something called "the Great Replacement," which is basically a far-right conspiracy theory that so-called "elites" are seeking to reduce white populations across the globe and replace them with minority groups from other parts of the world. This is the conspiracy theory that inspired the torch-bearing protesters in Charlottesville who chanted slogans such as "Blood And Soil!," a slogan that has its roots in Nazi Germany, and "Jews will not replace us!" King has also forged close ties with far-right political leaders in Europe such as France's Marine Le Pen and Geert Wilders of the Netherlands, who has built his reputation on being one of the most virulent anti-Muslim politicians in Western Europe and has advocated ideas such as closing mosques. in response to the influx of mostly Muslim refugees and immigrants from Syria and other parts of the Middle East. In March of 2017, King tweeted his endorsement of Wilders in a tweet, saying that "We can't restore our civilization with somebody else's babies." Obviously, in both that comment and this one he's referring to white, Christian babies.
As a result of these statements, although not his extremist views on abortion rights, King has essentially been censured by his own party in Congress He's lost his position on the powerful House Agriculture Committee, which reduces his influence on an issue important to his largely rural constituents. Additionally, he faces a primary challenge from a powerful State Senator and lost the support of several major agricultural corporations. There's a very good chance he could lose his primary and, barring that, the General Election. Whichever it is, the sooner he's gone the better.