Supreme Court Ends Term With No Retirement Announcements [Update: Kennedy Retires]
It's been eight years since we've seen a Supreme Court retirement, and despite speculation there were none announced today.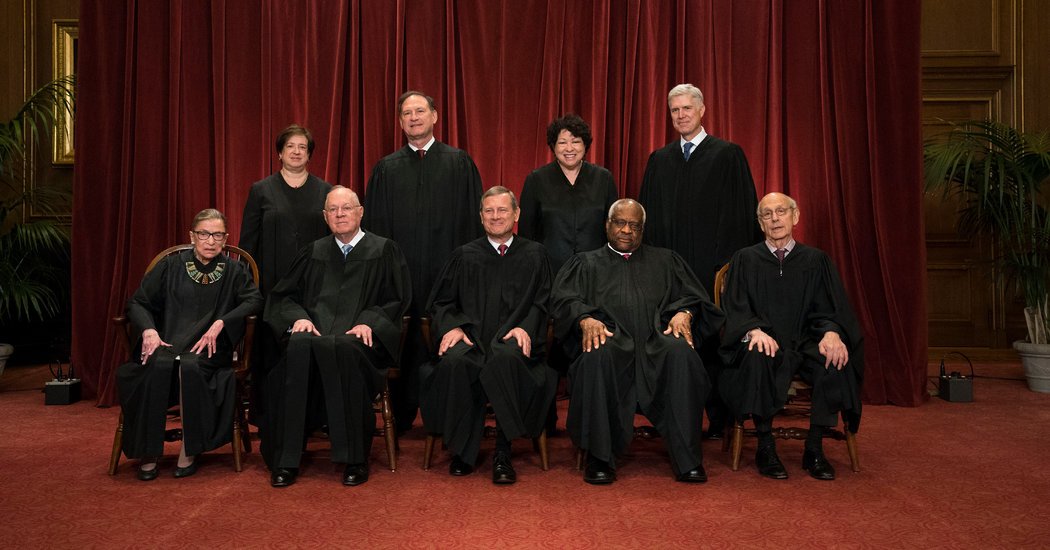 Despite much anticipation, the Supreme Court once again ended its term with no retirement announcements:
The Supreme Court adjourned on Wednesday without announcing the retirement of any justices.

Chief Justice John Roberts adjourned the court for the summer following months of heavy speculation that the court's swing voter, Anthony Kennedy, was planning to step down.

Retirement announcements have sometimes happened in the days following the final day of the court's term.

Justice Sandra Day O'Connor sent a letter to the White House on July 1, 2005, four days after the term ended, notifying the president of her plans to retire upon the confirmation of her replacement.

But the lack of an announcement on Wednesday will likely quiet talk about a possible retirement for the time being.

While the rumors largely centered on Kennedy, some had also thought Justice Clarence Thomas was also considering calling it quits.

Republicans on Capitol Hill had practically been urging a justice to retire, some even announced definitely one was coming.
As was the case last term, the speculation about potential retirements circled mostly around Justice Anthony Kennedy, who will turn 82 years old in July and has been on the Court since February 1988. Over the past two years, Kennedy has been at the center of retirement speculation largely due to the fact that, after eight years of the Obama Administration, the White House and the Senate were both back in Republican hands and most observers assumed that Kennedy would prefer to that his replacement be named by a Republican President and confirmed by a Republican Senate. Therefore, today's final day of sitting for the Court was being watched closely for any possible indication that Kennedy could decide to confirm the rumors that have circulated for two years now.
In April 2017, for example, Senate Judiciary Committee Chairman Chuck Grassley, who arguably would be among those who might have inside information about such matters, dropped hints of a potential retirement at the end of the term. While Grassley didn't mention Kennedy by name but it was clear who he was referring to. The speculation around Kennedy picked up again during the final days of the term last June, and much of it was focused on the fact that nearly all of Kennedy's former law clerks would be in Washington for a reunion that the Justice holds every couple of years. As I noted on both occasions, though, one major signal that Kennedy would not retire could be found in the fact that he had hired a full slate of law clerks for the upcoming October 2017 Term as had all of the other Justices on the Court. While this isn't necessarily a dead giveaway that a Justice isn't retiring, it is a strong sign that they're planning on being around for the new term. In the end, there was no retirement by Kennedy or anyone else. Several days after the end of last June's June term, though, it was reported that Kennedy was advising law clerks he was interviewing for the term that begins in October 2018 that he could decide to retire at the end of October 2017 Term, which means that if they were hired they would end up being reassigned to other Justices, or potentially to whoever might be appointed and confirmed to replace him. More recently, Nevada Senator Dean Heller speculated about a Kennedy retirement in a speech to supports but this seemed more like an effort by the Senate's most vulnerable Republican to energize his base  Additionally, Grassley hinted at a possible retirement again last month but, as with Heller's remarks it seems clear that this was meant more for consumption by the base than a revelation of any actual inside information.
In addition to Kennedy, there has also been some speculation that the expiration of this term could see the end of Justice Clarence Thomas's time on the Court. Like Kennedy, it's likely that Thomas would prefer to see himself replaced by a Republican President and Senate and, while he is a few years younger than Justices Ginsburg, Kennedy, and Breyer, at 70 years old as of last Saturday he is getting up there in years and has been on the Court since 1991, making him the second-longest serving Justice currently on the Court after Kennedy. While Thomas has been among the Court's quietest members, he has been also been among its most prolific writers. Between majority opinions, dissents, and concurrences, Thomas has written the most opinions of any Justice this term, including yesterday's opinion striking down a California law regarding Crisis Pregnancy Centers and abortion.  In Thomas's case, though, there's been some speculation that after 27 years on the Court he might have been ready to retire and spend more time on his favorite summer activity of touring the country in his RV with his wife.
As was the case last year, though, the Court has adjourned for the summer and, despite the rumors, there was no announcement of a retirement from Justice Kennedy or any other Justice at the end of today's Court session. While it's still possible we could get something on that later this week or in the first week of July, it's generally been the case that retirements are announced on the last day of the term or, as was the case for Justices Souter, and Stevens, earlier than that to give the President and Congress time to name and confirm a replacement nominee. So, it looks like the make-up of the Court will stay the same through next term barring unforeseen circumstances.
Update 2;07pm: The Supreme Court has announced that Justice Kennedy is retiring after all:
BREAKING: Supreme Court Justice Anthony Kennedy to retire effective July 31 after 30 years of service to the Court. pic.twitter.com/LhiuvM8dWN

— ABC News (@ABC) June 27, 2018
My post on the Kennedy retirement can be found here.