Another Supreme Court Vacancy This Summer?
The Chairman of the Senate Judiciary Committee is hinting at a new Supreme Court vacancy this summer.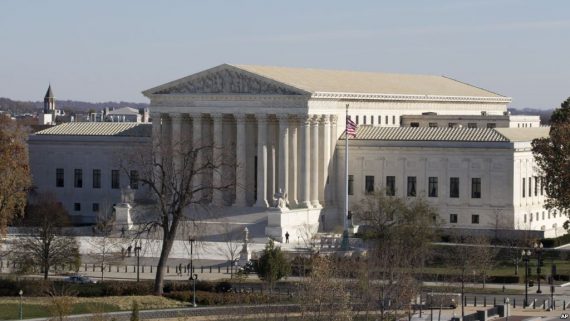 Speaking at a town hall in Iowa yesterday, Senate Judiciary Committee Chairman Chuck Grassley hinted that we could see another Supreme Court vacancy coming by the end of the current term of Congress:
MUSCATINE — During a visit to Muscatine Tuesday morning, U.S. Sen. Chuck Grassley, R-Iowa, the chairman of the Senate Judiciary Committee, said he expects a Supreme Court Justice resignation within the year.

"I would expect a resignation this summer," he said.

An upcoming resignation has been "rumored," he said, but he did not name a justice. The question was posed to him during a question-and-answer session at Kent Corporation headquarters, by Kent employees, National Association of Manufacturers members and elected officials at Kent Corporation headquarters.

A person would likely be nominated from the same list from which recently appointed Justice Neil Gorsuch was chosen, Grassley said, most of whom he said are well-qualified.

"I don't know about racial and ethnic divisions, but there's some very good females on there that would make good Supreme Court Justices as well," he said.

When questioned about the possibility of more resignations, he said it could be possible, but hearings would likely not be held during an election year. When former President Barack Obama nominated Merrick Garland to take the place of the late Justice Antonin Scalia, Grassley and other Republicans opposed holding hearings until the election was over.

"If there's a vacancy in the last year of a presidency, people ought to have a voice," he said.
The obvious caveat here is that Grassley could be guessing as much as anyone else when it comes to this subject. In the end, the only person who knows whether or not a Supreme Court Justice is considering retirement is that Justice and perhaps some members of their family. It's also possible that the Justice in question has discussed the possibility with some of his or her fellow Justices, or with their clerks, but it's unlikely that any of those people would leak any such speculation to the press or to other players in Washington politics. Therefore, unless the Justice in question has discussed the matter directly with Grassley, which seems unlikely, or with the President and others at the White House, which isn't necessarily out of the question, any speculation about who, if anyone, might be retiring, is just that, speculation. It's also worth noting that all of the then-sitting Justices had hired their full slate of clerks for the term beginning in October 2017 as of January of next year. Typically, if a Justice is thinking of retiring they will hold back on hiring clerks since a retired Justice is only given the budget to hire one clerk rather than the four clerks permitted for an active Justice. Of course, this doesn't discount the possibility that a Justice might change their mind about retirement after hiring their clerks, or that circumstances such as health might necessitate retirement after that decision. However, in the past, the clerkship hiring watch has been a good guide when it comes to speculating about impending retirements on the nation's highest Court.
Despite these caveats, as Ed Morrissey notes this morning, there have been rumors bouncing around Washington, D.C. since the debate over the Gorsuch nomination began in the Senate that Justice Anthony Kennedy could retire at the end of the current term. Kennedy has been on the bench since he was confirmed in early 1988 after having been nominated in late 1987 in the wake of the failure of the Robert Bork nomination and the withdrawal of the nomination of Judge Douglas Ginsburg amid revelations that he'd smoked marijuana with students while a Law Professor at Yale. Since Justice Scalia's passing, he has been the longest-serving Justice on the Court, a position that gives him the responsibility of assigning opinion-writing duties when the Chief Justice is not in the majority or the dissenting group. At eighty years old, and eighty-one as of this coming July, Kennedy is the second-oldest Justice on the Court after Ruth Bader Ginsburg. Given all of that, it's entirely possible that Kennedy has reached the point where he'd like to enjoy some time off the bench enjoying retirement and family.
It's also possible that Grassley could be right, but that the potentially retiring Justice could be someone else. It's unlikely that any of the younger Justices — Justices Kagan, Sotomayor, Justice Alito, and Chief Justice Roberts — are going to retire at this point. That leaves the older Justices, which includes Kennedy and also Justices Ruth Bader Ginsburg (84 years old), Stephen Breyer (currently 78 and turning 79 in August), and Thomas (currently 68 and turning 69 in June). Quite honestly, it seems unlikely that either Justice Ginsburg or Justice Breyer would retire voluntarily (i.e., for anything other than a medical reason) while a Republican was President, so let's cross them off the list for now. That leaves either Kennedy or Thomas. While Thomas is younger than Kennedy, there has always been some speculation that he may choose to retire while still healthy, perhaps to spend more time on what has been his long-standing summer habit of traveling the country with his wife in an RV, often showing up in random Facebook photos at an RV park in the middle of nowhere out West. At the same time, it's worth noting that if Kennedy retires, Thomas would become the longest-serving Justice and that would give him the tenure authority that Kennedy now enjoys. In the end, we won't know for sure unless and until we hear from a Justice themselves.
Assuming we do get a vacancy, it would be the second for President Trump in a very short period of time and would be the first to be fully considered by the Senate under the new rules that apply since the Republican majority employed the nuclear option to end the filibuster for the nomination of Supreme Court Justices. If the retiring Justice is indeed Kennedy, this would be especially significant given the fact that Kennedy has been the swing vote on the Court between the conservative and liberal blocs on a number of issues for several years now, ranging from abortion and affirmative action to LGBT rights, where he has played an important role dating back more than a decade to the case of Romer v. Evans and up to 2015's Obergefell v. Hodges, which voided remaining state laws outlawing same-sex marriages. With the requirement for sixty votes to end debate on a nomination no longer applicable, Republicans in the Senate would be able to proceed forward to confirmation of whoever the President chooses to nominate, and there would be little if anything Democrats would be able to do to stop it. This was the main reason why some observers were warning Democrats not to push a filibuster on Gorsuch and force Republicans into pressing the nuclear button to confirm him, because they will essentially be powerless to stop the confirmation of a Justice that could have a far more substantial impact on the ideological direction of the Court for a generation to come.
H/T: Ed Morrissey