Happy Birthday Justice Ginsburg, We Need To Put You Out To Pasture
Another liberal legal scholar is calling on Justice Ginsburg to resign. She's unlikely to listen to them.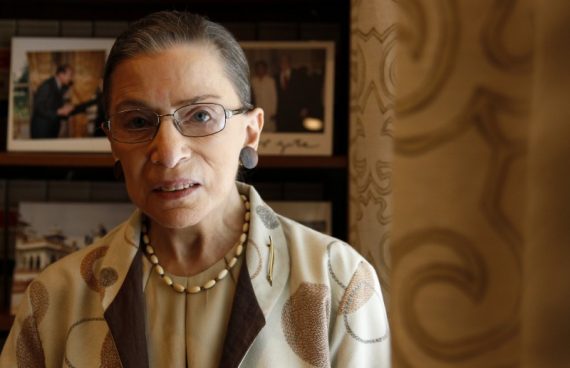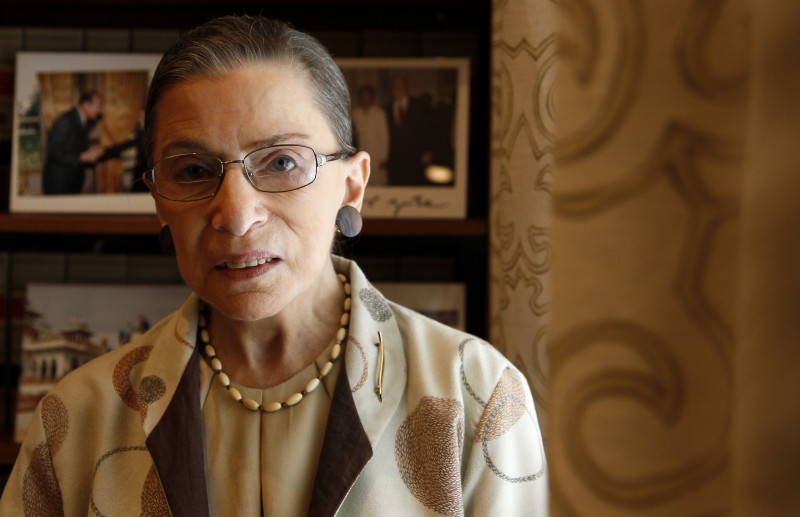 Edwin Chemerinsky, a prominent liberal legal sch0lar who serves as Dean of the University Of California at Irvine Law Sch0ol, decided it would be appropriate to mark Associate Justice Ruth Bader Ginsburg's 81st birthday with an L.A. Times Op-Ed that calls on her to retire this year so that President Obama can name a replacement before the 2014 elections:
Justice Ruth Bader Ginsburg should retire from the Supreme Court after the completion of the current term in June. She turned 81 on Saturday and by all accounts she is healthy and physically and mentally able to continue. But only by resigning this summer can she ensure that a Democratic president will be able to choose a successor who shares her views and values.

A great deal turns on who picks Ginsburg's successor. There are, for example, four likely votes to overturn Roe vs. Wade on the current court: Chief Justice John G. Roberts Jr. and Justices Antonin Scalia, Clarence Thomas, and Samuel A. Alito Jr. If a Republican president selects Ginsburg's replacement, that justice easily could be the fifth vote needed to allow the government to prohibit all abortions. On many cases — including ones involving environmental law, healthcare, gay marriage, the death penalty and the rights of those in Guantanamo — the four liberal justices have joined with Justice Anthony M. Kennedy for a progressive result.

But if a conservative had been occupying Ginsburg's seat when the court heard those cases, the rulings might well have been very different, and if a conservative takes her seat when she leaves, they might not survive.

There likely will be many calls, publicly and privately, for Justice Ginsburg to resign before President Obama leaves the White House to prevent the risk of a Republican being able to appoint her successor. But simply leaving before the next election isn't enough. If Ginsburg waits until 2016 to announce her retirement, there is a real chance that Republicans would delay the confirmation process to block an outgoing president from being able to fill a vacancy on the Supreme Court. In fact, the process for confirming nominees for judicial vacancies usually largely shuts down the summer before a presidential election.

Moreover, there is a distinct possibility that Democrats will not keep the Senate in the November 2014 elections. The current Senate has 53 Democrats, two independents who vote with the Democrats and 45 Republicans. But in the November 2014 elections, Republicans have a far greater likelihood of gaining seats in the Senate than the Democrats. One recent study identified nine seats held by Democrats that could be won by Republicans, but only two seats occupied by Republicans that might be taken by Democrats.
Chemerinsky isn't the first person on the left to make this kind of public appeal to Justice Ginsburg, of course. Indeed, a quick search of the archives here at OTB reveals posts I've written about similar arguments, and pronouncements by Ginsburg that she had no intention to retire before 2015 at the earliest, on several occasions (see here, here, here, and here for coverage just in the past four years. Indeed, several people on the left side of the political spectrum argued that Ginsburg should resign before the 2012 elections when it appeared that there was at least a chance that a Republican challenger could defeat the President's bid for re-election. That didn't happen, of course, but the arguments regarding Ginsburg, and to a lesser extent Stephen Breyer who will turn 76 this summer, have continued and are likely to become stronger as we get closer to both the 2014 elections and the end of President Obama's term.
On some level, of course, Cherminsky has a point. There is indeed a strong likelihood that the GOP will gain control of the Senate in this year's election. If that happens, the President's ability to get a Supreme Court nominee, or indeed any type of nominee, confirmed would become far more difficult. It wouldn't necessarily be impossible, after all Ronald Reagan managed to get Anthony Kennedy confirmed by a Democratic Senate. However, that didn't happen easily. Reagan's first pick for the seat, Robert Bork, was rejected by the Senate in the most politically contentious Supreme Court nomination that the nation had ever seen, and his second pick, Appeals Court Judge Douglas Ginsburg, had to step aside after revelations came out that he smoked marijuana with students while a Law Professor. Kennedy was very much a compromise pick, which just makes the fact that he is likely to go down as the most important Supreme Court Justice of the past 25 years all the more ironic. Barack Obama would not have the political clout in 2015 after a GOP Senate takeover that Reagan retained in 1987 notwithstanding the results of the 1986 elections and Senate Republicans would be unlikely to be willing to cut him much slack on a SCOTUS nomination. Obama likely would be able to get someone confirmed, but it would end up being someone far more centrist than Ginsburg.
Chemerinsky is incorrect, though, in his assumption that a nomination before the 2014 elections would be any easier for the President.  For one thing, the recent changes to the filibuster rule do not apply to Supreme Court nominations and it seems unlikely that Harry Reid would be able to garner the 50 votes he needs in his caucus to end the filibuster for SCOTUS nominees. Given that and the fact that the Senate is not going to be in session very much after August, it would be relatively easy for Republicans to delay any nomination until after the election. Democrats facing tough re-election fights are likely to join them in the delay if only to avoid having to go on the record prior to Election Day. So, there doesn't seem to be much political wisdom to Ginsburg resigning now as opposed to waiting until after President Obama is out of office as she appears inclined to do.
It's unlikely that Chemerinsky's public appeal, which some might consider a bit of a disrespectful way to mark someone's birthday, is going to have any real impact on Ginsburg's career plans. As noted above, she had made clear in the past that she has no plans to retire in the near future and has hinted more than once that she would like to say in office at least as long as Justice Louis Brandies, whom she has often cited as a personal hero. To meet the length of Brandeis's term, Ginsburg would have to stay in office at least until the end of the term that begins next October and ends next June. There's no guarantee that Ginsburg would resign then, of course, and indeed she has stated on several occasions that she would likely stay in office through the end of President Obama's term. In any case, though, the idea that she is going to be persuaded by an Op-Ed or by any other public appeal seems unlikely. Like pretty much every other Supreme Court Justice before her, Ginsburg will leave on her own terms, absent some kind of debilitating medical condition that one hopes doesn't become an issue, regardless of what her ideological allies might think about it.