Ruth Bader Ginsburg Not Going Anywhere
Justice Ruth Bader Ginsburg says she'd like to stay on the Court at least until she turns 90, but it's unlikely she'll go anywhere voluntarily as long as Donald Trump is President.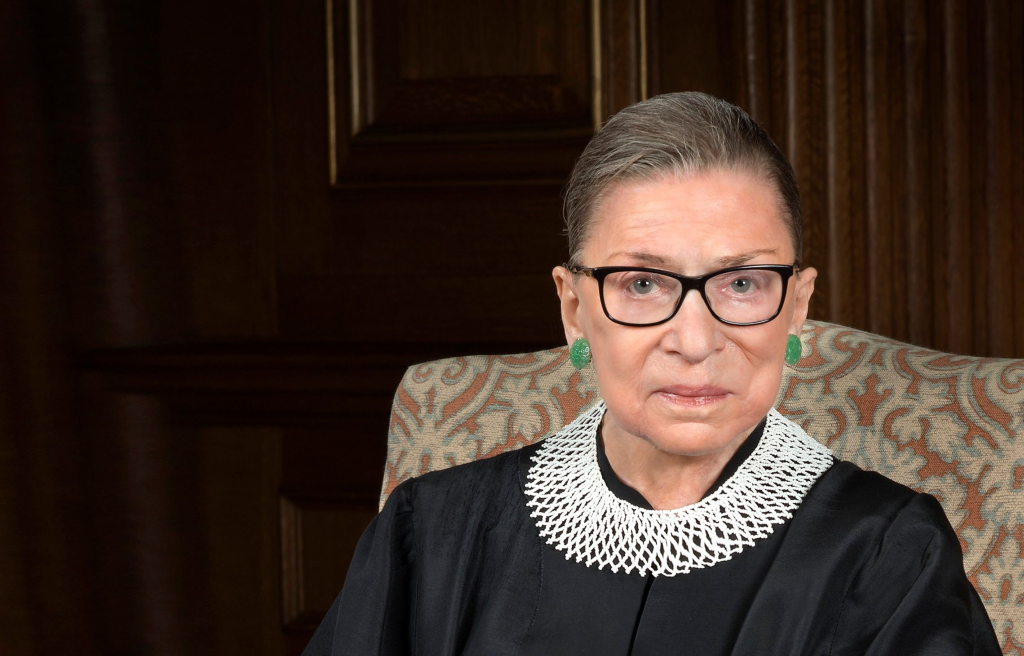 If Ruth Bader Ginsburg has anything to say about it, President Trump will not be naming her successor even if he's re-elected to a second term:
Justice Ruth Bader Ginsburg said she hopes to stay on the Supreme Court until the age of 90.

"I'm now 85," Ginsburg said on Sunday. "My senior colleague, Justice John Paul Stevens, he stepped down when he was 90, so think I have about at least five more years."

She has already hired law clerks for at least two more terms.

Ginsburg spoke in New York following a production of "The Originalist," a play about the late Justice Antonin Scalia, at the 59E59 Theater.

"If I had my choice of dissenters when I was writing for the court, it would be Justice Scalia," Ginsburg said, saying that the back and forth would help her form her arguments. "Sometimes it was like a ping-pong game."

As a result, Ginsburg said, her landmark decision opening up the Virginia Military Institute to female cadets was her 18th draft.

Asked by "The Originalist" Director Molly Smith what keeps her "hopeful," Ginsburg cited her late husband, Marty.

"My dear spouse would say that the true symbol of the United States is not the bald eagle — it is the pendulum," Ginsburg said. "And when it goes very far in one direction you can count on its swinging back."
Ginsburg has been on the Court since 1993, and while this is a long time it's hardly as long as some other Justices have served. Her fellow Justice Anthony Kennedy, for example, whose retirement becomes official tomorrow has served on the Court since February 1988, a total of 11,920 days, and Justice Clarence Thomas has been on the Court since October 1991, for a total of 9,776 days. Ginsburg, meanwhile, has served on the Court since August 1993, or a total 9,120 days, which places her at 27th on a list of the longest-serving Supreme Court Justices. The longest-serving Justice, meanwhile, was William O. Douglas, who served from April 1939 to September 1975, for a total of 13,358 days. At eighty-five, though Ginsburg is the oldest Justice currently serving on the court. If she were to stay on until the end of President Trump's first term, she would turn eighty-eight in March 2021, just two years short of the ninety years that Oliver Wendell Holmes Jr., the oldest person to ever serve on the Supreme Court, was when he retired. Were Trump to be re-elected and Ginsburg decided to hold on to her seat as long as possible, she would be well over ninety by the time 2025 came around, which would make her the oldest person to ever serve on the Supreme Court by far. While one wishes all the best to Justice Ginsburg, including a long and healthy life, one does have to admit that the odds are against her if her intention is to stay on the Court until 2025 and that there does seem to be something slightly absurd with the idea of someone in their nineties serving on the nation's highest court for what are obviously political reasons.
Obviously, at least part of the reason for Ginsburg's decision to stay on the Court as long as possible is the identity of the President. Prior to the 2016 election, Ginsburg had made her preference for Hillary Clinton rather obvious and had some rather negative things to say about the President during the course of the campaign. In July 2016, for example, the Justice was quoted as saying she couldn't imagine what kind of place the country would be if Trump became President. As I noted at the time, these sharply political comments from a sitting Supreme Court Justice raised serious questions about judicial ethics. Ginsburg ultimately ended up apologizing for those comments, but they were on the record and they make it clear that Ginsburg is unlikely to give Trump the satisfaction of appointing her successor, at least not if she has anything to say about it. In October of last year, Ginsburg said that she intended on doing her job as long as she could continue doing it, although this time she did not mention the identity or political party of the President it's clear that Ginsburg recognizes that if she steps aside while Trump is President and Republicans control the Senate her replacement would likely be someone akin Justice Gorsuch or Judge Brett Kavanaugh, who has been named to replace Justice Kennedy. This would represent an even more fundamental shift in the balance of the Court than what we're likely to see when Kennedy is replaced by Kavanaugh.
The Washington Post's Aaron Blake argues that Ginsburg was sending a signal to Democrats with her remarks:
[W]ith one quote, Ginsburg set the goal posts for her retirement in a suspiciously convenient place for liberals: when Trump probably won't be able to pick her replacement.

Five years from now puts us in late July 2023. That could still be during Trump's presidency, if he's reelected in 2020. But Ginsburg doesn't say only five years; she says "about at least five more years." That sounds as if she's shooting for 2024.

Which could also still be with Trump in the White House. But.

But it would also be a presidential election year — which Republicans clearly and unmistakably said during the Merrick Garland fiasco is not when you confirm Supreme Court justices. Democrats rather laughably tried to argue at the start of the current vacancy that Republicans set the standard at not confirming justices in any election year. That's wrong. They did, however, make pretty clear that no confirmation process should take place in presidential election years. And they made even clearer that an appointment shouldn't be made by a lame-duck president — which Trump would be.

(…)

Antonin Scalia died in early 2016 — mid-February — meaning that it would be very difficult for Republicans to justify any replacement in 2024 being confirmed. Democrats have gone too far in accusing Republicans of hypocrisy on Kavanaugh's nomination, but confirming a justice in 2024 would clearly go against just about everything Republicans said two years ago.

Which isn't to say that they wouldn't try. If the Republicans still have the presidency and the Senate, they wouldn't need any Democratic votes to confirm Ginsburg's replacement. And the payoff for them might be worth doing something nakedly partisan and hypocritical. But Ginsburg seems to be at least aiming to force that issue by waiting until 2024 — if not 2025, when history suggests it would be very difficult for Republicans to retain the White House with a two-term, lame-duck president.
As Blake notes, the argument here really only works if Democrats have control of the Senate in 2024 if Ginsburg decides to retire at that time. If they do, and they're able to stay united, then they would easily be able to do the same thing that Republicans did in 2016 when Justice Scalia died. If Republicans control the Senate, on the other hand, then they would be able to confirm a replacement for Ginsburg notwithstanding the fact that Democrats would likely be screaming the name "Merrick Garland!" repeatedly. Whether that resonates with the public in a way that forces Republicans to hold back is another question. Indeed, give that these events would be happening eight years after the Garland incident one wonders if anyone outside Washington will remember who the heck Merrick Garland was. Of course, at that point, if Ginsburg survives until 2024 the odds are that she'd make to 2025 when, possibly, a two-term Trump Presidency would be followed by a Democrat in the Oval Office. At that point, she'd likely feel more confident about stepping down regardless of which party controls the Senate.
It seems likely that Ginsburg would be reacting differently if Hillary Clinton had won the Presidency and, most especially, if the Democrats controlled the Senate. For one thing, while Ginsburg resisted the calls for her to retire that came at various points during the Obama Presidency — see here, here, here, here, here, here and here — from liberal pundits and legal scholars, she also hinted at several points during the run-up to the 2016 campaign that she believed, as most of us did, that Hillary Clinton would be elected President. Had that happened, I suspect that we would have seen a retirement by Ginsburg at some point during Clinton's first term, although the timing of that resignation likely would have depended on several factors including Ginsburg's own health and her personal desires, and the question of who would have controlled the Senate in such a hypothetical world. As long as Trump is President, though, it's unlikely that Ginsburg is going to leave the Court voluntarily if she can help it.