Ruth Bader Ginsburg Attacks Donald Trump, Raising Judicial Ethics Questions
Justice Ginsburg made some recent comments about the election that have, to say the least, raised some eyebrows.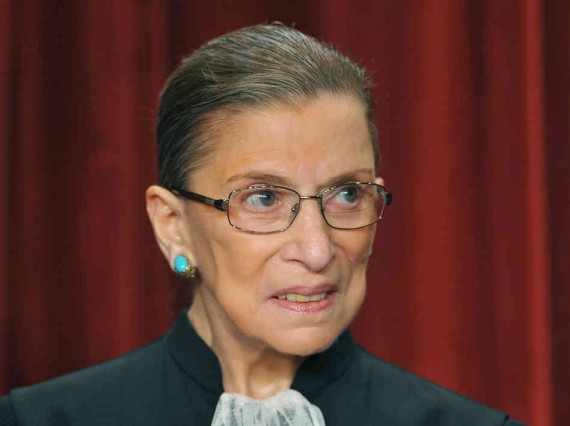 Supreme Court Justice Ruth Bader Ginsburg has long had a reputation for speaking her mind on issues of controversy but her most recent comments about the Presidential election in general and Donald Trump in particular are drawing both attention and criticism from both political and legal circles:
WASHINGTON — Unless they have a book to sell, Supreme Court justices rarely give interviews. Even then, they diligently avoid political topics. Justice Ruth Bader Ginsburg takes a different approach.

These days, she is making no secret of what she thinks of a certain presidential candidate.

"I can't imagine what this place would be — I can't imagine what the country would be — with Donald Trump as our president," she said. "For the country, it could be four years. For the court, it could be — I don't even want to contemplate that."

It reminded her of something her husband, Martin D. Ginsburg, a prominent tax lawyer who died in 2010, would have said.

"'Now it's time for us to move to New Zealand,'" Justice Ginsburg said, smiling ruefully.
Ginsburg seemed to go even further in an interview with CNN's Joan Biskupic yesterday:
Supreme Court Justice Ruth Bader Ginsburg's well-known candor was on display in her chambers late Monday, when she declined to retreat from her earlier criticism of Donald Trump and even elaborated on it.

"He is a faker," she said of the presumptive Republican presidential nominee, going point by point, as if presenting a legal brief. "He has no consistency about him. He says whatever comes into his head at the moment. He really has an ego. … How has he gotten away with not turning over his tax returns? The press seems to be very gentle with him on that."

(…)

It is highly unusual for a justice to make such politically charged remarks, and some critics said she crossed the line. Senate Majority Leader Mitch McConnell on Tuesday sharply criticized Ginsburg's criticism of Trump, calling her comments "totally inappropriate."

Having met with Ginsburg on a regular basis for more than a decade and sometimes been struck by her frankness, I found her response classic. The 83-year-old justice expressed no regret on Monday for the comments or surprise that she would be criticized. Any disbelief she expressed stemmed from the fact that Trump has gotten so far in the election cycle.

"At first I thought it was funny," she said of Trump's early candidacy. "To think that there's a possibility that he could be president … " Her voice trailed off gloomily.

"I think he has gotten so much free publicity," she added, drawing a contrast between what she believes is tougher media treatment of Democratic candidate Hillary Clinton and returning to an overriding complaint: "Every other presidential candidate has turned over tax returns."

Ginsburg was appointed to the high court by President Bill Clinton in 1993, and is now the senior member of the liberal wing and leading voice countering conservative Chief Justice Roberts. She has drawn a cult-like following among young people who have nicknamed her The Notorious R.B.G., a play on American rapper The Notorious B.I.G.

(…)

It was evident in our interview on Monday that when Ginsburg imagines who would succeed President Obama, she does not expect Trump to prevail over Clinton.

Acknowledging her own age and that Justices Anthony Kennedy and Stephen Breyer will turn 80 and 78, respectively, Ginsburg said of the possible next president: "She is bound to have a few appointments (to the Supreme Court) in her term."
Trump himself has already hit back against Justice Ginsburg, as has his campaign, and the response to these comments by people on the two sides of the political aisle is about what you'd expect it to be, and thus not very interesting. What's more interesting is the discussion that Ginsburg's highly unusual candor about electoral politics, something I personally cannot recall hearing from any Supreme Court Justice, or from any other Federal Judge at any legal, has set off in the legal community and the questions it has raised over whether or not she has crossed a line she should not have crossed. At the very least, it seems apparent that if the Clinton versus Trump race were to become mired in some kind of legal dispute that made its way to the Supreme Court, which could be a case similar to Bush v. Gore or any number of other things, and that the outcome of the election dependd on the outcome of this case, there would be tremendous pressure on Ginsburg to recuse herself given her already stated views about a Trump Presidency. In that regard, The Volokh Conspiracy's Jonathan Adler suggests that Ginsburg did the nation a favor by ensuring that there would not be a  4-4 tie in such a case. Beyond that type of case, though, it's unclear that Ginsburg's remarks would require her take that action in any other type of case. If Trump were to win in November, there would inevitably be some litigation regarding Federal agencies or Cabinet Departments that will cross the Justice's desk at some point after 2017. It is by no means clear that Gingburg would be required to recuse herself in such cases, but the issue could end up being raised in any case by a party who thought they could use to their advantage.
Beyond those occasions, there are potential arguments in favor of the idea that Ginsburg may have violated two of the Code of Conduct for United States Judges, which are merely advisory when it comes to Supreme Court Justices given their unique position in the Federal Judicial hierarchy. Canon Five says that a Judge should refrain from political activity, and the specific cannon that would appear to apply here is Canon 5(A)(2) which states that a Judge should not "make speeches for a political organization or candidate, or publicly endorse or oppose a candidate for public office. This would appear to apply directly to what Ginsburg said in her two recent interviews, and it does appear that Ginsburg's remarks cross the line. Additionally, Canon Two states that Judges should avoid the appearance of impropriety, which in part includes the obligation to avoid actions which call into question "public confidence in the integrity and impartiality of the judiciary." Justice Ginsburg has arguably violated this Canon by making comments about matters political that are inappropriate for a member of the Federal Judiciary. These are understandably serious charges to level against a Supreme Court Justice, but the Canons seems clear, and so do Justice Ginsburg's comments unfortunately. Once again, these Canons are merely advisory when it comes to Supreme Court Justices, but if one were to apply the same rules to members of the highest court that apply to every other member of the Federal Judiciary it strikes me that there would be a good argument in favor of the proposition that Ginsburg went too far.
Law Professor Stephen Gillers, who specializes in teaching and writing about legal ethics argues that Ginsburg has clearly crossed the line:
Apart from judicial ethics, the structure of the U.S. Constitution makes the judiciary the nonpolitical branch of government. The executive and legislature are the political branches. Members of Congress and presidents have constituents and seek votes. Federal judges do not.

Why do we keep judges out of politics? To protect the rule of law.

We want the public to view judicial rulings solely as the product of law and legal reasoning, uninfluenced by political considerations. Acceptance of court rulings is undermined if the public believes that judicial decisions are politically motivated. It's not that judges don't disagree among themselves. But disagreements must be over legal principles, not a ruling's effect on a political candidate or party.

At his 2005 confirmation hearing, Chief Justice Roberts said: "Judges are like umpires. Umpires don't make the rules, they apply them." It was, he said, a judge's "job to call balls and strikes and not to pitch or bat." Although we can debate whether the justices have always been scrupulous about honoring this ideal, it is the vision to which we aspire and one we want the public to trust. Sadly, Justice Ginsburg's remarks will encourage public cynicism instead.
Georgetown Law Professor Paul Butler argues that Ginsburg chose to speak out because she is aware of the dangers of a Trump Presidency. Even if that's true, and I acknowledge that the idea of Donald Trump becoming President is highly concerning to say the least, it doesn't really answer the legal ethics question of whether or not it was or should be proper for Ginsburg or any other member of the Court to speak out on political matters like this. Erwin Chemerinsky, Dean of the University of California-Irvine Law School defends Ginsburg's right to speak out:
Perhaps most surprising was her sharp criticism of Donald Trump and her worrying about what the country would be like with him as president. But she simply voiced what countless people, liberal and conservative, think about the possibility of a Trump presidency and no one should be surprised that Ginsburg thinks this too. The judicial code of ethics says that judges are not to endorse or oppose candidates for elected office. But these provisions do not apply to Supreme Court justices.

Nor do I believe that such restrictions are constitutional or desirable. The First Amendment is based on the strong presumption that more speech is beneficial because it means we are all better informed. I think it is valuable for people to hear what the justices have to say on important issues. As a lawyer and as a citizen, I'd always rather know what justices and judges think rather than have enforced silence and pretend they have no views. We are in a relatively new era of public statements by justices, and I applaud it.
Chemerinsky makes a persuasive argument here, and there is something to be said for an environment where we don't pretend that Judges are political neuters who don't come into the Judiciary with long-standing political and philosophical beliefs that shape the way they approach the cases they are asked to decide. The very fact that we speak of a "conservative" and "liberal" wing of the Supreme Court demonstrates just how silly that idea actually is. At the same time, though, Judges ought to act in a manner that at least gives the reassurance that they aren't acting as political activists on the bench. That reassurance is destroyed when they start to endorse or attack candidates for political office, though, and in an era when the two political branches of the Federal Government are already viewed cynically by most Americans, the idea that the same thing would happen to the third branch is troubling to say the least. In the end, I doubt anything will come of Ginsburg's comments, but it is unfortunate that she made them nonetheless.