Ginsburg Resisting Retirement Pressure
Liberal leaders want Ruth Bader Ginsburg to retire so President Obama can appoint her successor. She wants to hang around another decade.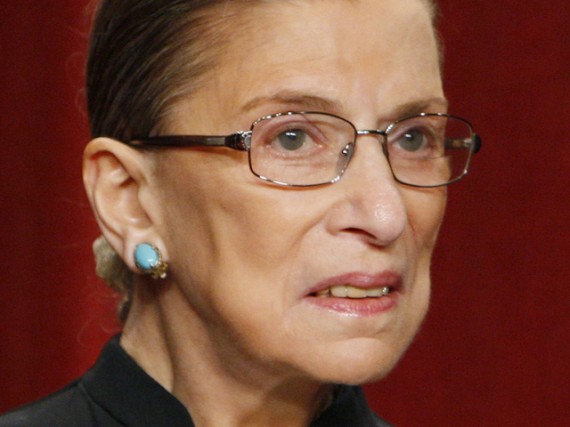 Liberal leaders want Ruth Bader Ginsburg to retire so President Obama can appoint her successor. She wants to hang around another decade.
Reuters ("Exclusive: Supreme Court's Ginsburg vows to resist pressure to retire"):
At age 80, Justice Ruth Bader Ginsburg, leader of the Supreme Court's liberal wing, says she is in excellent health, even lifting weights despite having cracked a pair of ribs again, and plans to stay several more years on the bench.

In a Reuters interview late on Tuesday, she vowed to resist any pressure to retire that might come from liberals who want to ensure that Democratic President Barack Obama can pick her successor before the November 2016 presidential election.

[…]

The justice, who survived two serious bouts with cancer, in 1999 and 2009, is keeping up a typically busy summer of travel, at home and abroad, beginning next week with a trip to Paris. Ginsburg said she was back to her usual weight-lifting routine and recently had good results from a bone density scan.

Supreme Court justices are appointed for life and can be a president's most enduring legacy. Disputes over many social dilemmas come down to 5-4 votes, as was seen in the recently completed term on gay marriage and voting rights. A retirement decision rests with an individual justice, but history is rife with tensions between aging justices and anxious presidents. Ginsburg, the eldest justice on an ideologically divided court, was appointed by President Bill Clinton in 1993.

Political pressure is an age-old backdrop to Supreme Court appointments, and for Ginsburg it is likely to accelerate before the November 2014 congressional elections that could alter the Democratic dominance of the Senate.

[…]

Brushing off political calculations, she said, "It really has to be, 'Am I equipped to do the job?' … I was so pleased that this year I couldn't see that I was slipping in any respect." She said she remains energized by her work as the senior liberal, a position she has held since 2010 when Justice John Paul Stevens retired, and calls being a justice "the best job in the world for a lawyer."

She has previously said she wanted her tenure to at least match the nearly 23 years of Justice Louis Brandeis, which would get her to April 2016, and said she had a new "model" in Justice Stevens, who retired at age 90 after nearly 35 years on the bench.

Reinforcing the message that she might not leave before her health requires it, she mused of another former colleague, "I wonder if Sandra regrets stepping down when she did?"
If I had my druthers, Justices would serve 20-year terms rather than indefinitely. A long, fixed term would both assure for an independent judiciary and solve several problems with lifetime appointments.  It's absurd to have 90-year-olds deciding the most important public policy issues and makes an already undemocratic institution even moreso to have people appointed by Gerald Ford still on the bench decades later; we had both until John Paul Stevens finally retired in 2010. Further, we'd end the incentive for presidents to appoint too-young Justices in order to extend their legacies and reduce the sort of pressures Ginsburg is now facing.
Given the Constitutional realities, however, Ginsburg is fully within her rights to stay on the bench so long as she thinks she's up to the job. Indeed, it undermines the fiction of an impartial judiciary to have Justices timing their retirements to ensure that presidents of their party can appoint a likeminded successor.
Further, given the current political climate, there's no real incentive for Ginsburg to step down. First, Obama would likely appoint another Elena Kagan or Sonia Sotomayor, both of whom are more centrist than Ginsburg, in order to avoid a Republican filibuster. Second, while 2016 is a long time away in political terms, the odds are looking pretty good of a Democrat succeeding Obama in office. That wouldn't quite get her to 90 but it reduces the pressure to retire before she's ready.