Don't Expect Ruth Bader Ginsburg To Retire While Donald Trump Is President
Supreme Court Justice Ruth Bader Ginsburg is making it clear she will not be leaving the court anytime soon.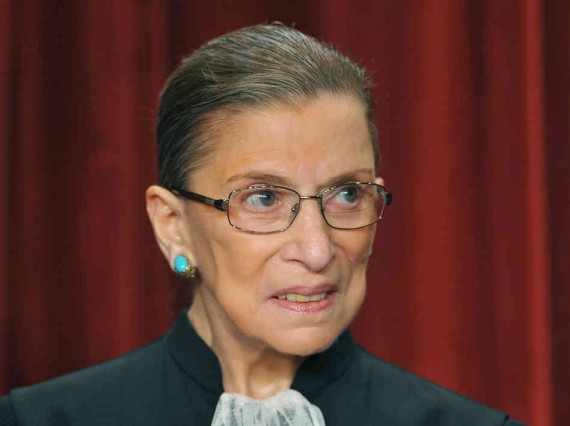 Supreme Court Justice Ruth Bader Ginsburg is making it clear she has no plans to retire from the Court at any point in the foreseeable future:
Supreme Court Justice Ruth Bader Ginsburg revealed on Friday that she does not plan on retiring anytime soon.

"My answer is as long as I can do the job full steam, I will do it," Ginsburg said, receiving applause at an Equal Justice Works event.

"I used to have an answer, it worked for a lot of years. It was Justice Braindeis, when he was appointed he was the same age as I was, 60. And he stayed for 23 years, so I expect to stay at least as long. Well, now I've passed Brandeis, I've passed Frankfurter," she said.
Ginsburg, 84, has served on the Supreme Court for 24 years.

She is seen as an icon among liberals, who have expressed hope she will stay on the court for the duration of the Trump administration.
Ginsburg has been on the Court for twenty-four years now, and while this is a long time, she is currently ranked 28th on a list of the longest-serving Supreme Court Justices, with two of her colleagues, Anthony Kennedy and Clarence Thomas, ahead of her on the list. At eighty-four though she is the oldest Justice on the Court, and staying on until the hypothetical end of Trump's first term in office would make her eighty-eight, just two years short of the ninety years that Oliver Wendell Holmes Jr. was when he retired. Were Trump to be re-elected and Ginsburg decided to hold on to her seat as long as possible, she would be well over ninety by the time 2025 came around. While one wishes all the best the Justice Ginsburg, there does seem to be something slightly absurd with the idea of someone in the nineties serving on the nation's highest court for what are obviously political reasons.
Clearly, at least part of the reason for Ginsburg's decision to stay on the Court for the time being is the identity of the President. Prior to the election, Ginsburg had some rather negative things to say about Trump the candidate. In July of last year, for example, Ginsburg was quoted as saying she couldn't imagine what kind of place the country would be if Trump became President. As I noted at the time, these sharply political comments from a sitting Supreme Court Justice raised serious questions about judicial ethics. Ginsburg ultimately ended up apologizing for those comments, but they were on the record and they make it clear that Ginsburg is unlikely to give Trump the satisfaction of appointing her successor, at least not if she has anything to say about it.
At the same time, she has also hinted many times in the run-up to the 2016 campaign that she believed, as most of us did, that Hillary Clinton would be elected President. Had that happened, I suspect that we would have seen a retirement by Ginsburg at some point during Clinton's first term, although the timing of that resignation likely would have depended on several factors including Ginsburg's own health and her personal desires, and the question of who would have controlled the Senate in such a hypothetical world. As long as Trump is President, though, it's unlikely that Ginsburg is going to leave the Court voluntarily if she can help it.