Ruth Bader Ginsburg, 1933-2020
The iconic Supreme Court justice has died at the age of 87.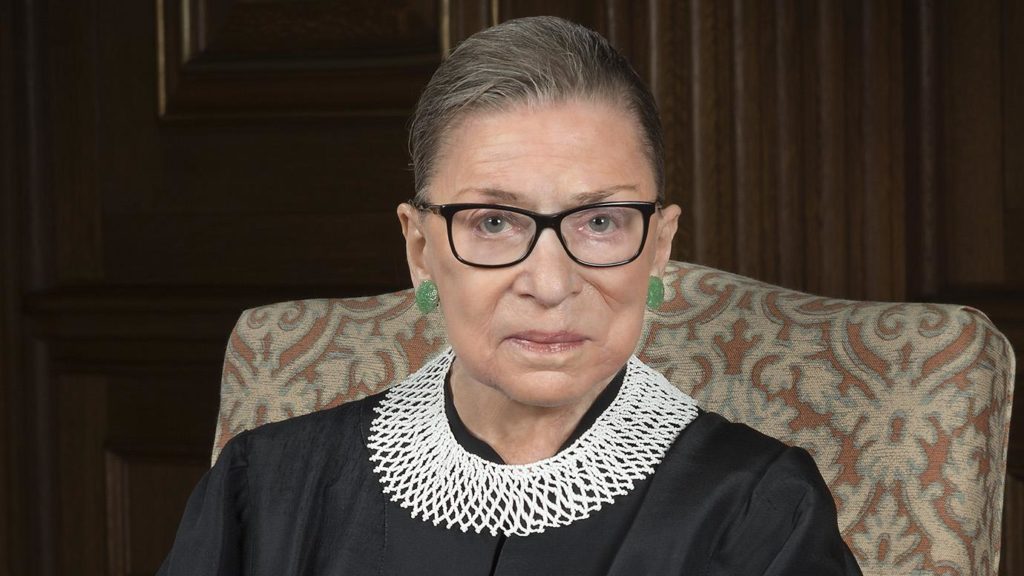 The leader of the liberal wing of the US Supreme Court has been bravely fighting a series of severe illnesses for more than two decades. Half the nation has been praying that she would hold on until Joe Biden's inauguration. Alas, she could not.
The encomia have been pouring in.
NPR's Nina Totenberg ("Justice Ruth Bader Ginsburg, Champion Of Gender Equality, Dies At 87"):
Justice Ruth Bader Ginsburg, the demure firebrand who in her 80s became a legal, cultural and feminist icon, died Friday. The Supreme Court announced her death, saying the cause was complications from metastatic cancer of the pancreas.

The court, in a statement, said Ginsburg died at her home in Washington, D.C., surrounded by family. She was 87.

"Our nation has lost a justice of historic stature," Chief Justice John Roberts said. "We at the Supreme Court have lost a cherished colleague. Today we mourn but with confidence that future generations will remember Ruth Bader Ginsburg as we knew her, a tireless and resolute champion of justice."

Architect of the legal fight for women's rights in the 1970s, Ginsburg subsequently served 27 years on the nation's highest court, becoming its most prominent member. Her death will inevitably set in motion what promises to be a nasty and tumultuous political battle over who will succeed her, and it thrusts the Supreme Court vacancy into the spotlight of the presidential campaign.

Just days before her death, as her strength waned, Ginsburg dictated this statement to her granddaughter Clara Spera: "My most fervent wish is that I will not be replaced until a new president is installed."

She knew what was to come. Ginsburg's death will have profound consequences for the court and the country. Inside the court, not only is the leader of the liberal wing gone, but with the court about to open a new term, the chief justice no longer holds the controlling vote in closely contested cases.

Though Roberts has a consistently conservative record in most cases, he has split from fellow conservatives in a few important ones this year, casting his vote with liberals, for instance, to protect at least temporarily the so-called DREAMers from deportation by the Trump administration, to uphold a major abortion precedent and to uphold bans on large church gatherings during the coronavirus pandemic. But with Ginsburg gone, there is no clear court majority for those outcomes.
Linda Greenhouse of the NYT ("Ruth Bader Ginsburg, Supreme Court's Feminist Icon, Is Dead at 87"):
Ruth Bader Ginsburg, the second woman to serve on the Supreme Court and a pioneering advocate for women's rights, who in her ninth decade became a much younger generation's unlikely cultural icon, died at her home in Washington on Friday. She was 87.

The cause was complications of metastatic pancreatic cancer, the Supreme Court said.

By the time two small tumors were found in one of her lungs in December 2018, during a follow-up scan for broken ribs suffered in a recent fall, Justice Ginsburg had beaten colon cancer in 1999 and early-stage pancreatic cancer 10 years later. She received a coronary stent to clear a blocked artery in 2014.

Barely five feet tall and weighing 100 pounds, Justice Ginsburg drew comments for years on her fragile appearance. But she was tough, working out regularly with a trainer, who published a book about his famous client's challenging exercise regime.

As Justice Ginsburg passed her 80th birthday and 20th anniversary on the Supreme Court bench during President Barack Obama's second term, she shrugged off a chorus of calls for her to retire in order to give a Democratic president the chance to name her replacement. She planned to stay "as long as I can do the job full steam," she would say, sometimes adding, "There will be a president after this one, and I'm hopeful that that president will be a fine president."

[…]

After the 2010 retirement of Justice John Paul Stevens, whom Justice Kagan succeeded, Justice Ginsburg became the senior member and de facto leader of a four-justice liberal bloc, consisting of the three female justices and Justice Stephen G. Breyer. Unless they could attract a fifth vote, which Justice Anthony M. Kennedy provided on increasingly rare occasions before his retirement in 2018, the four were often in dissent on the ideologically polarized court.

Justice Ginsburg's pointed and powerful dissenting opinions, usually speaking for all four, attracted growing attention as the court turned further to the right. A law student, Shana Knizhnik, anointed her the Notorious R.B.G., a play on the name of the Notorious B.I.G., a famous rapper who was Brooklyn-born, like the justice. Soon the name, and Justice Ginsburg's image — her expression serene yet severe, a frilly lace collar adorning her black judicial robe, her eyes framed by oversize glasses and a gold crown perched at a rakish angle on her head — became an internet sensation.

Young women had the image tattooed on their arms; daughters were dressed in R.B.G. costumes for Halloween. "You Can't Spell Truth Without Ruth" appeared on bumper stickers and T-shirts. A biography, "Notorious RBG: The Life and Times of Ruth Bader Ginsburg," by Irin Carmon and Ms. Knizhnik, reached the best-seller list the day after its publication in 2015, and the next year Simon & Schuster brought out a Ginsburg biography for children with the title "I Dissent." A documentary film of her life was a surprise box office hit in the summer of 2018, and a Hollywood biopic centered on her first sex discrimination court case opened on Christmas Day that year.

The adulation accelerated after the election of Donald J. Trump, whom Justice Ginsburg had had the indiscretion to call "a faker" in an interview during the 2016 presidential campaign. (She later said her comment had been "ill advised.") Scholars of the culture searched for an explanation for the phenomenon. Dahlia Lithwick, writing in The Atlantic in early 2019, offered this observation: "Today, more than ever, women starved for models of female influence, authenticity, dignity, and voice hold up an octogenarian justice as the embodiment of hope for an empowered future."

Her late-life rock stardom could not remotely have been predicted in June 1993, when President Bill Clinton nominated the soft-spoken, 60-year-old judge, who prized collegiality and whose friendship with conservative colleagues on the federal appeals court where she had served for 13 years left some feminist leaders fretting privately that the president was making a mistake. Mr. Clinton chose her to succeed Justice Byron R. White, an appointee of President John F. Kennedy, who was retiring after 31 years. Her Senate confirmation seven weeks later, by a vote of 96 to 3, ended a drought in Democratic appointments to the Supreme Court that extended back to President Lyndon B. Johnson's nomination of Thurgood Marshall 26 years earlier.

There was something fitting about that sequence, because Ruth Ginsburg was occasionally described as the Thurgood Marshall of the women's rights movement by those who remembered her days as a litigator and director of the Women's Rights Project of the American Civil Liberties Union during the 1970s.

The analogy was based on her sense of strategy and careful selection of cases as she persuaded the all-male Supreme Court, one case at a time, to start recognizing the constitutional barrier against discrimination on the basis of sex. The young Thurgood Marshall had done much the same as the civil rights movement's chief legal strategist in building the case against racial segregation.
Former President Barack Obama:
Sixty years ago, Ruth Bader Ginsburg applied to be a Supreme Court clerk. She'd studied at two of our finest law schools and had ringing recommendations. But because she was a woman, she was rejected. Ten years later, she sent her first brief to the Supreme Court — which led it to strike down a state law based on gender discrimination for the first time. And then, for nearly three decades, as the second woman ever to sit on the highest court in the land, she was a warrior for gender equality — someone who believed that equal justice under law only had meaning if it applied to every single American.

Over a long career on both sides of the bench — as a relentless litigator and an incisive jurist — Justice Ginsburg helped us see that discrimination on the basis of sex isn't about an abstract ideal of equality; that it doesn't only harm women; that it has real consequences for all of us. It's about who we are — and who we can be.

Justice Ginsburg inspired the generations who followed her, from the tiniest trick-or-treaters to law students burning the midnight oil to the most powerful leaders in the land. Michelle and I admired her greatly, we're profoundly thankful for the legacy she left this country, and we offer our gratitude and our condolences to her children and grandchildren tonight.

Ruth Bader Ginsburg fought to the end, through her cancer, with unwavering faith in our democracy and its ideals. That's how we remember her. But she also left instructions for how she wanted her legacy to be honored.
Inevitably, her passing has re-ignited the debate of the Republican gambit which held a seat open for President Trump to fill and whether that precedent should hold here. Indeed, Obama weighed in on that in the second half of his statement. I'll reserve that issue and a discussion of her likely successor for future posts.
Here, I'd like to stick to her legacy as an Associate Justice. While I was decidedly not a fan of the President who appointed her or of her judicial philosophy, she was universally respected as both a legal mind and as a human being. Her fast friendship with the late Justice Antonin Scalia (which will be even more noteworthy because they're likely to both be replaced by Trump in controversial fashion) is a testament to that: arguably the two most outspoken ideologues on the Court couldn't help but like and admire one another.
That Totenberg and Greenhouse, easily the two most prominent Supreme Court reporters in my lifetime, wrote eulogies rather than reports for her was fitting. There was just no pretending that Ginsburg wasn't liked and admired—and a hero to women. Indeed, I'd guess a quarter of the girls in my youngest daughter's second grade class dressed up as her on the "wax museum" day a couple years back.
Still, as much as one admires Ginsburg, it's hard not to second guess her decision to hold on. She was born in March 1933—a little over a decade before my parents were born. My dad has been gone more than ten years and my mom nearly two. And neither of them had pancreatic cancer.
I suppose she, like most of us, just took it for granted that Hillary Clinton would win the 2016 election and thus appoint her replacement. It would have been somewhat fitting to have the first woman President, and the wife of the man who appointed her to the job, do so. But, inevitably, that honor will fall to Trump. And, alas, despite her hopes, he is not a "fine President."