Ruth Bader Ginsburg Cancer Free, But Will Miss One More Week Of Oral Argument
Doctors have declared Justice Ruth Bader Ginsburg cancer free but she is still expected to miss one more week of oral argument as she recovers from her surgery in December.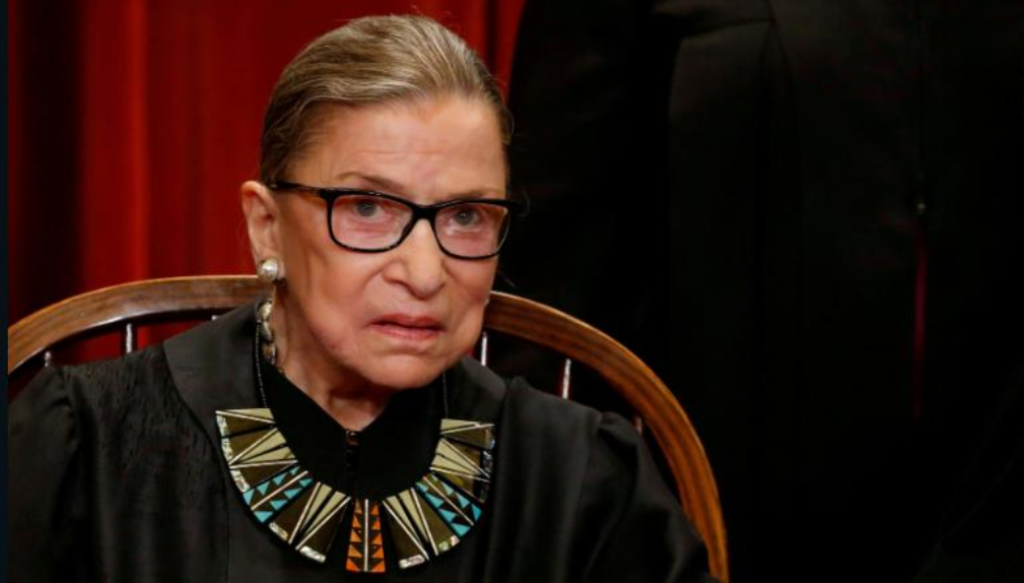 On Monday, I noted that Justice Ruth Bader Ginsburg had failed to appear on the bench for the first day of oral argument of the Supreme Court's January seating, instead choosing to participate from home by reading court transcripts, listening to the recordings of oral argument that the Court makes available at the end of each week of argument as well as reading the briefs filed by the parties to the appeal and other interested parties.  At the time, it was reported without much detail by the Supreme Court that Ginsburg was continuing to recover from the cancer surgery that she had in December when doctors removed several cancerous nodules removed from a lung, which had been detected as a result of X-Rays due to the fall that resulted in several cracked ribs. The announcement of Ginsburg's absence came as a surprise to some given the fact that initial report about her surgery said that she hoped to be back on the Court today when oral argument resumed in January. Indeed, when she was released from the hospital less than a week later, it seemed as though she was well on the way toward being able to achieve that goal. Obviously, the fact that she missed oral argument meant that recovery was taking longer than expected. Ginsburg also missed oral argument on Tuesday and Wednesday and while it has not been announced officially announced, it's probable that she was not present for today's weekly Court conference and likely participated by telephone.
In any case, while this was not unprecedented in the Court's history, it was noteworthy for Ginsburg because it was the first time that Ginsburg had missed oral argument in more than twenty-five years on the bench, and it inevitably raised questions about the actual state of Justice Ginsburg's health. Today, though, the Court updated the reports about Ginsburg's health by announcing that doctors had declared her cancer-free, but indicating that she will miss next week's oral argument as well:
Justice Ruth Bader Ginsburg's recovery from surgery is "on track" but she will miss oral arguments next week, the Supreme Court announced Friday. Ginsburg is still recuperating from surgery to remove two cancerous nodules from her lungs.

"Post-surgery evaluation indicates no evidence of remaining disease, and no further treatment is required," said court spokesperson Kathleen Arberg.

Ginsburg, 85, who missed oral arguments this week, has not been on the bench since her surgery last month, but she has participated by reading briefs at home.

Her absence comes as the court is considering whether to take up several controversial issues including the administration's decision to phase out the

Deferred Action for Childhood Arrivals program and its ban that blocks most transgender individuals from serving in the military. The justices met behind closed doors earlier on Friday to discuss pending petitions and Ginsburg participated by proxy.

Monday marked the first time she had ever missed oral arguments due to her health. She has survived two other bouts of cancer.

Ginsburg was released from the hospital about two weeks ago, according to the court, following the surgery earlier last month. The nodules themselves were discovered incidentally following tests after a fall she sustained in November. The key liberal justice returned to the court shortly after the fall that fractured three of her ribs last November.

Dr. Robert Miller, a professor of medicine at Vanderbilt University Medical Center, said he did not think it was "alarming" Ginsburg was not back at work three weeks after surgery but that he would be concerned "if her activity level does not improve over the next few weeks."

"It's an uncomfortable operation," Miller said. "She already had the rib fractures to deal with when she went into it."
Ginsburg has said she will continue to serve on the Supreme Court as long as she is able to do the job. In 1999, Ginsburg underwent surgery for colorectal cancer, and 10 years later she was treated for early stages of pancreatic cancer.

"I said I will do this job as long as I can do it full steam," Ginsburg said last month during an interview following a New York City screening of "On the Basis of Sex," a feature film about her years as a young lawyer.

A year ago, the news broke that Ginsburg hired law clerks for at least two court terms, signaling she intends to stay through 2020.
The fact that the Court will be off until late February should give Ginsburg sufficient time to recover so that she can rejoin her colleagues in February when the Court resumes its argument schedule. In the meantime, her absence for oral argument will cover oral argument in six cases dealing with rather low-profile issues. On Monday, for example, the Court hears cases dealing with the Federal Tort Claims Act and the Copyright Act. On Tuesday, it hears argument in a case dealing with Federal class action law and another dealing with Medicare regulations. Finally, on Wednesday the Justices hear argument in an eminent domain case that had also been argued last term, and another dealing with state laws restricting shipments from out-of-state wine shops to addresses in other states.
Obviously, while the news about Ginsburg's prognosis is most assuredly good news, her absence has raised questions about the Court's future and caused the White House to take at least some preliminary steps toward planning for a possible retirement:
The White House is reaching out to politicalallies and conservative activistgroups to prepare for an ailing JusticeRuth Bader Ginsburg's possible death or departure from the Supreme Court — an event that would trigger the second bitter confirmation battle of President Donald Trump's tenure.

The outreach began after Ginsburg, 85, on Mondaymissed oral arguments at the courtfor the first time in her 25 years on the bench. The justice, who was nominated to the court by President Bill Clinton in 1993, announced in late Decemberthat she underwent a surgical procedure to remove two cancerous growths from her lungs.

The White House "is taking the temperature on possible short-list candidates, reaching out to key stakeholders, and just making sure that people are informed on the process," said a source familiar with those conversations, who spoke on background given the delicate nature of the subject. "They're doing it very quietly, of course, because the idea is not to be opportunistic, but just to be prepared so we aren't caught flat-footed."

Ginsburg had a pulmonary lobectomy, the Supreme Court said in a statement, and her doctors said that post-surgery there was "no evidence of any remaining disease." She has also recovered from several past health scares. But her departure from the Court would allow Trump to nominate a third Supreme Court justice — the most in one presidential term since President Ronald Reagan placed three judges on the highest court during his second term.

The nine-member court is currently divided 5-4 between its conservative and liberal wings. Ginsburg's departure would allow Trump to create the Court's strongest conservative majority in decades, a scenario sure to bring intense opposition from Democrats and liberal activists still furious over the October confirmation of Justice Brett Kavanaugh.

"It would be a brutal confirmation," said John Malcolm, director of the Heritage Foundation's Meese Center for Legal and Judicial Studies. "The first two were not easy at all, but this would be much harder in this respect: When Neil Gorsuch was the nominee, you were replacing a conservative with a conservative. With Kavanaugh, you were replacing the perennial swing voter, who more times than not sided with the so-called conservative wing, so that slightly solidified the conservative wing."

"But if you are replacing Justice Ginsburg with a Trump appointee, that would be akin to replacing Thurgood Marshall with Clarence Thomas," Malcolm added. "It would mark a large shift in the direction of the court."

The White House is urging outside allies to be prepared for another bruising confirmation battle should Ginsberg's health take a sudden turn for the worse, according to four sources with knowledge of the overtures. Outside groups and key players, including the Judicial Crisis Network and Federalist Society executive vice president Leonard Leo, played a leading role in helping to confirm Kavanaugh and, before that, Justice Neil Gorsuch. Leo took a leave of absence from his organization during the confirmation processes for both Gorsuch and Kavanaugh.
While some might consider this news of preparations by the White House ghoulish, it's a smart and understandable move given the suddenness of these questions about Ginsburg's health and the fact that a nomination fight over a Trump nomination to replace her would make the Gorsuch and Kavanaugh fights to seem tame by comparison. As noted, replacing Scalia with Gorsuch did not really mark a change in the composition of the court. The Kavanaugh fight was a bit more contentious given that we had a conservative replacing a conservative who also had been the center of the Court for the better part of the decade. In the case of a Ginsburg retirement or vacancy, it would mean a decidedly conservative President replacing the scion of the Court's liberal wing, and thereby cementing a conservative majority on the Court for at least the next twenty years or more. Even though the GOP has the votes to push the nomination through, you can rest assured that the fight over whoever the nominee would be would be long, bitter, and divisive. In any case, the news about Ginsburg being cancer-free is good news and hopefully, she will remain able to do her job as long as she wants to.