Anthony Kennedy Drops A Big Hint About Potential Retirement in 2018
Justice Kennedy is telling prospective law clerks for the term that beings in October 2018 that he is considering retiring at the end of the term that begins this October.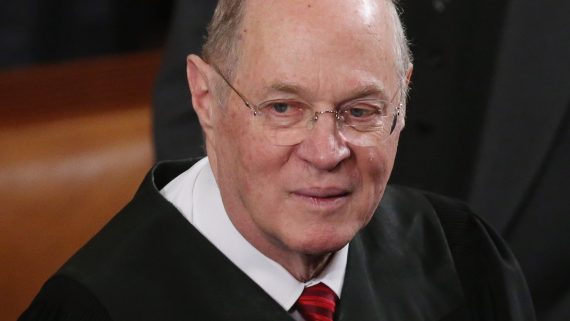 In the months before the end of the last Supreme Court term, Washington and the media were rife with speculation that we might see a retirement on the Supreme Court that would lead to another round of confirmation hearings this year. In some sense, that speculation was natural given the fact that two of the Justices, Ginsburg and Kennedy, were over 80 years old and two others, Breyer and Thomas, are either in or nearing their 70s. That speculation was enhanced shortly after the confirmation process for Justice Neil Gorsuch ended when Senate Judiciary Committee Chairman Chuck Grassley made comments to local media in Iowa that made it sound like he had inside information about an impending retirement. Given the fact that it seemed unlikely that Justice Ginsburg would willingly step aside while a Republican, especially Donald Trump, was in the White House, that speculation quickly began to center around Justice Anthony Kennedy, who has been on the Court since 1989 and has been a sitting Federal Judge since being confirmed to sit on the Ninth Circuit Court of Appeals in 1975. In the weeks before the term ended last week, that speculation increased given the fact that Kennedy was hosting a reunion of all his former law clerks, which he had not done in several years, and many speculated that he would use that event to announce retirement plans. As it turned out, the Court's term ended without an announcement from Kennedy and every indication that he would be staying on for the Court's next term, which begins in October.
Over the weekend, though, veteran NPR Supreme Court reporter broke a story that seems to suggest that Kennedy is openly considering retirement a year from now, just on the cusp of the 2018 midterms:
[I]t is unlikely that Kennedy will remain on the court for the full four years of the Trump presidency. While he long ago hired his law clerks for the coming term, he has not done so for the following term (beginning Oct. 2018), and has let applicants for those positions know he is considering retirement.

Kennedy's position on the court is more than consequential. In the most hotly contested and closely divided cases, his vote often decides the outcome. With every passing day, it has become more clear that President Trump's first Supreme Court nominee, Neil Gorsuch, is probably even more conservative than the justice he replaced, Antonin Scalia.
Law Professor Rick Hasen makes this observation about the political implications of a potential Kennedy retirement 
This would put Justice Kennedy's retirement right before the 2018 midterms, giving the Republican base reasons to turn out and keep the Senate with a Republican majority (already a strong possibility in 2018).

He'll be able to go out on a high note, deciding the fate of partisan gerrymandering, gay rights, and who knows what else.
And New York magazine's Margaret Hartmann makes these observations:
[I]f Kennedy is telling prospective clerks that he might not be sticking around, that's concerning news for liberals — and not only because he'll be giving Donald Trump another Supreme Court appointment. As Rick Hasen notes, he'd be stepping down "right before the 2018 midterms, giving the Republican base reasons to turn out and keep the Senate with a Republican majority (already a strong possibility in 2018)."
As I've explained before, sitting Supreme Court Justices get a budget that allows them to hire four law clerks for each term, while retired Justices typically only get the ability to hire a single clerk to assist them with any of the temporary appointmets they may end up serving on various Circuit Courts of Appeal around the country at the discretion of the Chief Justice. One of the big indications that Kennedy was not retiring this year was the fact that he had already hired all four of his clerks by the time the Grassley-inspired rumors began swirling around him this Spring. Given the fact that he had hired four clerks, it seemed clear that Kennedy had no intention of retiring during the upcoming term. As Above The Law's David Lat explains, though, clerk hiring isn't always a perfect indication of whether or not a Justice is retiring:
Now, hiring clerks for 2017-2018 and 2018-2019 is not dispositive evidence that a justice will remain on the bench. There's a nice tradition at the Court of justices picking up "orphaned" hires of their colleagues (which is what happened with Justice Antonin Scalia's displaced clerks), so the clerks aren't necessarily left in the lurch. But as a matter of collegiality and consideration — and whether or not you like his jurisprudence, Justice Kennedy is collegial and considerate — it's not nice to impose upon your colleagues by hiring clerks you know will never work for you, putting pressure on these colleagues to sacrifice their own hiring discretion to scoop up your leftovers (because of SCOTUS tradition).
As Lat goes on to note, so far most of the Justices have not completed their hiring process for October Term 2018 clerks, and only two had completed it to date. Those two would be Justice Stephen Breyer, and Justice Ruth Bader Ginsburg, who has actually hired a full compliment of four clerks for not only 2018 but also 2019 and 2020, the strongest indication yet that she has no intention of retiring while Donald Trump was President. Other Justices, such as Justice Kagan, have only announced one 2018 clerk hiring so far, or have yet to announce any hiring for the 2018 term or any further as of Lat's most recent report earlier this year. Additionally, it's also worth noting that Kennedy appears to be on track for hiring four clerks for the 2018 term so it's clear that he has not definitively made up his mind on the issue of retirement. However, if Totenberg's report is true, which it likely is given her long-record of having inside information on the Supreme Court, that would mean that Kennedy is likely considering the possibility of retiring at the end of the upcoming term.
As Professor Hasen notes, a retirement next summer would obviously be hugely important. For most of his career on the Court, and especially since the retirement of Justice Sandra Day O'Connor in 2006, Kennedy has been a swing and often decisive vote on a wide variety of issues that have split the Court's conservative and liberal members such as abortion, affirmative action, and LGBT rights. He has been the author of many of the Court's most important recent decisions, most recently the 2015 decision in Obergefell v. Hodges, that struck down the bans against same-sex marriage that were still being enforced in June of 2015. While replacing Justice Scalia with Justice Gorsuch is not likely to have a significant impact on the ideological balance on the Court, replacing Kennedy with someone more conservative than him could have a real impact on a wide-ranging number of cases, most especially those dealing with topics on which the Court has split 5-4 in the past. Therefore, who replaces Kennedy if and when he retires will be a far more important question than who President Trump selected to replace the late Justice Scalia.
If Kennedy does decide to retire, it will obviously become a huge political issue in what will likely already be a hotly contested midterm election year. Democrats, who are already eagerly eyeing the prospect of taking back the Senate even though the odds are against them due to the paucity of Republicans who are likely to be vulnerable next year, will likely be strongly opposed to whoever Trump would nominate in the event of a Kennedy retirement. Given the extent to which they brought the issue up during the confirmation process for Justice Gorsuch, many of them will likely still be talking about what happened to President Obama's nominee to replace Justice Scalia, Circuit Court of Appeals Judge Merrick Garland, and likely argue that the Senate should follow the precedent that Republicans set in 2016 and decline to vote on a nominee until after the 2018 midterm elections. This strategy is unlikely to work for two reasons, however. First of all, if Kennedy does announce his retirement at some point next year he is likely to follow the tradition set by other recent Supreme Court retirements, such as Justices Stevens, Souter, and O'Connor, and state that his retirement would not become effective until a replacement was confirmed. This would mean that the Court would continue to have its current composition until a replacement is confirmed. Second, there is very little that the Senate can do to stop the Senate from confirming a potential Kennedy replacement. With the Republicans having followed Harry Reid's lead and expanded the so-called 'nuclear option' to Supreme Court nominees, the GOP would only need fifty votes, plus the Vice-President's tie-breaking vote, to confirm a nominee. The most Democrats could do is delay the confirmation of a nominee for a few weeks at most.
As for how the GOP might handle a potential Kennedy retirement, I disagree with Hasan that they would seriously consider delaying considering a nominee until after the 2018 midterms in order to give Republican voters even more of a reason to turn out to vote next year. First of all, McConnell and the GOP leadership are smart enough to know that there would be a risk that the party could lose control of the Senate in the midterms, something that would make it far more difficult for a Trump nominee to get confirmed. Instead, they're likely to act quickly on a Trump nomination and get them on the Court before the 2018 term starts next October. Something like that is likely to energize Republican base voters as much as the prospect of having a Republican President name Scalia's replacement rather than a Democrat did in 2016.
All of this is speculation right now, of course. The fact that Kennedy has told prospective clerks that he is considering retirement in 2018 is far from an indication that he will retire. Instead, it would appear that he is simply desiring to be fair to the prospective clerks early on in the process so that they can proceed accordingly. If they are hired and he does retire, they'd still end up working for one of the other Justices or for Kennedy's replacement, of course, but it's possible that some of them are applying for the position because they want to work for and with Justice Kennedy specifically. Kennedy is likely advising them of the possibility of retirement so that they aren't blind-sided after they've made a commitment to the Court. Nonetheless, this is the first time that we're aware of Kennedy having advised potential clerks in any year that he might not be around for the term they'd be serving, so the possibility of a Kennedy retirement a year or so from now should not be discounted at all.