The Family Research Center, "Hate Groups," And Tony Perkins's Persecution Complex
Whether or not it's proper to call the FRC a "hate group," the persecution complex being displayed in the wake of Tuesday's shooting is absurd.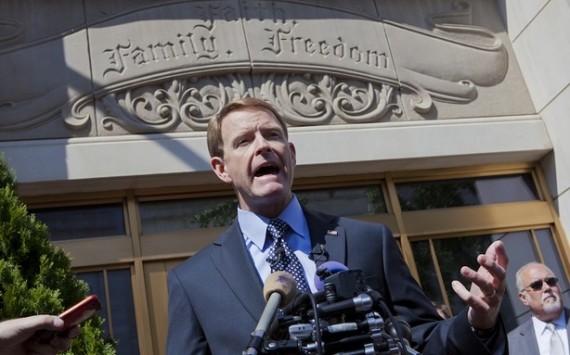 As I noted yesterday, Tony Perkins, the head of the Family Research Council took groups the Southern Poverty Law Center to task in light of Tuesday's shooting incident, claiming that their designation of his group as a "hate group" somehow made them at least morally culpable for an act of violence by some random individual for reasons that are still not entirely clear. Perkins's comments have been echoed by many on the right, and while not endorsing Perkins's charges, The Washington Post's Dana Milbank does take the SPLC to task for labeling the FRC a "hate group":
Human Rights Campaign isn't responsible for the shooting. Neither should the organization that deemed the FRC a "hate group," the Southern Poverty Law Center,be blamed for a madman's act. But both are reckless in labeling as a "hate group" a policy shop that advocates for a full range of conservative Christian positions, on issues from stem cells to euthanasia.

I disagree with the Family Research Council's views on gays and lesbians. But it's absurd to put the group, as the law center does, in the same category as Aryan Nations, Knights of the Ku Klux Klan, Stormfront and the Westboro Baptist Church. The center says the FRC "often makes false claims about the LGBT community based on discredited research and junk science." Exhibit A in its dossier is a quote by an FRC official from 1999 (!) saying that "gaining access to children has been a long-term goal of the homosexual movement."

Offensive, certainly. But in the same category as the KKK?

Since the shooting, conservatives have complained that the media have played down the story. This probably has less to do with bias than with the fact that nobody was killed. Still, there is something to the complaint.

I took issue with Glenn Beck before his fall for stirring up the unstable by promoting conspiracy theories in the mass media; more than one Beck follower became violent. What the Southern Poverty Law Center and Human Rights Campaign have done isn't close to the level of provocation Beck achieved, but that doesn't justify their actions. The National Organization for Marriage, which opposes gay marriage, is right to say that the attack "is the clearest sign we've seen that labeling pro-marriage groups as 'hateful' must end."
To be fair to the SPLC, the quotes that they cite in their discussion of the FRC on their website include not only quotes from 1999, but also far more recently material, including this 2010 quote from Tony Perkins himself:
 "While activists like to claim that pedophilia is a completely distinct orientation from homosexuality, evidence shows a disproportionate overlap between the two. … It is a homosexual problem."
This is, of course, a fundamentally absurd position. Not only is it factually untrue in that statistics tend to show that child sexual abuse is in no way a predominantly a same-sex activity, but it also ignores the differences between a consensual adult relationship and the inherently non-consensual abuse of a child, be they male or female. Trying to equate the two is simply false, but the question is whether that makes the FRC a "hate group" equivalent, in the judgment of the SPLC, to the KKK or Westboro Baptist Church is a difficult one. In some sense, it's entirely subjective and the SPLC can defend itself in that regard. My personal opinion, as I've expressed before, is that it's a mistake to label all opponents of same-sex marriage as bigots.
Does the FRC cross the line? Well, they certainly at least come close to it, and I find much of their rhetoric to be closed-minded, ignorant, vile, and offensive. Does that justify labeling them a "hate group?" I'll leave that up to the reader to decide, but I will say that I think Milbank's blanket condemnation of the SPLC for doing so is misplaced. They aren't just ordinary run-of-the-mill opponents of same-sex marriage, they are vehement opponents of anything approaching equality and respect for gays and lesbians, and they're willing to spread lies to accomplish their agenda.
Leaving aside whether the designation is proper or not, though, what's really rather annoying is the persecution complex that Perkins's comments from yesterday reveal. the mere fact that there are people out there who criticize the mission of his organization, and who think that it's wrong, as I do, is seen as some kind of infringement on their rights. I've seen it many times from groups on both sides of the political aisle, but it's a phenonomenon that seems to be far more prevalent on the right than the left.
The absolutely master of the persecution complex in recent years, of course, has been Sarah Palin, who has said during the course of the 2008 campaign, that journalists who were asking questions about her and her record were violating her First Amendment rights and that such journalists were "a threat to democracy." During the Carrie Prejean beauty pageant/gay marriage kerfuffle, she accused the media and pageant officials of violating Prejean's First Amendment rights. And back in May she essentially said that journalists who printed stories she didn't like were a threat to freedom of the press. Palin didn't originate any of this, of course, but she did perfect it, and it's in the spirit of that same phony persecution complex that Perkins stood outside his office yesterday and tried to blame a shooting by what may have been a deranged man on people that dared to criticize his organization.
Ed Kilgore comments:
I'm truly sorry some evil or insane person wanted to inflict violence on FRC and its employees, but do not think it logical to connect this act with some general persecution of the organization or the conservative evangelical Christians it claims to represent. Those determined to frustrate the Christian Right's desire for total secular political power are neither Romans nor Communists nor Nazis, and it is far past time for smug powerful men like Tony Perkins to climb down from that cross and stop pretending they bear any resemblance to the actual Christian Martyrs who suffered and died—and still suffer and die—for their faith.
And Adam Serwer adds that this incident in fact proves that no such persecution exists:
Given his group's years-long characterization of gays and lesbians as child-molesting sociopaths bent on abusing children, I doubt Perkins wants his silly standard for what constitutes a justification of violence to be applied to himself. Historically speaking however, the consensus that violence is not a legitimate tool for domestic politics in the United States has probably never been stronger, which is why LGBT rights groups immediately condemnedthe shooting incident and why the Family Research Council and the National Organization for Marriage are so eager to drape the blame around the shoulders of their most vocal critics. For all their disagreements, both anti-and pro-LGBT rights groups are eager to defeat each other in the arena of the law and the court of public opinion. They have chosen the ballot, not the bullet, and Corkins is nothing more than a near-tragic exception to the rule.
The problem, of course, is that groups like FRC and NOM see persecution not only in the violent acts of a lone nut, but in the efforts of proponents of gay rights to advance marriage equality and other public policy agenda items by the ballot box and the court system. Indeed, just today, it's being reported that opponents of same-sex marriage in Maryland are describing as "intimidation" the canvassing efforts of proponents of same-sex marriage in advance of November's referendum:
[Maryland Marriage Alliance Chairman Rev. Derek]MCCOY: On the people that actually signed the petition, they got the records from the Board of Elections. And in addition to Google mapping them out, they have actually started going to people's addresses and having conversations with people at the address to tell them that they are haters. [They] knock on their door and try and intimidate them to go the other way and give them their long story about their personal saga about their life selection.
This is no more "intimidation" than any other political canvasser that will come to the doors of Maryland residents over the next three months, but in the eyes of the persecution complex crowd, attempting to change people's minds in a democracy is, in fact, "intimidation."  But it's not. It's called the marketplace of ideas, and people like Tony Perkins need to learn to accept the fact that people disagree with them, sometimes, vehemently, and to stop exploiting what could have been a tragedy to score political points.