The Real Goal Of Russian Election Interference
Russia's real goal in interfering in American elections may not have anything to do with favoring one candidate over another.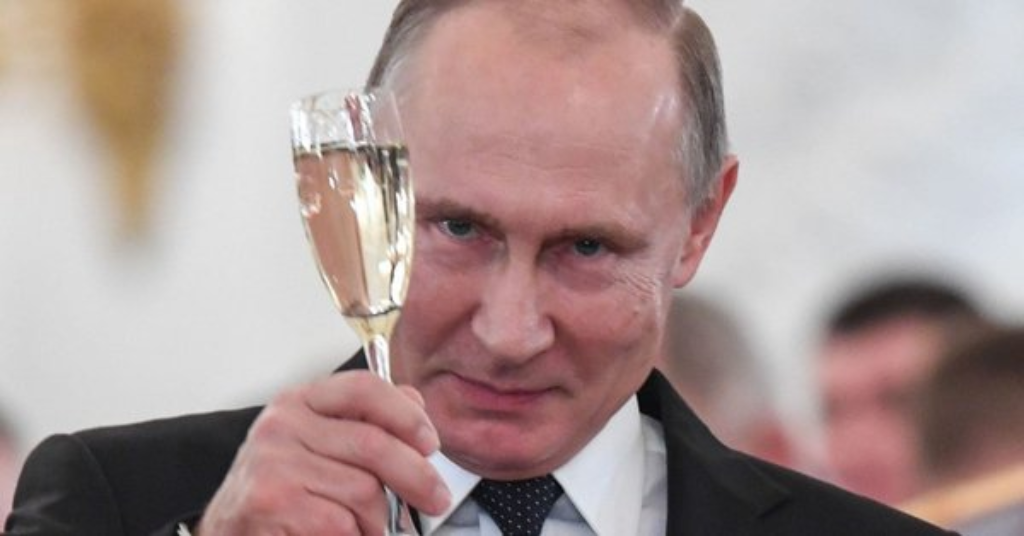 The Washington Post's Aaron Blake argues that Vladimir Putin's goal in interfering in the 2016 election wasn't so much to get President Trump elected as it was to sow chaos in the American political process:
There has been plenty of fighting over exactly what Vladimir Putin's goal was in interfering in the 2016 U.S. election. The intelligence community has concluded he favored Donald Trump, but Trump has publicly cast doubt on this, and members of his administration have regularly sought to obscure it.

In a way this all misses the point. The even-bigger motivation wasn't necessarily about Trump personally; it was about destabilizing the American system of government. "Russian efforts to influence the 2016 US presidential election represent the most recent expression of Moscow's longstanding desire to undermine the US-led liberal democratic order," begins the January 2017 report from the U.S. intelligence community. Trump, by virtue of his controversial style and tendency to destroy societal norms, simply became the most obvious conduit — arguably a near-perfect one, in fact.

And this week showed just what a success it all has been for Putin.

Nearly every week we feel as though we've crossed the Rubicon, but this week outflanked the vast majority of them. The president of the United States publicly suggested his attorney general shut down an investigation of the president of the United States. Tensions between President Trump and the media boiled over at a couple Trump rallies, and the White House seemed to double down on its emerging campaign to tag the media not just as "fake news" but the "enemy of the American people." And a growing number of Trump supporters at those same rallies seemed to be embracing a particularly bizarre, baseless and dangerous conspiracy theory known as "QAnon" — which could soon, with just one tweet from our conspiracy-theorist president, explode.

Large swaths of the country have decided that Trump is guilty of collusion and obstruction of justice. Many have also decided he is beholden to Putin — that the Russian president does have that much-discussed kompromat on Trump. There are certainly much more innocent explanations, including that Trump is merely the world's most politically powerful contrarian — a guy who can't be controlled and who is bent on getting and keeping the country's attention no matter what it takes.

But the practical implications are really the same: Whatever his reasons, we have a president who is quite happy to destabilize the system of American government — and indeed thinks that's the goal in many ways. And destabilizing it he is.
Blake's argument goes to a point that I've been pondering for quite some time now, specifically the question of what goal the Russians had when they decided to intervene so blatantly and, in retrospect, openly in an American political campaign. The supposition among many of President Trump's harshest critics, of course, is that the Russians interfered in the election with the specific intent of helping President Trump win the election and preventing Hillary Clinton from winning. The logic behind this argument, of course, is the fact that there was plenty of evidence that Vladimir Putin had a negative opinion of Clinton based on her time as Secretary of State and that he believed that Trump would be easier to deal with or manipulate. The more sinister theories, of course, speculate that Putin has something on Trump or even that Trump and/or people around him are acting, on at least some level, as conscious assets of a foreign power. At least at the moment, though, there's no evidence to support either of those hypotheses and, unless and until such evidence is uncovered and made public I would suggest that there's a far simpler, and in some ways more sinister, explanation for the goal the Russians had in 2016 and which they are likely to have in future efforts to interfere in elections in the United States or elsewhere in the world.
The evidence for this hypothesis is all around us, and it explains much of what happened over the course of the past three years or more in a far more logical way than the search for some compromising material that Putin may or may not have on Trump. The biggest indictments to date in the Russia investigation have been those handed down in February against thirteen Russian individuals and a number of companies linked to the Russian government and the second set of indictments handed down last month against a dozen members of the Russian GRU, which is Russia's military intelligence unit. The facts alleged in these indictments make clear that the planning for the interference we know occurred in 2016 began long before Donald Trump entered the race for President, making it clear that the plan to interfere in the election was at least not initially tied to Trump's candidacy. Instead, it appears that the entities carrying the operation out latched on to Trump's campaign and the populist forces that gathered around it to assist in the achievement of their goal, which appears to have been to exploit the hyperpartisanship that has developed in American politics thanks largely to the rise of the Tea Party.
Judged by this standard, of course, Putin's plan has arguably been more successful than he probably thought it would be. The past eighteen months have seen partisanship in the United States become even more bitter and divisive than it was during the Obama Era, and given the wide disparity between the way that Democrats and Independents judge the President's performance on the job compared to Republicans, that's only likely to continue. Indeed, public opinion on the Russia investigation itself is becoming ever more sharply divided to the point where it's clear that most Republicans simply won't accept Special Counsel Mueller's conclusions no matter how much evidence there might be to support it. This will just mean more hyperpartisanship, and more division, as we head into the 2018 midterms and, beyond that, the 2020 Presidential election. Given that, one could say that Putin has already succeeded even if there is no further interference in our electoral process.
None of this is to dismiss the possibility that there isn't something more to Putin's machinations or that he didn't prefer Trump to Clinton. Indeed, he pretty much acknowledged the latter fact at the press conference following the Helsinki press conference when he affirmatively acknowledged that he wanted Trump to win in 2016 and at least seemed to imply that the inference campaign was designed, or came to be designed, as means of helping Trump defeat Clinton. Additionally, notwithstanding the fact that the Administration has imposed some sanctions against Russia related to its actions, the President has not imposed all of the sanctions mandated by Congress. Most importantly, though, consciously or not. Trump has allowed Putin to accomplish something that leaders of the Soviet Union from Stalin to Gorbachev were never able to do, drive a wedge between the United States and its allies, and most especially between the United States and NATO. Finally, of course, there was Trump's obsequious performance in Helsinki, which served only to enhance Putin's own worldwide prestige.
So, regardless of what Putin's goal was, it's clear that he's succeeded masterfully, largely because we let him get away with it.