Theresa May Survives Tory No Confidence Vote
British Prime Minister Theresa May survived an intra-party leadership challenge, but her political position is still far from secure.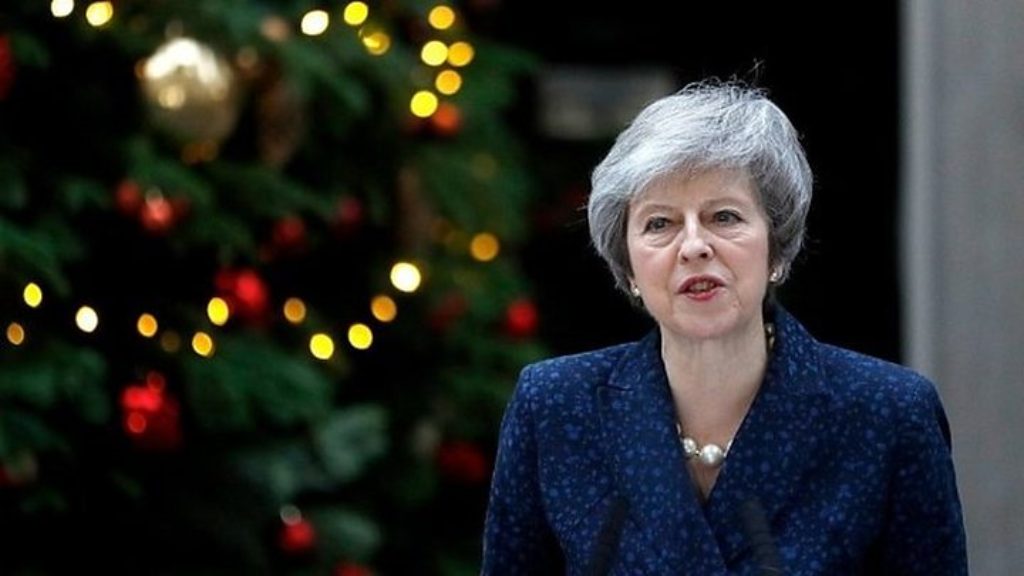 British Prime Minister Theresa May has survived a no-confidence challenge from within her own party, and while this may temporarily strengthen her hand politically, she still faces doubts and obstacles regarding her plan for Great Britain's exit from the European Union:
LONDON — Britain's prime minister, Theresa May, survived the gravest threat yet to her embattled leadership on Wednesday, winning a confidence motion called by Conservative Party lawmakers angry at her handling of the country's troubled departure from the European Union.

But the victory celebration, if any, is likely to be short-lived. While Mrs. May survived to fight another day, her win did nothing to alter the parliamentary arithmetic that forced her this week to delay a critical vote on her plan for withdrawal from the European Union, or Brexit.

John Springford, deputy director of the Center for European Reform, a London-based research institute, said that the size of the vote against her "is an even clearer signal that she won't be able to get her deal through Parliament, and makes it even more likely that when she puts the deal to the vote she will lose that."

Mrs. May won the support of 200 Conservative lawmakers, while 117 voted against her.

She won only after promising that she would step aside soon after the Brexit agonies were over, according to reports from a meeting of Conservative Party lawmakers preceding the vote. That removed the generally unwelcome possibility that she would stand as party leader in the next general election.

One Conservative lawmaker, George Freeman, said that Mrs. May had made clear "that she has listened, heard and respects the will of the party that once she has delivered an orderly Brexit, she will step aside for the election of a new leader."

Players on all sides of the Brexit mess breathed a sigh of relief at Mrs. May's victory. Under the Conservative Party's rules, she cannot be challenged again by her own lawmakers for another year, which at least offers some stability for moving the plan forward. Had she lost, the Conservatives would have been thrust into a divisive, drawn out process that would have stretched well into the next month and threatened the country's ability to reach a deal by the March deadline.

The ultimate choice of prime minister would have been left to the 120,000 Conservative Party activists who generally seem to favor a clean break with the European Union, even if that means the messy, potentially disastrous prospect of a no-deal Brexit.

Nevertheless the victory came at a price, laying bare the opposition within her own party ranks to Mrs. May, who leads a government that has no parliamentary majority, and whose Brexit plans are in limbo.

The confidence vote was called early Wednesday when, after weeks of discord, at least 48 Conservative lawmakers submitted the letters of protest required to force it. Mrs. May canceled a trip to Dublin where she had hoped to talk to her Irish counterpart, Leo Varadkar, about changes that might help build support in the British Parliament for her Brexit proposals.

But it had already been clear that she was in deep political trouble, battered from multiple directions by her management of the European Union withdrawal. In particular, many hard-line Brexit supporters within her party believed she was not making a complete enough break with the bloc.
At least in the short-term, this is a win for May due to the fact that, under Conservative Party rules, she can not face an internal leadership challenge again for another year. At least for the time being, this means that May is secure in her position as party leader and Prime Minister, but that position is far less secure than it might seem from the outside. For one thing, the fact that May was forced to face an intra-party no-confidence vote at this point in the Brexit process is a sign of just how weak the support for her Brexit deal is in Parliament, which is, of course, the reason that she decided to postpone the vote in the House of Commons for the time being. Additionally, it's the reason she went to the Continent yesterday in what can only be described as an obsequious and rather disastrous attempt to get, well, something from the E.U. in the form of additional concessions that she can take back to her party to shore up support for her Brexit plan.
With this result and the fact that 117 Tory MPs voted against her, it seems apparent that she still does not have the votes she needs to get her deal through Parliament. This means that, if the United Kingdom is going to go through with Brexit it is going to end up being a no-deal "hard" Brexit that will cause headaches for the United Kingdom for years to come and will leave unresolved issues ranging from the Irish border issue to the payments that European Union is entitled to under the terms of Article 50 of the E.U. Treaty upon the United Kingdom's exit from the Union. It's also worth noting that the win today may at least in some respect be due to the fact that she promised that she would not stand as leader of the Conservative Party at the next scheduled election in 2022. So while May won tonight and has at least been temporarily strengthened inside the Conservative Party, May's political future is arguably weaker in the long-term and the future of Brexit is no more certain than it was at the beginning of the week.