Trump Announces New China Tariffs
President Trump announced a new round of tariffs on Chinese goods set to take effect on September 1st Another stupid move in a very dumb trade war.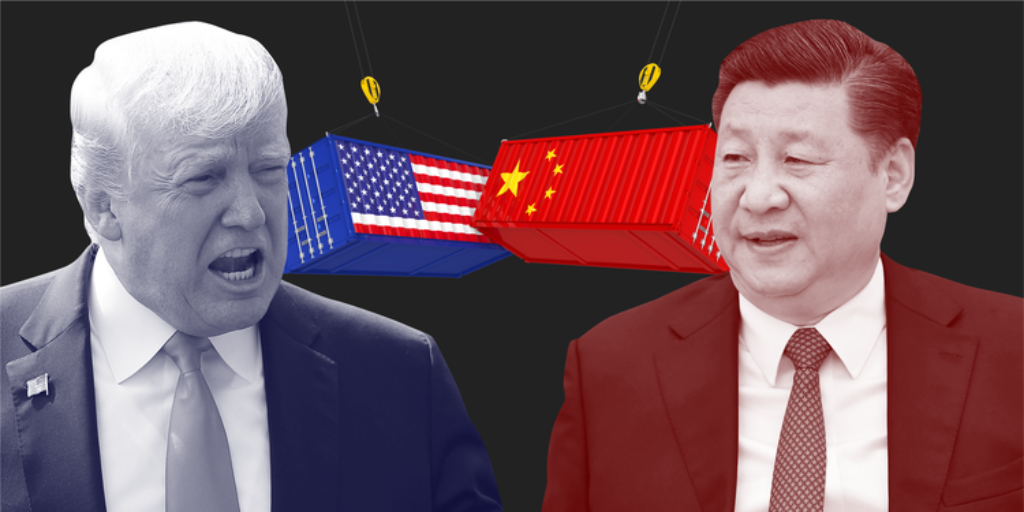 Seemingly out of the blue, President Trump announced this afternoon on Twitter, President Trump announced a new round of tariffs on China that would take effect September 1st due to China's alleged failure to abide by a promise to increase its purchase of American agricultural products:
WASHINGTON — President Trump, frustrated by increasingly fruitless negotiations with China, said Thursday that the United States would impose a 10 percent tariff on an additional $300 billion worth of Chinese imports next month, a significant escalation in a trade war that has dragged on for more than a year.

The new tariff would come on top of the 25 percent levy that Mr. Trump has already imposed on $250 billion worth of Chinese imports, resulting in the United States taxing nearly everything China sends to the United States, from iPhones to New Balance sneakers to children's books.

Mr. Trump had agreed in June not to impose more tariffs after meeting with the Chinese president, Xi Jinping, and agreeing to restart trade talks. But Mr. Trump said he was moving ahead with the levies as of Sept. 1 as punishment for China's failure to live up to its commitments, including buying more American agricultural products and stemming the flow of fentanyl into the United States.

"Until such time as there is a deal, we'll be taxing them," Mr. Trump told reporters on the White House lawn.

Mr. Trump's move will most likely be met with reciprocal punishment by China. On the sidelines of a meeting of Southeast Asian officials in Bangkok on Friday, Wang Yi, China's foreign minister, told reporters that "adding tariffs is definitely not the correct way to resolve economic and trade frictions."

New tariffs would increase the likelihood that the world's two largest economies will be locked in a protracted trade dispute for months, if not years. While the countries continue to negotiate, the path to a deal has only narrowed as Beijing and Washington harden their positions and as political dynamics, including the 2020 election, further complicate the chances for a compromise.

The United States has insisted that China buy more farm goods and agree to cement certain changes into Chinese law. Beijing has resisted codifying any changes into law and has said it will only enter into a deal that is mutually beneficial. Both sides seem increasingly confident they can wait out the trade war indefinitely.

On Thursday, Mr. Trump's building frustration with the grinding pace of the negotiations boiled over.

"We thought we had a deal with China three months ago, but sadly, China decided to re-negotiate the deal prior to signing," Mr. Trump said on Twitter. "More recently, China agreed to buy agricultural product from the U.S. in large quantities, but did not do so."

The president said that China also did not fulfill its commitment to stop the sale of fentanyl into the United States.

As he departed the White House for a rally in Ohio, Mr. Trump accused Mr. Xi of trying to slow-walk negotiations ahead of the 2020 election in the hopes that a Democrat would win the White House.

"I think he wants to make a deal, but frankly he's not going fast enough," Mr. Trump said. "He said he was going to be buying from our farmers, he didn't do that. He said he was going to stop fentanyl from coming into our country, he didn't do that."

He added that the tariffs could be raised to 25 percent or higher if the talks continue to falter, but allowed that they could also be removed.
Here are the President's tweets on the matter:
Not surprisingly, the seemingly sudden news of new tariffs did not sit well with traders on Wall Street. Prior to the President's announcement, the markets were in positive territory although the volume was low, which is typical for an otherwise uneventful Thursday in the summertime. As soon as the President made his announcement, though, the market began falling steadily, closing down more than 200 points by the end of the day. The sell-off continued overnight in international markets as investors feared that the U.S.-China trade war, which had seemed like it was close to some kind of resolution suddenly flared up. It's expected that the sell-off will continue this morning, although traders will also be keeping an eye on the July unemployment report, which will be released this morning before markets open.
The President's announcement came a day after the latest round of talks between Washington and Beijing ended without an agreement and with both sides pointing fingers across the table, blaming each other for the apparent collapse:
American and Chinese negotiators finished talks on Wednesday with little progress toward ending a trade war that has shaken the world's economic confidence and rattled markets.

Treasury Secretary Steven Mnuchin and Robert E. Lighthizer, the Trump administration's top trade negotiator, were seen leaving trade talks in Shanghai on Wednesday, the Chinese state news media said.

Both sides "conducted frank, efficient and constructive in-depth exchanges on major issues of common interest in the economic and trade field," said a statement late in the day that was released by CCTV, China's state broadcaster.

The White House press secretary, in a statement released Wednesday morning, called the talks "constructive" and said negotiations were expected to continue in Washington in early September.

The White House statement said that the two sides had discussed topics including "forced technology transfer, intellectual property rights, services, non-tariff barriers and agriculture" and that the Chinese side had confirmed its commitment to increase purchases of American agricultural exports.

The meeting was the first formal resumption of talks after negotiations fell apart almost three months ago, with each side pointing fingers at the other for derailing a deal. They agreed to try again after meeting in June on the sidelines of the Group of 20 summit in Osaka, Japan.

Instead, both sides appear to be settling in for a lengthy economic conflict.

(…)

As American delegates arrived in Shanghai on Tuesday afternoon, an editorial in the Chinese state news media described the city as an "auspicious" place for the stalled talks to begin again. It pointed out that President Richard M. Nixon visited the city in 1972 as relations between China and the United States were beginning to warm.

Chinese officials welcomed the American delegation with a dinner on Tuesday at the Fairmont Peace Hotel on Shanghai's famous Bund promenade.

But around the same time in Washington, President Trump accused China of failing to follow through on its promises, adding that a deal was unlikely to be reached before the 2020 United States presidential election.
He also complained that China had not started to buy American agricultural goods as he said was promised after he met with Mr. Xi in Japan. Chinese officials have disputed that they agreed to the purchases.

On Wednesday in China, as the official talks got underway at the Xijiao State Guest Hotel, further pessimism clouded the event. An editorial in The Global Times, a nationalist tabloid controlled by the Chinese Communist Party, warned that "the U.S. has to change its bad habit of using tough talk to cheer on its negotiating team, which easily undermines the mutual trust between China and the U.S."

The Chinese-language People's Daily, the flagship newspaper of the Chinese Communist Party, said in an editorial that American trade negotiators should "consult with sincerity" and not "make trouble out of nothing."
The fact that the talks, which had ended earlier this summer with no sign that they were going to be revived only to be reopened after President Trump and Chinese President Xi Jinping met on the sidelines of this year's G-20 meeting, ended within a day after they began is obviously not a good sign. While few people believe that this first round of meetings would result in a deal, there was at least a hope that there would be further discussions and at least a sign that we could be seeing the beginning of the end of a trade war that has damaged both the Chinese and American economies. Instead, it now appears that we're back where we were prior to the G-20 and its unclear where things are headed now.
One possibility, of course, is that this is all a massive bluff on Trump's part, something we've seen from him before. Earlier this year, for example, the President announced new and exceedingly harsh tariffs on Mexico related to that nation's alleged failure to comply with promises it had made regarding Central American immigrants. Soon afterward, though, the President called those tariffs off, claiming that he had reached an agreement with Mexico on the issue, although it soon became apparent that this deal was less than meets the eye. It's possible that we'll see something similar here, although the fact that there does not appear to be any plan for resuming talks between the two countries in the near future would seem to indicate that we're headed for a significant uptick in a trade war that has already caused enough damage.
As noted, these new tariffs, if they are imposed, are likely to have an even bigger impact on consumers than previous rounds of tariffs have. In part, this is because previous tariffs have largely tried to avoid increasing the prices of consumer goods in ways that would make it noticeable. To a large degree, though, we've run out of ways to avoid placing tariffs on consumer goods and so here we are. This is why retailers are warning the Administration that these latest round of tariffs would result in higher consumer prices and layoffs in the retail industry. Additionally, the fact that these tariffs, which could rise to as high as 25% according to reports, would go into effect as the economy is shifting toward the holiday shopping season could mean that the impact on the economy is even more widespread than forecast.
There can be no doubt what the impact of all of this will be because we've seen it before. Not long after the President announced tariffs on steel and aluminum from China and other nations, we saw domestic prices for steel and aluminum increase as well as a negative impact on manufacturers who rely on foreign sources for the raw materials to make everything from washers and dryers to automobiles. Trump, of course, has claimed that these tariffs have saved American jobs, but studies have shown that the tariffs have cost the economy at least a million dollars for each job "saved." The tariffs have also caused severe disruption for the American agriculture industry, which has been the chief target for Chinese retaliatory tariffs. The Administration has sought to offset this impact with subsidies to the farmers most severely impacted by the tariffs, but reports from the ground indicate that the damage has already been done.
Trump, of course, recognizes none of this. Nor does he listen to the warnings from the Federal Reserve Board, economic statistics, and world economic leaders who have warned repeatedly that continuing the trade war is a threat to economic growth around the world and could lead to a recession that spreads rapidly around the world notwithstanding efforts by the Federal Reserve and other central banks to avoid such an event. Donald Trump is famous for saying that "trade wars are good and easy to win," The truth is that they are bad, and everyone loses. With these latest tariffs, the President seems intent on demonstrating that fact.