Trump's Job Approval Upside Down In The Three States That Gave Him The Presidency
Three new polls show Trump's job approval down significantly in the three states that put him over the top in the Electoral College last year.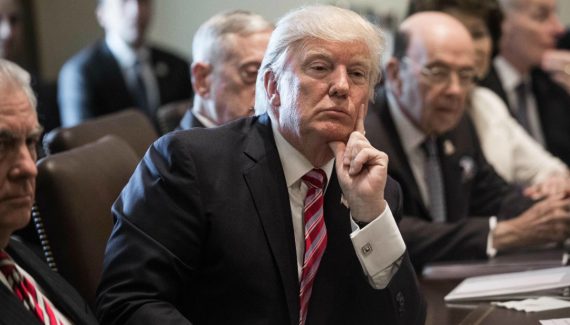 A new poll shows Donald Trump in potential peril in three states that were key to his election in 2016:
WASHINGTON — President Donald Trump's job approval rating in three key states that helped propel him to the White House — Michigan, Pennsylvania and Wisconsin — stands below 40 percent, according to a trio of NBC News/Marist polls.

In addition, Democrats enjoy double-digit leads in Michigan and Pennsylvania on the question of which party voters prefer to control Congress after the 2018 midterms, and they hold an 8-point advantage in Wisconsin.

In all three states, more than six in 10 voters say Trump's conduct as president has embarrassed them, compared to just a quarter who have said it's made them proud.

These three NBC/Marist polls were conducted August 13-17 — after the Aug. 12 unrest and violence in Charlottesville, Virginia, and in the midst of Trump's multiple responses to the events.

In Michigan, 36 percent of voters approve of Trump's job performance (including 19 percent who strongly approve), while 55 percent disapprove (including 40 percent who strongly do).

In Pennsylvania, 35 percent give the president's job a thumbs up (17 percent strongly), versus 54 percent who disapprove (41 percent strongly).

And in Wisconsin, 34 percent of voters approve of Trump (17 percent strongly), compared with 56 percent who disapprove (42 percent strongly).

(…)

Asked if Trump's conduct as president made them proud or embarrassed them, 64 percent of voters in Michigan and Wisconsin say they've been embarrassed, while 63 percent say that in Pennsylvania.

Yet Trump gets higher marks on the economy in all three states.

In Michigan, voters by a 42-to-39 percent margin say the U.S. economy has been strengthened by Trump's decisions as president. In Pennsylvania, it's 45 percent to 38 percent. And in Wisconsin, it's dead even at 41 percent each.

But the president's standing is much lower when it comes to international affairs: Six in 10 voters in all three states believe the United States' role on the world stage has been weakened under Trump.
As I have noted before, these three states were key to Trump's victory over Hillary Clinton in November, and together they would have given Clinton a small Electoral College win had they gone the other way. In Wisconsin, where Trump's approval now stands and 34% approve and 56% disapprove, Trump won by a 22,748 vote margin (47.22% for Trump and 46.45% for Clinton). In Michigan, where the President's approval now stands at 36% approve and 55% disapprove, Trump won by 10,704 votes (47.50% for Trump and 47.22% for Clinton. And in Pennsylvania, where the President's approval now stands 35% approve and 54% disapprove, Trump won by 44,292 votes (48.18% for Trump and 47.46% for Clinton). As I've noted before, that's 77,744 total votes whose combined 46 Electoral votes put Trump over the top and gave him a narrow Electoral College win of 304 to Clinton's 227. Had those three states gone the other way, Clinton would have won the Electoral College with 273 votes to Trump's 258.1 Looking at the national numbers, the results in these three states actually put Trump in a worse position than he appears to be according to the poll averages. In the RealClearPolitics average, Trump stands at 39% approve and 55.1% disapprove. In the Pollster average, the President stands at 36,7% approve and 57.7% disapprove.
On paper at least, these numbers don't seem to bode well for the Trump Presidency in the short-term at the very least and could pose problems for Republicans in November 2018 unless we see a significant turnaround in political fortunes. Most significantly, of course, they suggest that Trump has lost support among supporters that were in his column in November but who have drifted away over the past seven months. Why this has happened is less clear, but it's likely that at least part of what we're seeing is disappointment on the part of some segment of the voters who supported Trump and ended up giving him the narrow win that put him in the Oval Office. If that's the case, it's certainly understandable. Outside of the confirmation of Neil Gorsuch to the Supreme Court, which was largely guaranteed thanks to Republican control of the Senate, and the passage of legislation by Congress that repealed some Obama-era regulations, very little of the agenda that Trump campaigned on has been achieved and much of it is in limbo or unlikely to move forward in the near future. Obamacare has not been 'repealed and replaced,' thanks to the failure of the Senate to agree on a bill that could garner the support of even fifty Republican Senators. The border wall is not being built, which Trump said would be addressed immediately upon his taking office and would be paid for by Mexico, seems unlikely to be funded sufficiently in the budget that must be passed by September 30th with anything but token funding. Tax reform hasn't even moved into Congress's consciousness yet and seems likely to take a back seat in September as it deals with issues such as the budget and the debt ceiling. Similarly, we haven't gotten a real infrastructure proposal from the White House, and things certainly weren't helped in this area when the events in Charlottesville led the President to react in a way that many found shocking in both his initial comments and a follow-up. While there's still a lot of time between now and the 2018 midterms, what are typically the most productive days of a new Presidency have been wasted thanks in no small part to the President himself. Given that, it's no surprise that Trump's support has fallen in states that, before 2016, have leaned Democratic in Presidential elections since at least 1992.
While things don't look good for Trump based on numbers like this, they should also give Democrats and others who oppose the Administration reason to restrain what in some cases seems to me to be premature optimism regarding the outcome of about the 2018 midterm and 2020 Presidential election. Notwithstanding how badly he is doing in his job, and the historically bad impact that this has had on his job approval number, Trump has not lost the support of his core supporters. In both these states and nationally, there does seem to be a core level of support for him that will stand with him no matter what that represents just a bit over 1/3 of the electorate. While this certainly isn't a majority, and wouldn't be enough to win re-election if they translated into election results, they do give Trump what seems to be a stable base to build upon. If he can build on these numbers over the coming years even by a small fraction, it could be enough to stave off disaster for the Republican Party. With respect to the 2018 midterms, this means that hopes for the kind of wave election that would give Democrats control of one or both houses of Congress may be premature at this point. This is especially true given the fact turnout in midterms tends to favor Republicans. With respect to the 2020 elections, it's simply far too early to say for sure what will happen over the next thirty-nine months and how it could impact everything from turnout to the public's perception of the Administration. As things stand right now, though, the trends don't look good and it's going to take some work and a lot of luck for the Administration to fix what's gone wrong.
1 These numbers do not add up to the full 538 vote membership of the Electoral College due to the fact that there was a total of seven "faithless electors" when the Electoral College votes were counted by Congress in January of this year.