Yes, Rush Limbaugh Is A Jerk
Many on the right seem unwilling to condemn clearly offensive remarks by Rush Limbaugh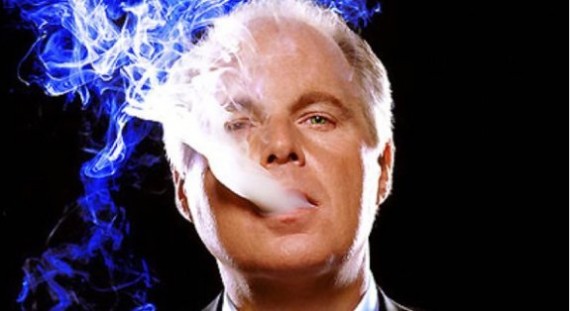 For reasons that can only be explained by the idiocy that is our 365/24/7 media culture and the hyper-politicization of American life, a good part of this past week has been taken up by a rhetorical battle between a 61-year-old radio host in Florida and a 20-something Georgetown law student over the issue of birth control. It started when that law student, a woman named Sandra Fluke, testified last week  before a panel of House Democrats after being barred from doing so during a committee hearing held by Chairman Darrell Issa:
Georgetown University law student Sandra Fluke was given her chance to talk to Congress Thursday, even though lawmakers were on a break and just a few Democratic allies were there to cheer her on.

But what a difference a week makes.

Last Thursday the Republican-controlled House Oversight and Government Reform Committee rejected Democrats' request that Fluke testify on the Obama administration's policy requiring that employees of religion-affiliated institutions have access to health insurance that covers birth control.

This week she received almost rock-star treatment as the lone witness at an unofficial Democratic-sponsored hearing. While the rest of the Capitol was mostly empty, Democratic leader Nancy Pelosi, three other Democrats and dozens of mainly young women supporters crowded into a House office building room to applaud Fluke as she spoke of the importance of reproductive health care to women.

(…)

Committee chairman Darrell Issa, R-Calif., had said at last week's hearing that the panel's focus was on whether the administration policy was a violation of religious freedom. He said at the time that Fluke, invited by Democrats in her capacity as former head of Georgetown Law Students for Reproductive Justice, was not qualified to speak on the religious rights question.

"I'm an American woman who uses contraceptives," Fluke said, when asked Thursday by Rep. Elijah Cummings, D-Md., about her qualifications to speak on the issue.

(…)

Fluke, a third-year law student, said that Georgetown Law, a Jesuit institution, does not provide contraception coverage in its student health plan and that contraception can cost a woman more than $3,000 during law school. She spoke of a friend who had an ovary removed because the insurance company wouldn't cover the prescription birth control she needed to stop the growth of cysts.
Now there are plenty of legitimate questions that can be raised here. There's a religious liberty argument that is going to be litigated and, based on a recent case out of the Pacific Northwest, may have far more legal merit than I first suspected. There's the question of whether the government should be mandating the contents of an employer-provided health insurance policy. And there's the question of whether or not Congress even has, or should have, the authority to force employers to provide insurance to begin with. But did we spend the past week discussing these important issues, all of which will have to be dealt with at some point in the future? No, we didn't. Instead, we spend the week discussing the sex life of Sandra Fluke, thanks to a series of what I can only describe as offensive and idiotic comments made by Rush Limbaugh:
Rush Limbaugh, though, had a different take on Fluke's testimony. On his show Wednesday, he suggested that the reason Fluke cannot afford birth control  is because she is having too much sex.

"Can you imagine if you're her parents how proud of Sandra Fluke you would be?" he said. "Your daughter…testifies she's having so much sex she can't afford her own birth control pills and she agrees that Obama should provide them, or the pope."

Fluke testified that without insurance coverage, contraception can cost a woman as much as $3,000 during law school.

"Three thousand dollars for birth control in three years? That's a thousand dollars a year of sex — and, she wants us to pay for it," Limbaugh said, adding that high school boys applying to college should consider Georgetown. "They're admitting before congressional committee that they're having so much sex they can't afford the birth control pills!"

The conservative radio host continued: "What does it say about the college co-ed Sandra Fluke, who goes before a congressional committee and essentially says that she must be paid to have sex, what does that make her? It makes her a slut, right? It makes her a prostitute. She wants to be paid to have sex. She's having so much sex she can't afford the contraception. She wants you and me and the taxpayers to pay her to have sex. What does that make us? We're the pimps."

Limbaugh shied away from his word choice towards the end of his show, saying "So, she's not a slut. She's round-heeled. I take it back." Round-heeled, though, is a euphemism for the same thing, an old-fashioned term for a "promiscuous woman."

On today's show, Limbaugh turned up the heat and suggested that women who use insurance-covered birth control should post sex tapes online: "So Miss Fluke, and the rest of you Feminazis, here's the deal. If we are going to pay for your contraceptives, and thus pay for you to have sex. We want something for it. We want you to post the videos online so we can all watch," he said.
The reaction has been about what you'd expect. On the left, there's been round condemnation of Limbaugh's comments and calls for Republican politicians to denounce him. Some have apparently started a campaign to get his advertisers to start canceling their contracts, an effort that has apparently been successful in at least one case. On the right, what we've seen for the most part is a defense of Limbaugh's comments and an effort to essentially justify him calling a woman he's never met a slut. There have been some notable exceptions to that reaction, though, as both Carly Fiorna and John Boehner have criticized Limbaugh's comments about Fluke. Meanwhile, Limbaugh himself is again reveling in the publicity that all this self-created controversy has brought him, which is clearly all that the man is interested in the long run to begin with. For herself, Fluke has gotten no small degree of personal attention from all of this including an appearance this morning on Today and a phone call earlier today from President Obama.
In the meantime, though, I'm not quite sure what this entire episode has accomplished other than bringing yet more attention to a well-known megalomaniac with a history of saying outrageous and insulting things just for the sake of getting attention. Conor Freidersdorf wonders why the right lets Limbaugh get away with this:
What confounds me most about it is that Rich Lowry and Kathryn Jean Lopez of National Review, Bill Kristol of The Weekly Standard, Matthew Continetti of the Washington Free Beacon, Glenn Kessler of The Claremont Review of Books, Arthur Brooks at the American Enterprise Institute, Edwin J. Feulner of the Heritage Foundation, fellow talk-radio host Bill Bennett — none of these people would ever dream of going before a national audience and calling a female law student half their age a slut and a prostitute. None of them would ever dream of joking that if she wants her health insurance to cover birth control she should put a sex tape on the Internet. If a deranged gunman held a loved one hostage and forced them to make those remarks, as if of their own volition, they'd feel deeply embarrassed and ashamed doing it. Yet when Limbaugh says these things — when he said other things as indefensible in the past — he remained and remains a frequently celebrated, seldom criticized figure within the conservative movement. The Dittoheads are kept happy, but discredit is brought upon the movement. No leader of the conservative movement is willing to defend Limbaugh on the merits. They just stay mum.
Jay Bookman, meanwhile, what else it is that Limbaugh could possible say that would be worse than this:
If Limbaugh hasn't gone too far this time, then "too far" no longer exists. Those Republican politicians who have genuflected to Limbaugh in the past — do any of them have daughters? Wives? Sisters? Mothers?

Will any of them dare to raise their voice in protest or disgust? Because again, if this is not going too far, what is?
The answer is actually, pretty easy, I think. As I noted earlier this week, the establishment wing of the GOP has essentially surrendered to the base, and the same is true of the establishment wing of conservatism itself. How else to explain the extent to which people like those Conor names have capitulated to the anti-intellectualism of the Sarah Palin's and Rick Santorum's of the world? Whether out of a desire to make nice with a group they think can put them back in power, or because they simply lack the courage to call out  obvious stupidity one they see it, these people have sat back and allowed the Limbaugh's, Sean Hannity's and Mark Levin's of the world to take over their movement and turn it from something that and intellectual heft into nothing more than a nine-hour long screaming match from 12 to 9 Eastern every weekday, and things are exactly the same way on the movement's primary television outlet Fox News Channel. These people don't criticize Limbaugh because they're afraid of him, because they're afraid of being called RINOs, afraid of being drummed out of the movement by a man who clearly cares about nothing more than causing controversy and boosting his ratings.
It really shouldn't be this hard. It shouldn't be hard at all, really, for any decent human being to say that Rush Limbaugh is a low-class jerk for calling a woman a slut because she takes a policy position different from one that he happens to take. It should be easy to say that any 61-year-old man that says that about a young woman doesn't deserve to be taken seriously on any political matter. It should be simple to demand an apology from the man. How would these people react if Sandra Fluke was their daughter and the same thing was said about her? The fact that so many people are being so silent, and making so many excuses for what is perhaps one of the more disgusting things I've heard come out of the mouth of a public figure in a quite some time is a pretty sad indictment of what American conservatism has turned into thanks to the likes of Rush Limbaugh.
As I said above, there are many legitimate issues to be discussed regarding this HHS contraceptive coverage mandate. However, nothing is accomplished by calling someone a slut because of their political position, and the right does itself no favors by allying with people who do.