Rick Santorum And Conservative Anti-Intellectualism
A man who has three degrees from three public universities considers the President of the United States a "snob."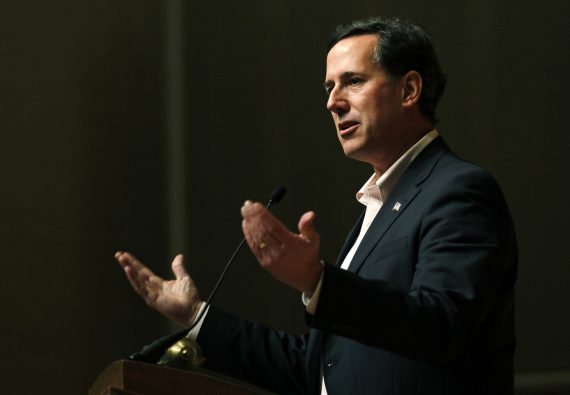 Continuing with a theme that he had hit on last week when he claimed that the Administration's college plans were part of a plot to "indoctrinate" Americans, yesterday in a speech in Michigan Rick Santorum said that the program proves that the President is a "snob":
Speaking to a tea party group in Michigan on Saturday, former senator Rick Santorum (R-Pa.) accused President Obama of being a "snob" because he wants "everybody in America to go to college

(…)

"Not all folks are gifted in the same way," Santorum told a crowd of more than 1,000 activists at the Americans for Prosperity forum in Troy, Mich. "Some people have incredible gifts with their hands. Some people have incredible gifts and … want to work out there making things. President Obama once said he wants everybody in America to go to college. What a snob."

As the crowd applauded, Santorum continued.

"There are good decent men and women who go out and work hard every day and put their skills to test that aren't taught by some liberal college professor trying to indoctrinate them," he said. "Oh, I understand why he wants you to go to college. He wants to remake you in his image. I want to create jobs so people can remake their children into their image, not his."
Here's the video:
This from a guy who earned a B.A. in Political Science from Penn State, an M.B.A. from the University of Pittsburgh, and  J.D. from Penn State's Dickenson School Of Law. Not just that, back when in was running for re-election in 2006 Santorum championed a program to make higher education more affordable and accessible:
[T]he last time Santorum ran for public office — his ill-fated 2006 Senate reelection campaign — he was right there with Obama, running on his promise to make college more accessible to all Pennsylvanians.

Here's a link to Santorum's 2006 Senate campaign website, as stored on Archive.org. Right there in black and white is his "Commitment to Higher Education."

From the text:

"In addition to Rick's support of ensuring that primary and secondary schools in Pennsylvania are equipped for success, he is equally committed to ensuring the every Pennsylvanian has access to higher education," the site reads. "Rick Santorum has supported legislative solutions that provide loans, grants, and tax incentives to make higher education more accessible and affordable."
Santorum's supporters will say that his comments yesterday were about the idea that not everybody should go to college, and that many people will be just as well off with a skilled trade. It's hard to argue with this idea, and I would imagine that the President probably wouldn't disagree. A plumber, electrician, or HVAC contractor trained in a trade school is likely to have just as a high an earning potential as some recipients of a four-year degree, perhaps even more. There's absolutely nothing wrong with this idea.
But this isn't a debate about college versus trade schools. Look again at what Santorum said:
"There are good decent men and women who go out and work hard every day and put their skills to test that aren't taught by some liberal college professor trying to indoctrinate them,"
This isn't about a policy disagreement between Santorum and Obama over whether education policy should be based on the idea that everyone should go to college, or on ensuring that students are directed into careers paths that are both well-paying and interesting on some level. This is about the Republican war against intellectualism and higher education and the belief, expressed most recently by Rick Santorum but popularized on the right before him by people such as Sarah Palin, that there is something wrong with intellectualism. It is an ironic development on some levels considering that modern American conservatism was started by men who Santorum would likely call snobs, William F. Buckley Jr being perhaps the most prominent. Today, though, conservatism has become predominated by the likes of Sarah Palin and Rush Limbaugh who seem to take special delight in bashing anyone who asserts that knowing something about the world, rather than simply trying to file it away in the appropriate right-wing category.
It's pathetic, really. What's so wrong, after all, about learning more about the world and, yes, even learning about opposing points of view? The kind of closed-mindedness that Santorum and his ilk seem to be championing is at odds not only with the founders of modern conservatism but the Founding Fathers as well. What would John Adams have thought about this kind of attitude? Or Thomas Jefferson? Well, we have a pretty good idea of what they would have thought, because they left behind a legacy that included a love of learning, and reading, and inquiry. There likely hasn't been an American President as intellectually curious as Jefferson. Indeed when Jefferson died, he considered his role in founding the University of Virginia to be equal to drafting the Declaration Of Independence, and more important than having been President of the United States. Of course, conservatives probably wouldn't be too happy with Jefferson considering the advice he once gave to a nephew on the subject of education:
"Question with boldness even the existence of God; because, if there be one, he must more approve of the homage of reason than that of blindfolded fear."
Which gets us to what's even more absurd about Santorum's argument is the fact that his indoctrination argument is complete nonsense. As Steven Taylor noted in a post late last week, there is no support for the idea that students who enter college with strong religious beliefs tend to lose those beliefs while completing their education. Moreover, the image that the right likes to project of American college professors as some vast atheistic propaganda machine is simply false.  Of course, since when did facts matter when arguments like this are being made? Conservative pundits have made a goldmine full of money portraying the right as the victim of some vast conspiracy led by America's college "elites," these comments from Santorum are just another form of the same nonsense. What's pathetic is the fact that people actually believe it when it comes from a religious conservative who spent nearly a decade in college and graduate school and yet, somehow, didn't manage to turn into a liberal Democrat.