Social Science v. Santorum
A study of religiosity and young adults found that those who attend college are actually less likely to experience religious decline than those who do not attend college.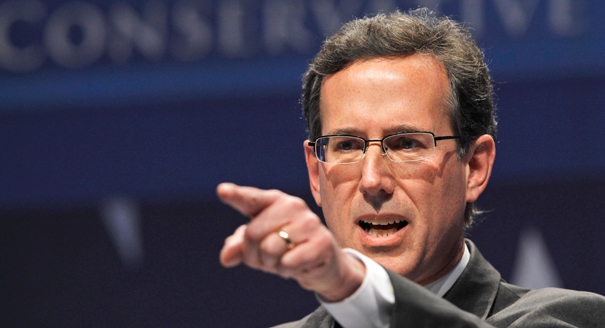 Doug Mataconis noted in a prior post that Rick Santorum claimed that "Obama College Plan Part Of Plot To "Indoctrinate" Americans" and that going to college is harmful, especially in regards to secularizing religious young people.
Doug quoted the following from a National Journal story regarding Santorum's appearance on Glenn Beck's internet show:
Republican presidential candidate Rick Santorum said Thursday that President Obama wants more young adults to go to college so they can undergo "indoctrination" to a secular world view.

[…]

Santorum said, "I understand why Barack Obama wants to send every kid to college, because of their indoctrination mills, absolutely … The indoctrination that is going on at the university level is a harm to our country."

He claimed that "62 percent of kids who go into college with a faith commitment leave without it," but declined to cite a source for the figure. And he floated the idea of requiring that universities that receive public funds have "intellectual diversity" on campus.
I suppose this stands to reason since, as James Joyner noted the other day, Rick Santorum Thinks Satan Has Taken Over America and specifically universities. Said Santorum in a 2008 speech:
[Satan] attacks all of us and he attacks all of our institutions. The place where he was, in my mind, the most successful and first successful was in academia. He understood pride of smart people. He attacked them at their weakest, that they were, in fact, smarter than everybody else and could come up with something new and different. Pursue new truths, deny the existence of truth, play with it because they're smart. And so academia, a long time ago, fell.
But here's the weird thing: a study of religiosity and young adults found that those who attend college actually are less likely to experience religious decline than those who do not.
Jeremy E. Uecker, Mark D. Regnerus and Margaret L. Vaaler (sociologist at the dreaded University of Texas at Austin) published an article entitled "Losing My Religion: The Social Sources of Religious Decline in Early Adulthood" in the journal Social Forces (June 2007, Vol. 85, No 4., pp. 1667-1692). In the piece's conclusion the authors note:
Emerging adults who do not attend college are most prone to curb all three types of religiousness [decline in church attendance, decline in importance of religion, or disaffiliation with religion] in early adulthood. Simply put, higher education is not the enemy of religiosity that so many have made it out to be.

[…]

The overwhelming majority (82 percent) of college students maintain at least a static level of personal religiosity in early adulthood. Similarly, 86 percent retain their religious affiliation. For most, it seems religious belief systems go largely untouched for the duration of their education (1683).
Here are the raw numbers from the study: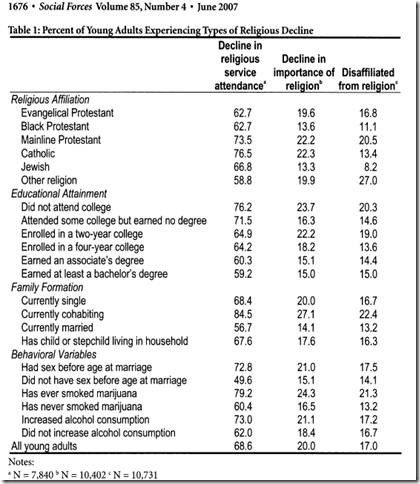 Note that the group that had the highest incidence of disaffiliation from religion was that which did not attend college.
The article notes that other factors, which they call "life course factors" are moderately more helpful in explaining religious decline in young adults—those are at the bottom of the table such a marijuana smoking and extramarital sex.
But, of course, since we know (well, Rick Santorum knows) that universities were long ago taken over by Satan, I am sure that the above study is tainted and the numbers that Santorum is pulling out of thin air are actually the right ones.